PGA Golf Odds: Betting on Tiger Woods in 2011
by Richard Gardner | Bodog Sportsbook Manager - 1/27/2011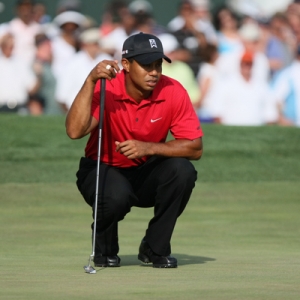 The 2011 PGA Tour season has been officially under way for a few weeks now, but it unofficially teed off Thursday at Torrey Pines when Tiger Woods hit his opening drive. At Bodog's online sportsbook, betting was strong for Tiger's first tournament – the Farmers Insurance Open – of the season, which has been highly anticipated by golf fans.
Woods went off as the 5/2 favorite at a golf course that he's owned over his career, including his now legendary playoff victory over Rocco Mediate at the 2008 U.S. Open. Quite a bit of stuff has transpired since that remarkable win, including surgery and, oh yeah, the complete and utter upheaval of Woods' life thanks to myriad extramarital activities.
Instant $250 Free Bonus Bet from Bovada -
CLICK HERE
Last year was a struggle for Woods, both off and on the course, but there's optimism for the 2011 season. Woods has a new swing coach in Sean Foley and just recently took Graeme McDowell to a playoff, which he lost, at the Chevron World Challenge in December.
"Last year golf wise came down to one golf shot, and that's what I'm so proud of," Woods said. "The 72nd hole at Chevron, that was it. All the changes I made in my swing [and when] I needed it the most, I needed to hit that 8-iron with that kind of shot, and I pulled it off.
"So under the most intense pressure I hit the shot I needed to hit when I needed to hit it. That's something I've done in the past with Butch [Harmon] and Hank [Haney] and it's nice to have those moments."
Betting support for Woods was strong in the run-up to his first tournament of the season. We've also seen interest in our Tiger props, specifically the one asking how many majors he'll win in 2011. Woods has won 14 majors in his career, but hasn't triumphed in one since the 2008 US Open.
If you think his major drought will continue in 2011 you can get odds of -138, followed by +150 for one major victory, +800 for two, +2500 for three, and +4000 if he pulls off the slam.
The most majors Woods has even won in a single season are three, in 2000. He won two in three separate seasons, in 2002, 2005 and 2006.
Over on our PGA futures board, Woods is currently getting 4/1 odds to win the Masters, followed by Phil Mickelson at 8/1, Lee Westwood at 12/1 and Rory McIlroy at 20/1.
I will be posting weekly articles including betting previews, matchups and the inside scoop from a bookmakers point of view right here at Doc's Sports. Read my past articles - Click Here, and learn more about Bodog sportsbook - click here. If you're ready to set up an account and start playing I'd like to offer you a Sign up Bonus - Click Here. Enjoy the Bodog Experience.