Pop Culture Odds: What's Oprah Going to Do Now?
by Richard Gardner | Bodog Sportsbook Manager - 5/18/2011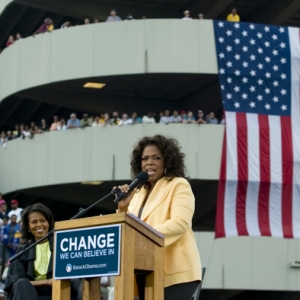 So apparently Oprah Winfrey isn't doing her show anymore. This was news to me, until it was suggested we put together some betting lines about what she'd do next. These props, I was told, would create a lot of buzz.
A little background for those of you who need to be brought up to speed: On Tuesday, 20,000 fans crammed into Chicago's United Center to watch Oprah tape two of her final three episodes of "The Oprah Winfrey Show." Madonna and Tom Hanks were there. So was Tom Cruise, who may or may not have jumped up and down on a couch like an insane person.
Instant $250 Free Bonus Bet from Bovada -
CLICK HERE
The Oprah Winfrey Show has been on TV for 25 years, but from now on she'll be focusing on her new network, OWN.
But what else might she do? We've put together a few pop culture odds:
Announce she will be acting in a Motion Picture -150
Announce she is adopting a child +500
Announce she is running for a political position +500
Announce she will be on Dancing With the Stars Season 13 +700
Announce she is getting married to Stedman Graham +1000
The reason we thought Oprah was most likely to announce she'd be acting in a movie is that she's done that before. In 1985, she was nominated for an Academy Award for Best Supporting Actress for her role as Sofia in The Color Purple.
Oprah has also expressed her desire to return to acting, although most of the recent rumors have involved acting on Broadway.
"I have a stack of plays in my bag right now that I am reading," Winfrey said recently. "And just this past weekend, I was in New York meeting with producers. We were just talking about what would be the best route to take. But yes, this is really going to happen…Life is too short."
Obviously acting on Broadway and acting in a motion picture aren't too far removed from each other, so if she's got the urge to get up on stage, she might have the same urge to get in front of the cameras.
Back in December, it was reported that she was in negotiations with HBO Films to star in Ruined, an adaptation of Lynn Nottage's Pulitzer Prize-winning play about a brothel owner's trials and tribulations during the civil war in the Democratic Republic of Congo.
As for the long shot, a possible engagement to Stedman Graham, well, first I had to find out who Stedman Graham was. Turns out he's Oprah's life partner. They were once engaged to be married, in 1992, but never went through with it.
I will be posting weekly articles about betting previews, matchups and the inside scoop from a bookmaker's point of view right here at Doc's Sports. Read my past articles – Click Here, and learn more about Bodog sportsbook – Click Here. If you're ready to set up an account and start playing I'd like to offer you a sign up bonus Click Here and enjoy our services.