2017 Cy Young Award Odds with Expert Betting Predictions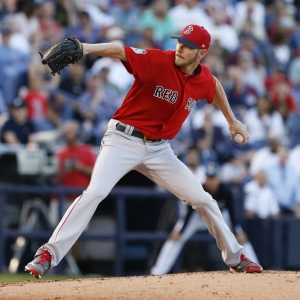 We are only two and a half months into the baseball season - less than 40 percent - so a lot can change between now and the end of the season. At this point, though, it sure feels like the Cy Young race has narrowed down dramatically, and we have more clarity into what could happen than we do most years. Each league has two strong contenders, and, at this point, a couple of longer shots that have separated from the pack as well. Here's a look at how both leagues break down, with odds from BetOnline :
Free $60 in Member MLB Picks No Obligation Click Here
Cy Young Award Odds and Expert Betting Predictions: American League
Dallas Keuchel, Houston (+125): Keuchel has one Cy Young, and after a disappointing season last year, he is showing that he is hungry for a second. He has found his way onto the DL with a neck injury, and that is obviously cause for concern. One stop on the DL doesn't have to derail a campaign by any means as long as it is short and he comes back strong, though. His numbers are outstanding. His 1.67 ERA and 0.87 WHIP are both best in the league, and his 9-0 record in 11 starts is hard to argue with. He is completely dialed in. My biggest concern is not that missing a start or two will hurt his campaign but rather that a neck injury is the kind of thing that can linger and cause lasting problems. Still, with the confidence he is playing with, and the team he has behind him, he's in good shape and is deservedly a top contender.
Chris Sale, Boston (+150): The high-priced Boston rotation hasn't delivered entirely as expected. David Price has been hurt, and Rick Porcello has been just plain lousy. Sale, though, has done everything they are paying him to do. He has been great. He's 8-2, sits fifth in ERA and third in WHIP, and his 126 strikeouts are well ahead of the pack. The biggest thing Sale has going for him is that, unlike Keuchel, he has played well while his team has been lousy - or at least well below expectations. If Boston finds their stride then Sale will really get a boost from better play, and Sale's accomplishments to keep the team on track when they were struggling will be more valued. I'm more impressed by Keuchel right now, but the combination of factors makes it so Sale is the more attractive bet. One big factor working for Sale is that, as good as he has been, he has not won a Cy Young yet. If the race is close then that could be a deciding factor.
Lance McCullers, Houston (+550): This is another thing working against Keuchel - at this point McCullers could split some of his votes. He's 6-1 in 13 starts, and his 1.08 WHIP and 2.58 ERA are more than solid. And the amazing thing is that he is only 23, so he's just starting to get this pitching thing figured out. If he can stay healthy he's one of the most exciting young talents in baseball. As good as his number are, though, he'll really need to surge to move past Keuchel and get the bulk of the Houston-directed votes. I don't see any value here, but I wouldn't be surprised if he wins one at some point.
Ervin Santana, Minnesota (+1400): This is a great start and a great story. Let's be frank, though, At 34 Santana just isn't this good anymore, and the team around him isn't nearly as good as their start. Both player and team will fade as fewer breaks go their way, and it will be tough to believe in September that we were ever having this discussion.
2017 Cy Young Betting Odds and Expert Predictions: National League
Clayton Kershaw, L.A. (+115): There may eventually come a time when Kershaw isn't an automatic favorite in this race, but I don't know when it will be. His ERA is tops in the league. So are his eight wins. And his WHIP is second best behind Scherzer. He's a freak who is pitching like himself, and that is unquestionably enough to make him favorite.
Max Scherzer, Washington (+175): Scherzer won last year and is every bit as effective this year. He is best in WHIP and strikeouts, and his 2.36 ERA is second best in the league. The biggest issue he has is that his 7-4 record isn't openly that impressive - or at least it could be better. He needs to go on a bit of a run and get that number a bit more impressive, or it will be tough for him to beat Kershaw again if the Dodgers' all-World ace keeps it up. Scherzer also faces potential vote splitting from Strasburg - something Kershaw definitely doesn't have to worry about.
Stephen Strasburg, Washington (+600): Strasburg has been excellent, but doesn't at all feel like the ace of his staff, and that is going to make it very tough to win this award - especially when that ace is having a year that meets or beats yours in every category.
Zack Greinke, Arizona (+700): After a lost year last year Greinke again looks like his best self - or closer to it, anyway. He's pitching well, striking out lots and winning games. His numbers are just behind the top contenders, though, and his team isn't likely to stay even with the Nationals or Dodgers. It's an uphill battle. The odds suggest that, of course, but it's not a high enough price to warrant a gamble.
How about $60 worth of member's baseball picks absolutely free? - You can use this $60 credit for any of our top MLB handicappers. Get on board now. Get free MLB picks daily at Doc's Sports baseball predictions page .
Read more articles by Trevor Whenham