2017 Seattle Mariners Predictions and Odds to Win the World Series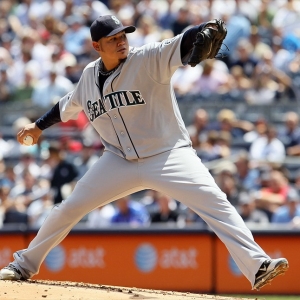 The Mariners and I have a routine going. Every year I convince myself that they are going to be good, and I have various reasons for it. This is the year, I tell myself. And every year they find a way to disappoint - often overwhelmingly. It's our thing. We've been at it for a long time, too - I watched Alex Rodriguez play Triple-A a couple of miles from my house, and my Mariners delusions were already several years old by then. You know that saying - insanity is doing the same thing over and over and expecting the same results. I am clearly insane when it comes to the Mariners.
Free $60 in Member MLB Picks No Obligation Click Here
It's not even like I'm a fan of them or anything. I'm not a particular fan of any baseball team. I just eternally think they are a team to watch - and they eternally aren't. Since I starting consistently tabbing this team what do I have to show for it? Four playoff appearances - none since 2001 - two playoff series won, two MVPs and a Cy Young, and a whole lot of frustration.
So, can I break the trend this year? Can I be objective about this squad? The short answer is probably not, but let's get into it.
Mariners 2017 Projected Lineup
Last year this squad won 86 games. That's solid but particularly impressive for the Mariners - it was the first time they had finished second in the division since 2007 and the first time they had been within 10 games of the division leader since 2001. Given last year, you might think that this is a team on the rise - the Astros won 86 games two years ago and 84 last year and are tabbed by many as a serious World Series contender now . The problem, though, is age. The Astros have a core of four potential superstar players, with the oldest being 27, and two of them are just 22. This team is built around a core of Nelson Cruz, Robinson Cano, and Kyle Seager offensively. Seager is 29, Cano is 34, and Cruz is a dinosaur as a slugger at 36. All three guys are special talents, but the wheels could fall off any - especially Cano and Cruz - and it wouldn't be a particular surprise. So, the pressure is on this team to win, and win now. The window is closing before it ever really opened.
Old players are not cheap players, so the team had to find ways to improve this offseason while being handcuffed somewhat by a massive payroll. They certainly made moves in bulk - though it's tough to know until we see them play games that count if they got any better or if they just made changes. Jarrod Dyson is in to play center field, but he's 32 so he's not youthful, either. Jean Segura is new at shortstop, and Carlos Ruiz adds catching depth. At 38, though, Ruiz is also the oldest player on the team. This team is fairly versatile and will be able to score some runs, but it takes less effort than it should to come up with ways that it could all go wrong. This is a good roster but not a deep one, and with so much age and uncertainty a lack of depth could be a serious issue.
Mariners 2017 Projected Rotation and Closer
Felix Hernandez is 30. Does that sound as crazy to you as it does to me? The guy has been a fixture for what seems like forever, yet he's not even that old. Because of his workload, though, and because he started so early, he's the kind of 30 that feels more like 40. His velocity isn't what it was, so his baseball IQ needs to be sharper than ever to get guys out. He's still the ace of this staff and would be of many, but it's probably dreaming to expect him to be what he was at his greatest. Hisashi Iwakuma has been quietly excellent for Seattle and the Dodgers over the years, too, but he is about as old as King Felix seems - he's about to turn 36. His best years seem to be behind him. James Paxton is one of those guys who is very promising but can't stay healthy. To round out the rotation the team made two additions. Yovani Gallardo has had some good years in the past, but last season was injury-plagued and ineffective. He needs to bounce back, and he's getting longer in the tooth, too. Drew Smyly has shown all sorts of potential, but much of 2015 was lost to injury, and he really struggled to bounce back last year. He has upside, but reaching it is far from certain. If every pitcher has a good season and stays healthy then this is a respectable rotation. It has the chance to be quite a bit better than Houston's. Like the lineup, though, the likelihood of problems seems high, and a lack of inspiring depth could make things scary.
Mariners Futures Odds
At +300 to win the AL West at BetOnline , the Mariners are tied with the Rangers for second favorite, behind only the Astros at +125. They are also tied with those Rangers and the Blue Jays to win the American League pennant, which sits well behind the Red Sox, Indians and Astros but ahead of all other teams. At +2500 they are among the strong tier of mid-level contenders for the World Series .
Nelson Cruz sits right behind the top contenders to win the home run crown at +1400. Kyle Seager and Robinson Cano (both +100000) are both listed as much longer shots. Cano (+2500), Seager (+4000) and Cruz (+5000) are all longer shots to win the AL MVP as well. Felix Hernandez (+2500) and Drew Smyly (+3300) are both listed in the race for the Cy Young, though they are both a long way from the favorites.
Mariners 2017 Predictions
Man I want this team to be good at some point. I think, though - and I can't believe I am saying this - that this won't be the year. They are counting on too many older players and hoping for too much health, and I don't like betting on luck. The season win total is set at 85.5, and while they have the potential to eclipse that comfortably if everything goes well, I would have no choice but to bet the under.
The handicappers at Doc's Sports are offering $60 worth of member's baseball picks absolutely free - no obligation, no sales people - Sign up here for free baseball picks . Also, for a limited time only get three MLB handicappers for the price of one. Click here for details . Doc's Sports offers free MLB predictions every day from Opening Day through the playoffs and World Series .
Read more articles by Trevor Whenham