2019 Minnesota Twins Predictions and Odds to Win the World Series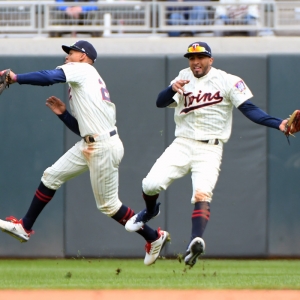 Just like any team sport, baseball is a copycat league. Teams see other clubs finding success with young managers because they are able to communicate better with the young talent on the roster.
Thus, after the Minnesota Twins finished 78-84 last season, the club fired Hall of Fame player Paul Molitor after three seasons. The front office flat-out admitted firing Molitor wasn't about the team's record or his knowledge of baseball or anything like that. It was about getting younger: "We just feel a change in voice and potential style with some of these younger players could be of benefit to us," said Derek Falvey, the Twins' chief baseball officer after firing Molitor.
Claim your 100% Xbet
Signup Bonus
CLICK HERE
It's all about millennials, folks!
Young the team went in hiring 37-year-old Rocco Baldelli to replace Molitor. I used to cover Baldelli with the Tampa Bay Rays, and he looked like a future superstar early in his career before a variety of physical ailments derailed things. It's Baldelli's first time as a manager and he became the first in the major leagues born in the 1980s. He was highly in demand, interviewing with four other teams. Baldelli spent the past four years on the staff of Rays manager Kevin Cash. If Cash weren't so good at his job, the Rays probably would have hired Baldelli.
Minnesota opens the season March 28 at home vs. Cleveland.
Twins 2019 Projected Lineup
Minnesota lost one of the best players in franchise history this offseason with Joe Mauer retiring. He won an unprecedented three American League batting titles as a catcher, the 2009 AL MVP Award, surpassed 2,000 career hits and earned six All-Star selections, five AL Silver Slugger Awards and three Gold Gloves. Mauer spent the final five years of his career at first base. He's a borderline Hall of Famer but hadn't been a star (or largely healthy) since 2013.
Over the weekend, the Twins added Astros super-utility man Marwin Gonzalez on a two-year deal. Falvey and general manger Thad Levine also added plenty of potential pop to the lineup this offseason in signing former Mariners DH Nelson Cruz, ex-Orioles and Brewers second baseman Jonathan Schoop and former Rays first baseman C.J. Cron. All three guys hit at least 30 homers last season – Cruz was in demand by a handful of teams but said he chose the Twins in part because he thought the young roster was ready to contend.
Whether that's true or not depends on whether former touted prospects Miguel Sano, Byron Buxton and Max Kepler all improve. They all regressed last season (part of why Molitor was dumped), and it's starting to look like Sano and Buxton might be busts (doesn't help they seem to be hurt often). The Twins at least believe in Kepler as they signed him and shortstop Jorge Polanco recently to five-year contracts. Kepler played a team-leading 156 games last season and had 20 homers but hit just .224. Polanco batted a career-best .288 but served an 80-game drug suspension.
The projected lineup looks to be SS Polanco, OF Eddie Rosario, 3B Sano, DH Cruz, 1B Cron, OF Kepler, 2B Schoop, C Jason Castro and OF Buxton. There's potential there, to be sure. The Twins won't finish 23rd in the majors in homers again. As far as Gonzalez, he can play so many positions (basically anywhere but catcher) that he's not listed here but will get plenty of at-bats.
Twins 2019 Projected Rotation & Closer
Minnesota let former ace Ervin Santana walk in free agency (he was terrible in very limited action last season). The team traded Lance Lynn to the Yankees during the season. Thus, the pitching staff is a major question mark behind young ace and All-Star righty Jose Berrios (12-11, 3.84 ERA) – this team could really use a veteran free-agent arm.
RHP Kyle Gibson slot in as the No. 2, and he was 10-13 with a career-best 3.62 ERA last year … but he had exactly a 5.07 ERA the previous two seasons. Most likely that 2018 was a fluke. RHP Jake Odorizzi (7-10, 4.49) was a disappointment after coming over in trade from Tampa Bay last offseason.
The two wild cards are RHP Michael Pineda and lefty Martin Perez. Pineda missed all of 2018 while recovering from Tommy John surgery. The Twins signed Perez in late January to a one-year deal even though he was an ugly 2-7 with a 6.22 ERA (85.1 IP, 59 ER), 36 walks and 52 strikeouts with Texas last year while missing a chunk of time on the DL.
Trevor May returns as the full-time closer for the first time. He was 4-1 with three saves and a 3.20 ERA last year. Fernando Rodney was the primary closer last year until traded in August.
Twins Futures Odds
At 5Dimes, Minnesota has a win total of 84.5, with the "under" a slight favorite. The Twins are +325 to win the AL Central, +975 to reach the ALCS, +2550 for the pennant and +7500 to win the World Series.
Twins 2019 Predictions
Minnesota appears to be clearly the second-best team in the AL Central behind Cleveland, but that's not saying much because the Royals and Tigers are terrible and the White Sox having lost out on Manny Machado and still a year or two away from contention. In theory, the Twins could beat up on those three teams and top the 84.5 wins. FanGraphs has them winning 82 games. I'm going under that win total because of that really iffy rotation. No playoffs.
Read more articles by Alan Matthews