Different Ways to Bet on Hockey
by Nicholas Tolomeo - 2/11/2010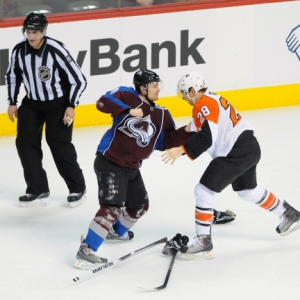 Now that football season is over some bettors are beginning to take a second look at the so-called fourth professional sport in this country, the National Hockey League. If trying to catch up on the 60-some games each NHL team has already played seems hard then understanding the different ways to bet on the games may seem overwhelming. Therefore, here is a quick crash course on the different ways to bet on professional hockey.

Money line
This is not football and this is not basketball so you do not have to worry about ever changing point spreads. This is the most popular way to bet on hockey and probably the most familiar to first-time hockey bettors who have dabbled in baseball betting.
Rather than shifting point spreads, the NHL odds are adjusted. The favorite is denoted with a negative sign and the underdog with a plus sign. For a favorite of -180 a better has to wager $180 to make a profit of $100. A favorite of -180 would coincide with an underdog of around +160. In that case a wager of $100 would return a profit of $160.
Puck line
Similar to the run line in baseball, in hockey the puck line is -1.5 for the favorite and +1.5 for the underdog. Also like baseball, the odds are greatly shifted by giving or taking the 1.5 points. A difference between betting the run line and the puck line is that in baseball, extra innings do not entirely kill the chances of one team winning by two. By nature, once hockey enters overtime the puck line is determined because no team can win by more than one in overtime or a shootout. Empty netters also greatly influence puck lines and many puck lines are won or lost based on what happens in the last 60 seconds of the game with no goalie in net. Even with the chances of an empty netter occurring, the odds are greatly shifted. A favorite of -150 will actually get odds around +190. Sometimes bettors have no choice but to take the puck line if they are dead set on betting a certain team. Rather than risking $300 on a -300 favorite, a bettor can take a puck line and get odds around -110.
Total
Just like a total in any sport, you can bet on the total amount of goals to be scored between both teams. Most totals in hockey are 5.5 or 6 and the odds are generally -110.
Regulation Time
A regulation time bet only counts the first three periods. All lines are a half a point with the favorite having to win in regulation or if you take the underdog then they can either win in regulation or just force overtime. Taking a favorite in regulation time betting alters the line a good bit just as the puck line does. A -350 favorite can become about a -175 favorite by betting on them to win in regulation. On the other hand a +300 underdog becomes a +150 favorite in regulation time betting.
Reverse puck line
Taking the 1.5 goals in the puck line is not often a popular wager for most bettors. The reverse puck line is a proposition that allows a better to take the underdog and still give the goal and the half. This can result in extremely attractive odds.
Other NHL Props
The props available for an NHL game rival that of any other sport. Two unique ones that include all games on that particular day are the grand salami and the road vs. home. In the grand salami a bettor wagers on an 'over/under' of how many total goals are going to be scored throughout the entire day and the road vs. home bet allows a bettor to place bet on which teams will score more goals on that given day. The road vs. home line comes with a point spread, with the home team generally favored. There are also first period lines to choose from, first team to three goals and individual player props.