College Football Expert Picks (Includes NFL too!)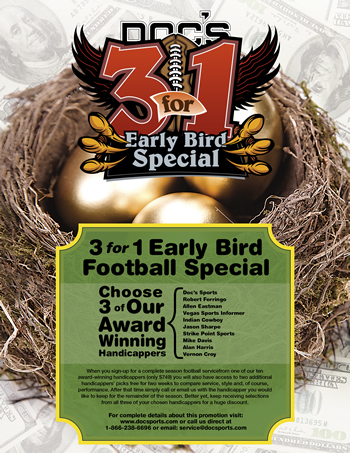 This is our favorite time of year at Doc's Sports, as college football has been the foundation of our company for 46 years. Yes, the company was founded back in 1971 and this is the sport that Doc's Sports is famous for when it comes to sports handicapping. We are one of the few handicappers that have withstood the test of time and there is no secret to our success. It has always been hard work, honesty, consistent winners, and excellent customer service. The Doc's Sports team spends hours researching every college game and we have ten of the sharpest minds in the industry. College Football is what this company was founded upon and 2017 will be yet another outstanding season for all of us! Will the Clemson Tigers repeat as champions? The Doc's Sports football team may have the answer.
(Read more about our football service and all the individual experts below the pricing area)
---
Football Subscriptions
(existing members click here to log in first and then click the buy now buttons in the member area to make your purchase)


NFL Preseason Weekly Package - $49.00
It's August and we suspect many of you are getting that football itch! NFL Preseason will be played throughout the month of August and this package gives you all the handicapper's selections for the week, starting on Thursday and going through Monday. Good money can be made if one puts in the time and Doc's Sports teams will do whatever it takes to uncover the edge. A weekly profit must be obtained or the next week's preseason games are FREE (this does not carry over into the regular season of college and NFL Football).

Note: When you sign-up for a weekly football package your package will end after Monday regardless of the day you sign-up on. Your service will not be extended unless your handicapper does not show you a profit.


---

NFL Preseason Seasonal Package - $99.00
Runs from August 3rd through August 27th, 2017
This package gives you every NFL Preseason pick your chosen handicapper makes. This will include any Game of the Year selection that may fall during this time. Preseason picks run from the Hall of Fame Game through Week 3 (8/3/17 - 8/27/17), as no selections are made during Week 4 due to team personnel questions and the start of the college football regular season.


---

Early Bird Complete Seasonal Football Package - $749.00
(Normally $950) - With this package you get every college and NFL pick your chosen handicapper releases through the Super Bowl in February of 2018. Bowl Games, Top Games, all Game of the Year plays (College & Pro) for your handicapper are included in this package. All football picks come with detailed analysis, unit values, and rotation numbers. With this package, you get it all for the best value and this, as with all of our packages, is backed by our guarantee. If you have any questions call 1-866-238-6696 or email service@docsports.com. This is the best value on the website giving you over six months of selections from your chosen handicapper.

Sign-up before September 4th and take advantage of our 3 for 1 Special to start the season (two weeks). If you signed-up for a complete season football package and would like one complimentary schedule, please send an email to service@docsports.com after your purchase.


2017 Special Offer!
Pay full price for one full season football package and get two additional handicappers to start the season (two weeks) for free. Compare service, style and performance and then choose the handicapper you want to continue with for the remainder of the season. Call 1-866-238-6696 for details or email service@docsports.com
Each handicapper on our site has their own unique approach but you can expect around 10 football plays per week which are against the spread or totals. This usually consists of 5-7 college football picks and 3-4 NFL football picks based on a 1.0 to 8.0 unit rating. All football picks come with detailed analysis, current lines, game times, and sports book rotation numbers. We guarantee you a profit with any of our handicapper packages or we'll extend your service and work for free until we do so - no questions asked. (Our Guarantee excludes NFL preseason rolling into the regular season.) If you have any questions call us toll free at (866) 238-6696.
Doc's Sports is one of the gold standards of sports handicapping, having been one of the most well-regarded and successful handicapping services for 46 years (yes, we started in 1971!). Doc's employs a team of specialists that are among the best of the best in college football. Doc's Sports went 6-1 with our Famous Magnificent 7 College Bowl Package last season! Known for their overwhelming knowledge and success of Midwestern football, Doc's is a coast-to-coast force in the industry specializing in the Big 10, MWC, & ACC Conference. Doc's Sports' documented success continues the legacy of one of the greatest sports handicappers the country has ever seen. They are going to have a killer college football season in 2017 and you don't want to miss out.
Robert Ferringo earned another profitable football campaign in 2016 and looks to make it six of eight winning years this fall. Over the last six seasons Robert has posted an average profit of +$4,400 and has been the most consistent long-term football profit producer in the country, posting an outstanding 41 of 63 winning football months. That a profit in two of every three months for 10 straight years! Robert's KING College Football Betting System has been stellar and his expert picks against the spread in college football has been a key to a successful overall football campaign for the past decade. Jump on The Victory Train today!
Allen Eastman is one of the most popular and successful football handicappers in the country and he enters 2016 with a ton of momentum after earning +$3,900 the last month of last year. That is now three of four profitable campaigns and an awesome six of eight winning years for this ace. Eastman's college football expert picks against the spread are worth every penny, as he has been pumping out expert college football winning picks for the past 36 years! Join him in a partnership in profit today!
Raphael Esparza has over 13 years experience as a Las Vegas sportsbook manager and is now one of the most well connected handicappers on The Strip. Esparza registered a brilliant 2014 football season in which he earned $7,300 in winnings and he is looking to top that this fall as he attempts to score his fourth winning year in the last six. As he does in all sports, Esparza is one of the best big play handicappers in the country. He is one of the few handicappers in the country that releases picks on every single bowl game each winter. And he will do so again this year. Sign up today!
Strike Point Sports is known in the industry as "Mr. Saturday" thanks to their outstanding guarantted picks. Strike Point Sports is going for four straight winning overall seasons and his expert picks are among the most sought after in the country. SPS has been a savant with their highest rated college picks and their selectivity is one of their greatest strengths. Sign up below and don't miss out as they go for winning year No. 4 in a row!
Jason Sharpe is known for his incredibly fast starts to the football season he is an outstanding 55-30 (65%) with his college football plays the first two weeks of the year. Sharpe has gone 32-10 (76%) with his expert Week 2 college football picks throughout his career! That is astounding work out of the gate and his against the spread picks have helped his clients get off to some amazing starts. Sharpe has also developed his "Low Spread Theory", which he utilizes across multiple sports, and you can sign up and get off to another blistering start with this razor sharp bettor.
Alan Harris put together one of the best football runs in Doc's Sports history last year, exploding for +$15,500 in profit from mid-October through January. Harris won 9 of 14 winning weeks and more than doubled his clients' bankrolls during that three-month streak. Harris finished the season with +$6,800 in profit and he is looking to beat that number this season. Harris cut his teeth in Las Vegas, working at some of the top books on the Las Vegas Strip for over seven years. He left the industry and is now part of the sports betting community on the other side of the counter. Sign up and put him to work for you now!
Mike Davis has spend the entire offseason preparing, talking to may people close to the top programs in the country, and he is ready to put all of that info to work for you and your bankroll this season. Davis has met with and made contacts throughout the football industry and he is ready to turn in another fantastic fall on the gridiron. His expert picks against the spread are a proven commodity and you won't want to miss out on this year's top plays. Sign up now!

Vernon Croy is ready for his third season at Doc's Sports and will put his vast knowledge and experience to work for you today. Croy uses his personal private football systems that he has developed over the last 18 years to give him a huge edge over the books. Croy is an extremely selective player and routinely posts quality picks that win at a strong rate backed by full in-depth analysis, so you can bet with confidence. Get on board today.
Indian Cowboy is one of the most flamboyant handicappers around. He generally only releases a select few total college and NFL plays per weekend and is quick to unload big money plays with his selective approach. He is looking for a big bounce back season and is incredibly streaky. When he gets hot he is capable of exploding for profit in a hurry. IC produces daily videos and free plays on his Insider's Page. Sign up today!
TONY GEORGE believes that with as many college football games as there on a Saturday the key to winning college football predictions is specialization. George keeps a focus on the Big 12, Big Ten, Mountain West and Pac-12 conferences and finding their tendencies pays off. This is George's first fall releasing plays at Doc's Sports and he is looking for a big year. George is a low-volume player and you can expect 3-5 games at most on Saturday. George has spent countless hours getting ready for redemption after a down 2016 and the renewed vigor will pay dividends for his clients in 2017.
Expert Member Picks Menu
Expert NFL Picks
Expert NBA Picks
Expert College Basketball Picks
Expert Baseball Picks
Expert Hockey Picks
Expert WNBA Picks
Expert Canadian Football Picks
Expert Soccer Picks

Daily Free Picks Menu
Free College Football Picks
Free NBA Picks
Free College Basketball Picks
Free MLB Picks
Free NHL Picks
All Free Sports Picks