Who is Steve Stevens of VIP Sports and CNBC Money Talks Show?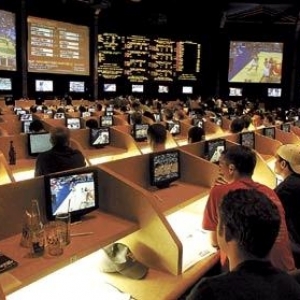 For the past decade, the movie "Two For The Money," the glossy but shallow 2005 flick with Matthew McConaughey and Al Pacino, has been the mainstream media's touchstone with the sports handicapping industry. The movie was a comically overdramatized portrayal of what sports handicapping is actually like.
But that movie fit the prepackaged narrative that people have about sports handicappers: that they are all lying, cheating used car salesmen with no morals or ethics, playing around in the seedy underground of sports betting. Whether or not any of that is true is irrelevant, and the general public had their beliefs confirmed.
Instant $250 Free Bonus Bet from Bovada -
CLICK HERE
Now CNBC's "Money Talks" is grabbing the flag as the most questionable representation of the sports handicapping industry yet. "Money Talks" was billed as an attempt to "take viewers inside the world of sports betting and Steve Stevens, a so called well-known handicapper who runs VIP Sports in Las Vegas."
What the show actually has been is a strange attempt to glamorize the lifestyle of someone that up until this show was basically unknown to the industry. In the show, Steven Stevens and his group of salesmen are shown using high-pressure sales tactics and generally acting like the typical caricature of what people think that a sports handicapper should be.
The show itself has been viewed by most in the industry as an embarrassment for CNBC.
Due to the work of watchdog sites like Wager Minds, "Steve Stevens" was quickly outed as Darin Notaro. Notaro is a convicted felon and telemarketing fraudster who spent time in prison for scamming elderly Americans.
While we here are Doc's Sports are not going to give our opinion of either the handicapper Steve Stevens or the show "Money Talks" on CNBC, here is what some well-known people within the industry had to say about Darin Notaro specifically and the show in general:
Todd Fuhrman, a former oddsmaker at Caesar's Palace: "No one, and I mean no one, in the sports betting community I speak with daily knows who this guy is. We're seeing a disturbing trend start to emerge; the proliferation of docudramas, movies, and articles
that lead to sensationalizing dishonest personalities within the sports betting industry. The media consciously chooses to validate the wrong personalities, creating an aura around characters that are no better than modern day Carnies."
Bill Krackomberger, of Sharp Football Analysis, said, "The minute I was alerted to this airing I knew he was a fraud and CNBC had been had. Shame on them."
Sites like Business Insider, Huffington Post, and Fox News have tabbed Notaro as a "fraud" and lambasted CNBC for falling for his scam.
CNBC has tried to distance itself by saying that they "in no way endorse either Stevens' picks or his business model." However, they ran another episode in late March to coincide with the NCAA Tournament. So they don't "endorse" this felon but are giving him a multimedia platform to spread his story and give the industry a black eye?
You can imagine how frustrating things like this are to a company like Doc's Sports. We have been in sports handicapping business for over 40 years. We have made our reputation by being honest, hardworking and extremely successful for our clients. We employ sound money management techniques, and we have built our reputation based on being completely above board and straight with our clients.
There are also many other companies like ours that operate in an above-board manner as well, so it's frustrating because of what is being presented to the public as representative of our industry, giving companies like ours a bad name by association.
So how can one distinguish between a reputable and non-reputable handicapping service? It's been our experience that there are other good handicapping services out there, but here are some things to look out for: be careful of services that have you call them for free picks and then immediately want your phone number to call you back. One of their high-pressure salesmen will call you back, tell you how their system really works, and believe me, there is nothing 'free' about it. These services typically charge you a percentage of your winnings. Since they have so many callers, they will give out different games to different callers, guaranteeing themselves a percentage of someone's winnings. They don't have just one set of picks. The winners are happy and ready to pay for next week's picks, and you can bet your winnings the price of these picks will go up. The losers will get a call back from another service, most often the same service, using a different name, promising a great week, and the system starts all over again.

One of the tactics that has irritated us the most is a service offering different levels of picks. For example, Diamond, Gold, and Silver packages, based on the idea that the more you pay, the better the picks will be. The question that always remains is "Why wouldn't you give everyone your best picks?" Why give out the lower level of picks at all? The answer is obvious. To give out more expensive picks to those who can afford it and less expensive picks to those who can't. In reality the outcome of the selections has nothing to do with the price that is charged and whichever group happens to be winning will be the one heavily promoted. Through it all, the end result is obvious. These services do not have your best interest in mind. At Doc's Sports we have only one set of picks for one fair price, no matter what kind of player you are. This has been our policy for the past 40 years and will continue as long as we are in business.

We are proud to be recognized as one of the leaders and most trusted names in this industry. We have built this reputation with honesty and hard work, and we will always continue to tell it like it is. It's very important that whether you use our service, another service, or handicap on your own, always remember: sports betting is a marathon, not a sprint. The same principle that applies to any business also applies to betting sports, and in our 40+ years of experience we can only guarantee the following four statements. There are no 'get-rich-quick' schemes. There are no 'locks.' Any game can and will lose in almost unimaginable ways. And you will unfortunately have your losing days .
Always be sure to thoroughly research any handicapper that you even consider taking advice from or doing business with. It's your money at stake. If a handicapper is confident in their performance, style and overall service, they should have no problem offering you a free trial. If you'd like to get a no risk free trial of our service click this link.
Best of Luck,
Doc's Sports Services
While Doc's Sports is not taking any position in this show or the people involved, we do think it's important for people to do their research. Here are several articles related to this topic:
http://www.huffingtonpost.com/ronn-torossian/cnbc-money-talks_b_5019034.html
http://www.reviewjournal.com/columns-blogs/john-l-smith/reality-sports-betting-gets-stretched
http://www.lasvegassun.com/news/1999/aug/25/man-25-sentenced-in-scam-of-elderly/
http://www.foxnews.com/entertainment/2013/08/04/star-upcoming-cnbc-reality-show-on-sports-gambling-unsafe-bet-sources-say/
http://www.sharpfootballanalysis.com/blog/?p=1383
http://www.businessinsider.com/cnbc-betting-show-star-fraud-2013-7
Read more articles by Robert Ferringo