NCAA Tournament Seed History
by Trevor Whenham - 5/8/2014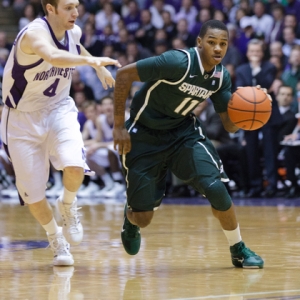 From pretty much the first day of the college basketball season fans are focused on one thing above all else - what seed their team is going to get in the NCAA Tournament. The tournament is the best three weeks in sports, and all the speculation that leads up to it about where teams will be seeded and who they will play just adds to the fun. Since seeds matter so much, NCAA Tournament seed history is worth studying for both fans and bettors. Here's a primer:
NCAA Tournament seed history: key numbers
Free $60 in Member March Madness Picks No Obligation Click Here
0: It still hasn't happened - a No. 16 seed upsetting a No. 1. In fact, it really hasn't come very close that often. Since 1997 there have been just three lowest seeds that have come within seven points of a win - and that's not really that close in the scheme of things. We have now seen an even 120 games featuring this most lopsided of matchups, and no upsets have happened. It seems inevitable that it will happen at some point, but we sure don't seem to be any closer now than we were when the tournament expanded to 64 teams. One thing you can be certain of, though, is that if and when it finally does happen, the team that pulls off the miracle will go down in history as an all-time great Cinderella story.
7: We didn't see a No. 15 stun a No. 2 in 2014, but that has been an exception in recent years. There have been seven No. 15 teams that have pulled a massive upset. Three of those came in 2012 and 2013. Though the difference between a No. 1 and No. 2 seed can be quite significant, it still seems improbable given the recent success of No. 15 teams that a No 16 will never pull off an upset.
1: Until this past year the combined total of Final Four appearances by No. 7 and No. 10 teams was zero. UConn changed that in a big way this year, though. Not only did they make the Final Four as a No. 7, but they won it all - a result I still can't fully comprehend. The No. 10 teams still have a lot of work left to do, though. Stanford was the only No. 10 to win a game in the 2014 tournament, and they were done by the Sweet 16.
1: 2008 was the only time we have seen all the teams that were supposed to win their region actually do so. That year all four No. 1 seeds made the Final Four. It's twice as common for no top seeds to make the Final Four - that happened in both 2001 and 2006. In 2014 the only top seed to advance was Florida, and they were out in the semifinals.
18: Betting on a No. 1 seed to win it all is a safe bet. In the 30 years since the tournament expanded to 30 teams we have seen a top seed cut down the nets 18 times. That's 80 percent of all opportunities - an impressive rate. Despite all the controversy every year, maybe the selection committee really does know what they are doing for the most part.
3: Here's an odd quirk for you. When No. 11 Dayton lost to No. 1 Florida in the Elite Eight it wasn't that surprising on the surface, but it actually went against expectations. In five previous Elite Eight meetings between those seeds, the lower seed was actually 3-2. Top seeds had been far more dominant against No. 7, No. 10, No. 12 and No. 13 seeds over time. When No. 7 UConn beat No. 1 Florida in the Final Four in 2014, it marked the first time in 32 tries that one of those four seeds had knocked off a No. 1.
22: When Stanford knocked off Kansas in the second round in 2014, it was the 22nd time that a No. 10 had upset a No. 2 in the second round of the tournament. Given that the two seeds have clashed only 53 times, that is a remarkable winning percentage - .415. The gap between No. 2 and No. 10 seeds should be quite large, so you would certainly expect the matchups between the seeds to be less competitive than they have been.
22: When Duke tipped off against Mercer in 2014, it was the 98th time that they had played a tournament game as the higher seed since the field expanded in 1985. That's quite remarkable if you think about it - an average of more than three wins per year for three decades. The problem is, though, that the humiliating loss to No. 14 Mercer this year marked the 22nd time that they had lost as the higher seed. It seems to be almost an expectation in recent years that Duke will lose a game they really shouldn't, but it isn't necessarily a new trend for the powerhouse squad.
8: Kansas had an embarrassing second-round loss to Stanford as a No. 2 seed in 2014. While that was a real problem, Stanford still managed to accomplish something - they extended their country-best streak of first round wins to eight years.

Want free sports betting picks? Doc's Sports has you covered - get $60 worth of picks free from any of Doc's Sports expert handicappers. Click here for free picks (new clients only).



Read more articles by Trevor Whenham