2016 NHL Stanley Cup Predictions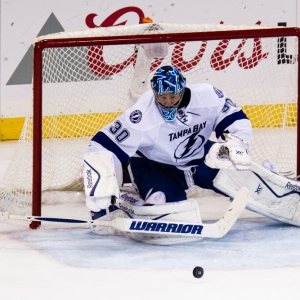 Here in Canada where I live it feels like Christmas Eve. Not only are the Blue Jays just about to start a playoff run, but the NHL season is just a day away. We love our hockey up here, so it's a big time of year. That makes it a perfect time to make some 2016 Stanley Cup predictions. That is no easy task this year - the East is tight, and the West is ridiculously competitive. Most years it's tough to pick a winner of the Stanley Cup before the season even starts. This year it may prove to be impossible, but that won't scare me off ( All odds to win the Stanley Cup are from BetOnline):
Free $60 in Member NHL Picks No Obligation Click Here
Eastern Conference
Tampa Bay Lightning (+800): The Lightning are the favorites to win the conference and one of three co-favorites in the league. I have no problem with that - for the second year in a row they are my most likely winner of the East. They have all sorts of experience to build on from last year, and the young core of this team will only improve with more time and seasoning. I have some concern that the Steven Stamkos contract impasse could be a distraction, but I am also confident that it will be sorted out soon enough. They are very offensive, the defense is more than solid led by blossoming Victor Hedman, and goaltending is a strength. The coaching and management are both strong, too. A whole lot to like here.
Washington Capitals (+1200): The biggest threat Tampa Bay faces is Washington. Alexander Ovechkin has always been excellent, but he seems to be fueled by a renewed hunger. The roster around him is deep and improved. The coaching is excellent and really should be rounding into form this season. A Washington vs. Tampa bay conference final would be one for the ages.
Pittsburgh Penguins (+1000): If a team is in a situation in which they think that Phil Kessel is the answer to their problems then they are not a team I am interested in trusting. He's very talented but not a guy who is part of winning teams. I don't trust him or Marc-Andre Fleury and will look elsewhere in the East.
Montreal Canadiens (+1800): It helps to have the best goaltender in the planet on your side, and the defense is sound. Offense is improved, but still isn't as good as it needs to be to go from very good team to a truly elite one. I respect them, but I'm not buying them at this price.
Western Conference
Anaheim Ducks (+800): The Ducks are co-favorites and are a popular pick to win it all. I can't argue too much with that sentiment, but I am not picking them myself. They are big and tough and don't have significant holes anywhere. I wish I liked their goaltending a little bit more, but they are smart, experienced and deep. They are likely to win their division and will certainly be in the mix - just not enough in the mix to offer any value.
Chicago Blackhawks (+800): I have a simple policy - I never back a defending Stanley Cup champion in futures the next year. It's an approach that hasn't failed since the Red Wings doubled up in 1998, and I'm not going to change my rule in this case. The team had to make a lot of significant changes because of their salary cap woes and are a different and younger team. They also face a whole lot of uncertainty and distraction due to Patrick Kane's legal woes over the summer. Very good team that will be competitive, but defending is extremely hard, and there is too much working against them. No value at all.
St. Louis Blues (+1200): They are a deep and competitive team that has what it takes to win. Of course, that has been the case for the last few years, and nothing has come of it. Until they show that they can take the next step, I just can't trust them. I'll pass.
L.A. Kings (+1400): Last year the team showed how tough it is to defend a title - they didn't even make the playoffs. They have plenty of talent and had a strong offseason. I have concerns, though. The coaching of Darryl Sutter tends to grow old for players after a while, and that could be the case here. I am also a little worried that Jonathan Quick won't be able to return to his best form after an off year. I don't like the value here at all.
Dallas Stars (+2200): In a conference this deep, we might as well gamble. This qualifies - the Dallas Stars are my pick to win the Stanley Cup. The same team that didn't make the playoffs last year. Their offensive talent is very impressive and will be very tough to play against. They had an excellent offseason, and their defense and goaltending - two big weaknesses last year - should be improved. They added good leadership and experience in Patrick Sharp. This is the year it all comes together - at a nice price.
$60 worth of member's NHL picks absolutely free - no obligation, no sales people - you don't even have to enter credit card information. You can use this $60 credit any way you please on any of our top hockey handicappers. Get your free picks by clicking here! Also, for a limited time get three hockey handicappers for the price of one! Click here for our 3-for-1 NHL picks offer.
Read more articles by Trevor Whenham