2016 NHL Stanley Cup Predictions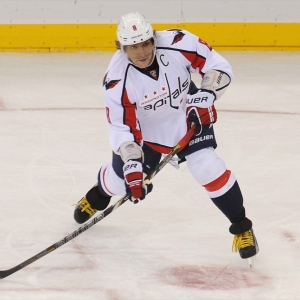 We are past the halfway point in the NHL season - a season that has been a gem so far. That means that it is a very good time for us to revisit our Stanley Cup predictions and to look for intriguing value amongst the top contenders to drink from Lord Stanley's mug. The odds suggest that things are shaping up as four elite teams driving the bus and the rest of the squads chasing them from well back. It's tough to argue too much with that perception, though the chasing squads offer some intriguing value. (all odds are from BetOnline):
Free $60 in Member NHL Picks No Obligation Click Here
Washington Capitals (+450): It only took seemingly forever, but the Capitals finally found a coach who can get them to tap into their massive potential. Barry Trotz is doing an incredible job in his second year with the team. Alexander Ovechkin is as offensively dynamic as ever while being generally more responsible at the same time. The formula for the team is simple to understand - they are tops in the league in goals allowed and second in goals scored. That makes it pretty easy to win games - and they are winning a lot of them. They are the clear class of the East, and anything but a berth in the finals would be a massive disappointment at this point. My concern is that they lack the experience deep in the playoffs that the big Western squads do, but they are deserving favorites.
Chicago Blackhawks (+600): The sleeping giants have awoken. The defending champs have won 11 straight and 14 of 16. But are they peaking too soon? Last year they were a pretty average regular-season team before waking up in the playoffs. Given how many games they have played the last three seasons - two Cup-winning runs and a loss in the conference finals - they may run out of gas before the end of the line this year. With their experience, talent and coaching, though, they are tough to discount. Deserving Western favorites.
Dallas Stars (+700): The Stars were my Cup pick coming into the season, and I still feel reasonably good about that. There are couple of things I need to see, though. First, they have hit the skids lately, losing six of seven, so I need them to show that they can handle this adversity, shake it off, and get back on track. Second, I would like to see them look to make a deal before the deadline that continues to address their defensive shortcomings. They are a very good and much-improved team, but while I still stand by them as my pick, I would need a higher price at this point to justify a serious investment.
L.A. Kings (+800): The Kings have all but clinched the Pacific Division already - hardly an accomplishment given the sorry collection of teams in that group. While they have taken advantage of their opportunity, and they have plenty of experience, I still am concerned that too many players have more to give than we have seen so far from them. They have succeeded lately as a team that turns up the gas in the postseason, though, so they have to be taken seriously. A fair price.
Florida Panthers (+1400): The Panthers just finished an 11-game winning streak and now are in the midst of a four-game losing streak. They are a talented, well-built, well-coached and fast-rising squad. Expecting a Cup win is too much for them this year, though. They need to learn how to win first. A playoff appearance and a strong showing is a victory now. No point in betting them at this - or any - price.
St. Louis Blues (+1400): The Blues are a nice team that does a lot of things well. Yawn. We have heard that story for a long time now. What we haven't seen, though, is proof that they are quite as good as the elite teams, or that they are ready to step up and make some noise in the playoffs when it matters. They are a step below the best, so this price is at best a fair one - and I don't think it is even that.
New York Rangers (+1600): Last year I didn't like this team at all, and they overachieved my expectations. This year I like them even less and they are living up to what I think. Inconsistent. Prone to pouting. Not deep enough. Not a serious contender in my eyes. I'll pass.
Tampa Bay (+1600): Compared to the Rangers, the Lightning are a bargain at this price. They were a mess early on but have got their act together and are well positioned to win their division. They have no shortage of talent, and the experience of going to the Cup finals last year is huge for them. I don't know that they are good enough to beat Washington, but they can beat anyone else in the East.
New York Islanders (+2000): The Islanders get little attention, and no one is going to watch them play in their new home in Brooklyn. They are a quietly-dangerous team, though - especially in an Eastern Conference that is wide open beyond the Caps. They play well on both sides of the puck and have been gaining experience over this slow rebuild. The price is right here.
Doc's Sports is offering new clients a great deal for $60 in free hockey picks from any of their expert NHL handicapping experts. This offer has no hidden fees or obligations, and you will never have to deal with a salesperson or enter any credit card info. Get your free hockey betting picks here - quick and easy. Also, for a limited time get three hockey handicappers for the price of one! Click here for our 3-for-1 NHL picks offer.
Read more articles by Trevor Whenham