2016 NHL Stanley Cup Predictions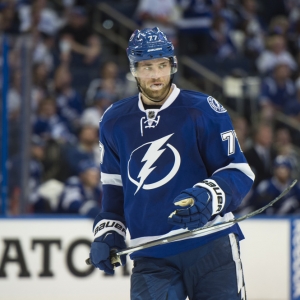 It's the day before the NHL season starts. That means that I can no longer hold off on making my Stanley Cup predictions before the season begins. I was waiting as long as I could because there was more contract uncertainty than we have been used to at this time of the year. A lot of the dust is settling in the last 24 hours, though, so we can now plunge ahead fearlessly. Here's a look at who I like and who I really don't (Odds to win the Stanley Cup are from BetOnline):
Free $60 in Member NHL Picks No Obligation Click Here
Tampa Bay Lightning (+800): I have picked the Lightning in two of the last three years. They haven't come through yet. I haven't learned from that. In fact, I like them more than I have at any time up to this point. They finally signed Nikita Kucherov to a new contract. Steven Stamkos shocked many by taking less money to remain in Tampa Bay for, quite possibly, the rest of his career. The scoring talent is very deep and not as inexperienced as it was. The defense is fine, and Victor Hedman is among the best in the league. They have a very deep situation in net and the chance to trade away Ben Bishop for help elsewhere if they choose to. Their coaching is excellent. The East is very tough this year, but they are the class of the group, and to my eyes they are the ones who are going to be sipping from Lord Stanley's mug when June rolls around.
Pittsburgh Penguins (+900): I like a whole lot about this Pittsburgh team and was very tempted to pick them to win it all. In the end, though, two things stopped me. First, repeating as champions is extremely tough to do in the NHL - it just doesn't happen. The stars of this team also played in the World Cup before the season, so they have played a whole lot of hockey. Too much, perhaps. More significantly, I am nervous about Sidney Crosby. He had a concussion on Friday, and his status is uncertain right now. It doesn't seem to be a serious one, but he has dealt with them before. He has had other injury issues, too. This team doesn't win a title without him at his best, so this latest scare scares me off of picking them over Tampa.
Washington Capitals (+900): Alexander Ovechkin will never win a Stanley Cup. That is the conclusion I have come to. It's not fair - he is one of the very best players to ever play the game. The Capitals always find a way to not be quite good enough when it matters, though, and that has happened regardless of who is on the team or who is coaching. This year they will be great during the regular season as usual. Excellent goaltending, scoring aplenty, solid defense, good coaching. Then things will go wrong somewhere in the postseason. It's destiny. Just accept it.
Chicago Blackhawks (+1100): What a run the Blackhawks have gone on. Runs like this are expensive, though, and the team has had to get rid of a lot of good players along the way. This year it was Teuvo Teravainen and Andrew Shaw that left, and there's no one obvious who replaced them. It's going to become a problem at some point, and I suspect we will see clear signs of that this year. Good team, but not good enough.
St. Louis Blues (+1200): Like Washington, the Blues are a good team that is never quite good enough. Like Chicago, they lost more than they gained this offseason. I don't see them winning it this year. They'll win a lot of games but not the ones that matter.
L.A. Kings (+1400): I have no patience for head coach Darryl Sutter and the way he conducts business. He is certainly good enough to win it all, though - he has done it twice before here. I don't think they are close to the very best-constructed team in the West, but then they don't need to be - they weren't the last two times they won it all, either. They are a definite factor in the West, though I wouldn't bet on them. The biggest issue might be the West is the weaker conference by quite a margin this year, so even winning the West might not be enough - Tampa, Pittsburgh and Washington would all beat the best of the West right now.
Dallas Stars (+1600): The Stars are a lesson in how hard it is to build a winner. They have excellent goal scoring. Their defense has been improved and should be adequate. What they don't have, though, is goaltending. Their two keepers are lousy, and they have contracts that make them all but untradeable. They made decisions in net that have handicapped them of their chances to succeed. With a guy like Ben Bishop or Brian Elliott in net, I would unquestionably pick them to win the West and perhaps the title. As it stands now, though, I can't do it.
Winnipeg Jets (+3600): I could touch on teams that are solid but aren't quite good enough - Nashville, San Jose and others. The price could be right for some value there, but they ultimately aren't winning it. Instead, I'll finish off with a decent long shot - you gotta love a long shot. The Jets looked really good two years ago. Last year was a total disaster. I'm giving them a mulligan this year, though. They are adding two excellent rookies. Patrik Laine was drafted second overall last year and then went to the World Championships, played against men and NHLers, and was named MVP of the tournament. He's scary good. They also have Kyle Connor, who made a joke of the NCAA playing at Michigan last year and is ready for the big time. Those two add major life to a reasonably talented team already. They have good depth in net and nice talent elsewhere They have the distraction of Jacob Trouba - the talented young defender is holding out and demanding a trade. If they can get him back in the fold, or trade him for a nice asset, then they could be ready to make some noise. They probably aren't winning, but they are better than this price suggests.
$60 worth of member's NHL picks absolutely free - no obligation, no sales people - you don't even have to enter credit card information. You can use this $60 credit any way you please on any of our top hockey handicappers. Get your free picks by clicking here! Also, for a limited time get three hockey handicappers for the price of one! Click here for our 3-for-1 NHL picks offer.
Read more articles by Trevor Whenham