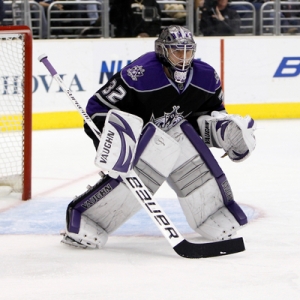 Now that a fairly active NHL trade deadline is in the books, itís a good time to take another look at the 2014 Stanley Cup contenders, and look for value in the futures odds offered by Sportsbook.ag ( all other odds to win the Stanley Cup are listed at the bottom of this article):
St. Louis Blues (+500): The Blues were looking like an extremely complete and dangerous team with one exception ó their goaltending was fine but far from inspiring. Thatís no longer a concern. They grabbed Ryan Miller from the Sabres, and they now have one of the elite goaltenders in the league. The price was fair, and it didnít cost them dramatically from their current roster. If Miller can fit in and maintain his strong form from this year, they are going to be tough to beat. It is telling that a week ago they were co-favorites with the Blackhawks and Ducks and now are alone on top of the heap. The Blues are my pick to win it all at this point, but there isnít much value in this price.
Free $60 in Member NHL Picks No Obligation Click Here
Chicago Blackhawks (+600): The Blackhawks did very little at the trade deadline, but why should they? They know that they can win with this team, they are playing well, and they donít have any glaring holes or weaknesses. I think they are probably only the second-best team in the West, and that conference is brutally tough at the top end right now. However, there is value here at this price ó at least compared to St. Louis, because the gap between the two teams isnít much, and Chicago has a huge advantage in experience.
Anaheim Ducks (+650): It was a lousy trade deadline for this team. They dumped Dustin Penner and Viktor Fasth to seemingly make room for a deal that never materialized. They struck out on both Kesler and Moulson and killed their momentum while sacrificing depth. Not ideal. They are still very good, but they didnít keep up with the Blues.
Pittsburgh Penguins (+650): The Penguins didnít have as bad a day as the Ducks had, but they certainly didnít sizzle like they have at past deadlines, either. In Marcel Goc and Lee Stempniak they added nothing but a couple of journeyman depth pieces. They are still a very solid team, though, and the price is fair because they are the best of the East by a fair margin in my eyes. As long as they can stay healthy they can really make things interesting.
Boston Bruins (+650): The Bruins were also relatively silent at the deadline, adding only one decent defenseman to a roster that they are pretty happy with. While on paper there is obviously a lot to like about this team, I just have a hard time having a lot of faith in them. They made it to the Finals last year and lost in six to the Blackhawks, so they are obviously capable of winning. I just donít feel like this team is quite as sharp as last year, and Pittsburgh is poised to be better than last year. I donít think that betting on any Eastern team makes much sense because of how good the West is, but I especially donít like them at this price.
San Jose Sharks (+900): The Sharks were reportedly very close to landing Ryan Callahan, and they would have got him if the Lightning had decided not to part with Martin St. Louis. I would have liked these Sharks a whole lot more with Callahan on board. The combination of the leadership he brings and his strong two-way play would have been very helpful. As it sits I just think San Jose sits a tier below St. Louis, Anaheim and Chicago. That makes them a very good team, but they will likely need to beat at least one and maybe two of those top teams to make the Finals, and I just donít see that happening. No value.
Los Angeles Kings (+1500): Itís amazing how quickly perceptions can change. Before yesterday I was looking at this team as a nice live long(er) shot. But then they picked up Marion Gaborik. I absolutely hate the deal. They gave up a nice prospect for him, and he is a lousy fit for Darryl Sutterís system. Sure, he can score, which the Kings need ó though he hasnít done nearly as much of that lately. He is lazy without the puck, though, and he cares only about offense. L.A.ís success is built on complete commitment to two-way hockey, so Gaborik will surely clash with his coach, and that will lead to distractions. Value dissolved the second the trade was announced.
Tampa Bay Lightning (+2800): This is a very tough team to assess right now. GM Steve Yzerman got absolutely the best value he possibly could have after Martin St. Louis demanded a trade to the Rangers. Ryan Callahan is no Martin St. Louis, though, so it remains to be seen how the team fares without their captain. Steven Stamkos is about to return to action, and that is huge. He wonít be playing with St. Louis anymore, though, so chemistry is a question. I still like them quite a bit ó just not as much as I did a week or two ago.
The rest of the field
Colorado Avalanche +1800
New York Rangers +2200
Montreal Canadiens +2500
Philadelphia Flyers +3000
Toronto Maple Leafs +3000
Minnesota Wild +3000
Detroit Red Wings +3500
Washington Capitals +4000
Columbus Blue Jackets +6000
New Jersey Devils +6500
Dallas Stars +6500
Winnipeg Jets +6500
Ottawa Senators +7000
Vancouver Canucks +7000
Phoenix Coyotes +7000
Carolina Hurricanes +10000
Off the board:
New York Islanders
Nashville Predators
Florida Panthers
Edmonton Oilers
Calgary Flames
Buffalo Sabres
Docís Sports is offering free NHL picks to new clients. You can get free hockey picks by clicking the following link. No credit card is needed and there is no salesman to deal with. You try the picks, and if you like what we offer then you will be able to purchase one of our fairly-priced hockey betting packages. Click here to get your $60 in free picks. Also, for a limited time get three hockey handicappers for the price of one! Click here for our 3-for-1 NHL picks offer.
Read more articles by Trevor Whenham