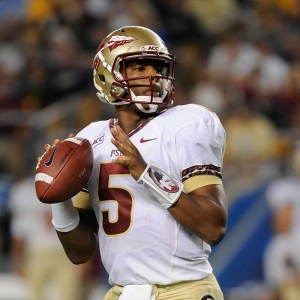 It wasn't very long ago that the last Heisman Trophy was given to Florida State QB Jameis Winston, and the next college football season is still many months away. Bovada has posted futures odds for the 2014 Heisman Trophy, though, so that means that it is a good time to take a very early look at what could happen next year, and where some value might be found. So here are Doc's Sports 2014 Heisman Trophy predictions:
Jameis Winston, QB, Florida State (2/1): The solid favorite this year is the defending champion. The Seminoles are losing some talent to the NFL, but they are still plenty loaded and will again be the team to beat in the ACC. We haven't seen a repeat winner in a very long time. Johnny Manziel came as close as anyone has to a repeat this year, though, so it is not inconceivable that it is possible. The Seminoles will have big targets on their backs, though, and voters will be looking for him to take a misstep. One of the biggest threats, though, is that for the last two years the eventual winner hadn't played in a single college game at this time, so it's quite possible that the biggest challengers to Winston's crown haven't been identified yet. Given all that he faces, this price is too low, but there is no taking away from his talent or public appeal or what he can do under pressure. Players are supposed to take a step forward between their first and second seasons. Manziel did. If Winston does, too, he could be tough to beat.
Free $60 in Member College Football Picks No Obligation Click Here
Braxton Miller, QB, Ohio State (4/1): I really don't like this price. Voters are going to be cautious about the Buckeyes after they finished their season off with two straight losses. The Big Ten is likely to be tougher this year than it was last year, but Ohio State still has a weak schedule, with a trip to Michigan State and a home game against Michigan the biggest tests. The nonconference schedule is very weak, and it isn't going to help gain any respect for the team, either. Miller just has too much to overcome. His chances aren't nearly as good as this price suggests.
Marcus Mariota, QB, Oregon (4/1): Of these three favorites, Mariota is by far the most attractive. He had the strong lead for the award last year before faltering. He has an early game against Michigan State to gain attention and a tough Pac-12 schedule to gain further respect. At this price he is a good value.
Bryce Petty, QB, Baylor (15/2): This is an interesting play at this price. Petty was solid until late last year. Now he has a full year of starting experience, and he should take a step forward. He has plenty of talent around him, and he is at the head of a potent offense. His biggest issue is that the schedule is tough, and it provides plenty of opportunities to stumble. The upside of that, though, is that he will have plenty of opportunities to shine. He faces an uphill battle, but the price is about right — at least in comparison to the others.
T.J. Yeldon, RB, Alabama (15/2): Yeldon is a very special talent, and he is obviously on a very good team. I just can't support him at this price. There are two big reasons. First, it is very tough to win the award as a running back, and to do so you need to put up truly gaudy numbers. I'm not convinced Yeldon can do enough given the incredible depth Alabama has at running back. Second, with a likely starting QB who is new to the program and a new offensive coordinator, I think there is too much change to be confident of this offense. Expectations are so high for Alabama every year that any stumble is seen as damning, and that could be hard for a Yeldon candidacy to overcome.
Brett Hundley, QB, UCLA (12/1): This is the best price on the board right now. Hundley could have gone pro this year, and he would have been off the board early. Instead, he has come back to deal with some unfinished business. He was handicapped last year by a lousy offensive line. With age it should be significantly better this year. He has an ideal nonconference game against Texas — high profile enough to get attention, but still very winnable. Conference play is as tough as we have become used to in recent years, but they get Oregon, USC and Stanford all at home. I like this bet.
Connor Cook, QB, Michigan State (12/1): I respect Cook and expect a good season from him, but this is a very lousy bet at this price. Cook was a big key to the season that the Spartans had last year. He plays in a system that is defined by defense, though, and Heisman winners need to be seen as heroes leading their team to victory. Cook doesn't play in an explosive offense, either, and he faces the same likely questions about conference legitimacy that Braxton Miller does. I imagine Michigan State will be good, but Cook won't get enough credit, or post big enough numbers, to be a major contender here. On the plus side, though, they do host Ohio State and Michigan, and they have an early game at Oregon that could kick start his campaign if he is key to a big upset.
Doc's Sports has had a winning tradition for more than four decades? Don't believe us? Try us out for free, and we are convinced you will be a believer. Get $60 worth of free sports picks – members' picks just like our paying clients get – here.
Read more articles by Trevor Whenham