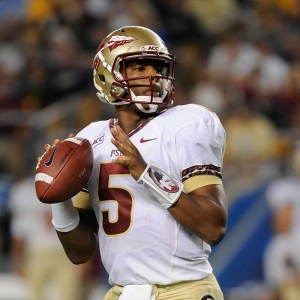 Bovada has recently updated its futures odds to win this yearís Heisman Trophy, rewarded to the best player in college football. While many of the names at the top of the list remain the same, the early money that has come in for this futures bet has shifted the betting odds quite a bit since they were first released in late January. The following will offer some 204 Heisman Trophy predictions for the players with the best value.
Jameis Winston, QB Florida State (13/4)
Free $60 in Member College Football Picks No Obligation Click Here
Winston is clearly the favorite to be the first player since Archie Griffin in 1974 and 1975 to win back-to-back Heisman Trophies, but this statement alone drains a good deal of the value from these odds. Itís hard enough to win this award once, let alone put forth another performance that is going to attract enough voters to champion your cause for a second statue. The Florida State sophomore has already gone from being a 2/1 favorite to 3/1 odds on Bovadaís current board, so the early money appears to be moving away from this pick. Johnny Maziel quickly became one of the most popular players in the college ranks in recent memory, and he could not pull off this feat last season.
Marcus Mariota, QB Oregon (11/2)
Playing for Oregon is going to bring immediate attention to whichever player lines up under center given the offensive juggernaut this program has developed into from Chip Kelly dayís with the Ducks. Mariota will probably need to lead his team to a Pac-12 title by avoiding any bad losses along the way to seriously contend for this seasonís award. He will have all the opportunity in the world to impress the voters with crucial matchups against Stanford and UCLA in conference play as well as in a nonconference matchup against Michigan State on Sept. 6. When the betting odds were first released this past January, he was listed at 4/1 to win this award, so the added value at 11/2 makes him my personal favorite to win this yearís Heisman.
Braxton Miller, QB Ohio State (7/1)
Miller was also opened at 4/1 odds to win this yearís Heisman, and he is another player that has seen his value go up since some of the early money on this futures bet has taken his odds to 6/1. The pressure was squarely on Ohio State last season after going a perfect 12-0 in 2012, so even though the expectation level remains high for the Buckeyes, Miller may actually be in a better position to attract the voterís attention heading into this season. The one thing working against his chances is a very soft nonconference schedule.
Bryce Petty, QB Baylor (12/1)
Playing in a competitive conference such as the Big 12 when you have a bullseye on your back as last seasonís conference champion has both its pluses and minuses for Pettyís chances to win a Heisman this season. If he plays well and helps to his team take down a few of the other favorites along the way, his name could easily vault to the top of this list. However, it will only take one or two stumbles under the spotlight to make him an also-ran among this group of elite athletes. The early bettors have backed off his chances to win by driving the odds to 12/1 after he opened at 15/2.
Todd Gurley, RB Georgia (12/1)
A quarterback has won the last four Heisman Trophies, so you have to go back to Alabamaís Mark Ingram in 2009 to find the last time a running back won this award. Gurley has been moving up the board with the early bettors at 12/1 after you could not even find his name among the top seven players on this list when the betting odds to win were first released. The Bulldogs are coming off a disappointing 8-5 campaign in 2013, but two of those losses could be directly attributed to Gurley being out of the lineup due to injury. If he can stay healthy for all 12 games this time around there is some tremendous value in these odds.
Bovadaís futures odds to win the 2014 Heisman Trophy for some of the other top contenders on list include Auburn quarterback Nick Marshall at 9/1 and Notre Dame quarterback Everett Golson at 14/1 along with Alabama running back TJ Yeldon and UCLA quarterback Brett Hundley at 16/1.
Get free picks from any Docís Sports handicapper Ė there is no obligation for this offer and no credit card required. Just sign up for an account, and you can use the $60 in free picks for any Docís Sports Advisory Board handicapper and any sport. Click here to get started now.
Read more articles by Dave Schwab