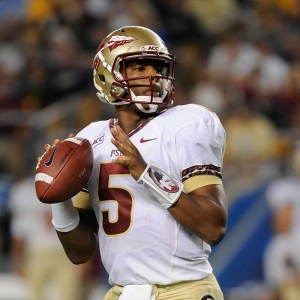 At this point in the season we should have clarity surrounding the Heisman Trophy. Under normal conditions, that is just what we would have right now. Johnny Manziel and Bryce Petty were both players with a lot of momentum in the race, but their candidacies both crashed and burned with inexplicably poor performances on Saturday. Marcus Mariota put the cherry on the top of his fall from the race with the worst game of his career in a shocking loss at Arizona. What was once a murky race — at least behind the leader — is now clearer. Sort of. Let's take a look (all odds are from Sportsbook.ag):
Free $60 in Member College Football Picks
No Obligation
Click Here
Jameis Winston, QB, Florida State (-300): Under normal circumstances, Winston would be all but a stone-cold lock. The redshirt freshman QB has been amazing for the Seminoles, and he has barely taken a misstep. His team is cruising, and the Seminoles are seemingly well on their way to a berth in the final BCS Championship Game. He has big numbers, highlight-reel plays galore, and all the achievements voters typically look for. If it weren't for the elephant in the room, this would be a very attractive bet despite the low price. Winston is under investigation for sexual assault, has been linked to the victim by DNA, and could face charges in the coming days. Team policy dictates that any player charged with a felony can't play, so Winston's season could come to a premature end at any moment. That wouldn't necessarily eliminate him from Heisman consideration. Voters could struggle to vote for him given the off-field issues, though. Really, even if he isn't charged, there will be voters who take it upon themselves to be the moral police. Given the uncertainty, it's hard to find any value in Winston at this price. There is no resolution to the situation expected until after Thanksgiving, so the timing of any announcement could come just in time to disrupt Winston's campaign and really make things interesting form a betting perspective.
A.J. McCarron, QB, Alabama (+200): McCarron has become the safe candidate, and he may be the safe bet here — at least at this price. He isn't sexy, but he has done little wrong, and after winning two national titles he is on his way to playing for a third. He's also squeaky-clean off the field, so it would be easy for skittish voters to justify a vote for him over Winston if the situation gets uglier. As long as McCarron beats Auburn, he is all but certain to finish no worse than second, and he is probably the only guy with a strong chance of catching Winston without major upheaval. To be clear, though — if both Alabama and Florida State wound up unbeaten and this was a normal situation, Winston would win reasonably easily.
Andre Williams, RB, Boston College (+1500): Williams benefited from the collapse of the quarterbacks last weekend more than anyone else. He had yet another 200+-yard rushing performance, surpassed 2,000 yards on the season, and widened the gap between him and the second-place rusher to 462 yards. It's an impressive year by any measure, and if any position is likely to be able to unseat a quarterback to win it all, it's a running back. He's not going to win unless this coming weekend of action is apocalyptic, but he has built a very strong case to be invited to New York now — something that wasn't likely going to happen before last week.
Braxton Miller, QB, Ohio State (+1500): Miller is about to quarterback a team to an unbeaten record for the second straight year. He absolutely is not going to win this award, though. No chance at all. None. There is absolutely no value here.
Johnny Manziel, QB, Texas A&M (+1500): Unless Manziel throws for 15 touchdowns against Missouri this week, he has even less of a chance of winning than Miller. Voters were going to be very uneasy about giving him a second award under the best of circumstances because of the circus surrounding him and his offseason and the significance attached to dual winners. Now, thanks to his flat performance last week and the two losses, those voters have an easy excuse not to vote for him.
KaDeem Carey, RB, Arizona (+2000): Carey may be more valuable to his team overall than Williams, but the gap in overall rushing yards between the two makes it hard for Carey to gain momentum. The biggest thing he has going for him is that the Pac-12 is well-respected this year, and Carey has emerged as the best remaining representative of conference. He also has a starring role in the huge upset of Oregon to hang his hat on. Williams, meanwhile, has to split ACC support with Winston. That being said, his ceiling is an invitation to New York.
Jordan Lynch, QB, Northern Illinois (+2500) and Derek Carr, QB, Fresno State (+2500): If there was justice, both of these guys would be invited to New York on the strength of their spectacular seasons — both of which should wind up undefeated. It's very unlikely that both will get the invitation, and neither stands any real chance of winning. I just hope that at least one guy gets much-deserved recognition.
Wow! Doc's Sports college football picks are free! New clients can get $60 in expert football picks from any handicapper on Doc's Sports Advisory Board. There is no obligation for this offer, and no salesman, ever! Click here to get your picks – it takes less than 2 minutes to sign up!
Read more articles by Trevor Whenham