This Week in NFL Betting by the Numbers: San Francisco 49ers
by Ricky Dimon - 2/1/2013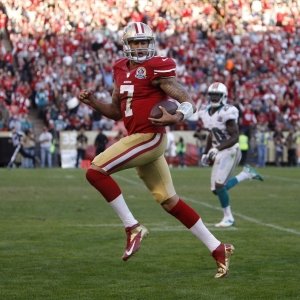 Randy Moss used Super Bowl media day to announce to the world that he is the best receiver in the history of the NFL.

Seriously? Okay, Moss is (or at least was) really good. But let's not get carried away now. In 14 regular seasons he has 982 receptions for 15,292 yards and 156 touchdowns. Jerry Rice, for example, hauled in 1,549 passes for 22,895 yards and 197 touchdowns in 20 regular seasons. Rice was named to the Pro Bowl 13 times, one away from doubling Moss' total. Throw the playoffs into the equation and Rice has 22 more scores (10 more than Moss) to go along with three Super Bowl rings (three more than Moss).

Free $60 in Member Super Bowl Picks
No Obligation
Click Here

Moss may be sorely mistaken behind the mic, but the 49ers have done very little wrong on the football field this season. What do the numbers say about their chances to keep it going? (all odds provided by Sportsbook.ag).

0 – Combined number of Super Bowl losses in the histories of the two participating teams. The 49ers are a perfect 5-0, the best mark — by far — among franchises with zero losses in the big game. In fact, no other team has more than one triumph while being undefeated. The Packers and Giants have come close in five appearances, but they are both 4-1. Dallas also has five wins but it has lost three times. Pittsburgh is the leader with six victories at the expense of two setbacks. The Ravens' only previous appearance came at the end of the 2000 season when they hammered New York 34-7 for the title. One will have to lose on Sunday, and it is expected to be Baltimore, which is a +3.5 underdog.

19.5 – Sacks for defensive end Aldon Smith through the first 13 games of the season. That's 19.5 more than the number of sacks he has had since Week 14. Not coincidentally, defensive tackle Justin Smith suffered a torn left triceps in Week 15, and he returned for the first two playoff games but was not 100 percent. As such, Aldon has been getting far more attention than he wants from opposing offensive lines. Another interesting number regarding Aldon is that 34 of his career 35.5 sacks have come as part of a four-man or fewer pass rush. The "over/under" for Aldon Smith tackles in Super Bowl XLVII is 3.5. Over is -130 and under is even.

6 – Consecutive games involving San Francisco that have gone over the over/under. Three of the six went over the total by double-digit margins, but the 52 points scored in the NFC Championship Game (a 28-24 victory for the 49ers over Atlanta) were just 4.5 points over the total. In Week 17, San Fran cruised past Arizona, 27-13, sending the game over the 39-point total by a mere one point. The over/under for the upcoming Super Bowl is set at 47.5

111.3 – Colin Kaepernick's quarterback rating in victories, compared to 79.5 in losses. If those numbers suggest that Kaepernick is the key to the 49ers, they are not lying. He compiled a 127.7 rating in the NFC Championship while completing 16-of-21 passes for 233 yards and one touchdown. His rating was "only" 91.2 in the divisional round against Green Bay, but keep in mind that the number did not measure his 181 rushing yards and two additional touchdowns. The backup-turned-starter also had a four-touchdown game (with only one pick) in a Week 15 win over New England, but it resulted in a relatively modest 108.5 rating because he completed just 14-of-25 passes for 221 yards. So he is playing even better than his rating suggests (98.3 in the regular season, 105.9 in the playoffs). The over/under for Kaepernick passing yards on Sunday is 240.5.

397 – Points scored by San Francisco during the regular season, one fewer than Baltimore's 398. That left the two teams in 11th place and 10th place, respectively, in the league. Want another statistic that can't get much closer? The 49ers also had one fewer sack, 37, to the Ravens' 38 (putting both in the middle of the NFL pack). One notable discrepancy, however, comes in rushing defense. San Francisco finished fourth in the league, allowing only 94.2 yards per outing, while Baltimore registered in 20th (122.8 yards per game). Green Bay just barely managed to cross the century mark on the ground against the Niners (104 yards), and Atlanta was limited to only 81. The over/under for Baltimore's total rushing yards in the Super Bowl is 104.5.

RAPID FIRE

1 – Teams with a bird mascot that have won the Super Bowl (none other than the Ravens). The Cardinals, Eagles, Falcons, and Seahawks are a combined 0-5.

5-1 – The 49ers' record against the spread in their last six games overall against opponents with winning records.

1.2 – Yards per rush after contact being allowed by the 49ers this season (including playoffs). That is the best such mark in the league, and they have led the NFL in that category three straight seasons.

8,839 – Rushing yards for Frank Gore as a 49er, quietly putting him atop the all-time franchise standings. He recently passed Roger Craig with 51 touchdowns, putting him in second on that list behind Joe Perry.

106 – Receiving yards for tight end Vernon Davis in the NFC Championship, his most (tied) of the season and his first time over the 100-yard mark since Week 5.

Read more articles by Ricky Dimon