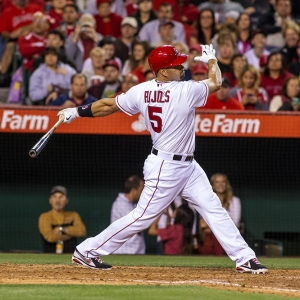 Baseball is becoming cool again.
Over the past 15 years football has slowly and methodically elbowed its way past Major League Baseball to become America's undisputed National Pastime. It's been a sad decline for the Boys of Summer, and it suffered through embarrassing seasons in 2010 and 2011.
But baseball has survived a messy divorce from the Steroid Era. The past two years have featured playoff expansions, incredible stretch runs and thrilling postseasons. Increased parity and purity (at least on the surface) within the game has heightened interest, attendance, and the amount (and enjoyment) of money wagered on this sport.
Free $60 in Member MLB Picks No Obligation Click Here
Baseball is back to dominating the sports betting scene for a large swath of the non-football months. And the value for gamblers is better than ever.
The Las Vegas Hilton released its 2014 MLB season win totals last weekend, and these numbers have given us our first glimpse into how the sportsbooks see this summer's baseball season playing out. It has given us an indication on which clubs the books are going to overvalue and undervalue and offered sharp sports bettors the first clue as to where the money will be made this year.
Last season Boston (14 games), Cleveland (15 games), Oakland (13 games) and Pittsburgh (16 games) each obliterated their MLB season win total. Not coincidentally, they were the four most profitable teams in baseball betting in 2013, earning a combined $8,500 for their backers in the process.
Betting on MLB season win totals can be a very profitable venture – if you know what to look for and what to avoid. Day-to-day baseball betting is at the whim of bullpen meltdowns, wild comebacks, nail-biting extra inning games, and horrifically/perfectly timed double plays. But futures wagers are "big picture" investments that can show an outstanding rate of return – without the heartburn.
But here are some 10-second predictions and analysis for the 2014 MLB regular season wins betting odds:
2014 MLB Season Win Totals Predictions and Analysis – American League
Baltimore (80.5) – Buck Showalter's bunch beat their season win total for the second straight season last year. They did so while seeing a major reversal in fortune with their late-game luck, dropping from a 29-9 mark in one-run games in 2012 to a 20-31 record last season. Starting pitching is still a major obstacle, though, and improved play from the Yankees and Blue Jays will siphon some wins.
Boston (87.5) – After failing to beat their Vegas win total in four straight years, the Red Sox blew it away in 2013 en route to another World Series crown. The veteran core of last year's group is intact, and they have pitching to burn. I don't think that another 90-win season is out of the question, and the Sox have won 88 or more in 12 of the last 16 seasons.
Chicago White Sox (76.5) – The White Sox have been one of the most erratic franchises in baseball over the last decade. They bottomed out with a grotesque 63-99 season last year, and that has pulled down their 2014 projections.But the Sox have seen their win total vary by at least nine games in eight of the past nine seasons, and they have won less than 77 games just three times since 1996.
Cleveland Indiana (82.5) –The Tribe enjoyed a breakout campaign last year after seeing hot starts fizzle in 2011 and 2012. Can they keep it up? That's doubtful thanks to mediocre starters, a weak bullpen, terrible fielding and inflated expectations. Remember: these guys have won less than 70 games three times in the last five years.
Detroit Tigers (91.5) –The Tigers had the second-fewest number of starts lost to injury, and they were No. 2 in the league in batting average on balls in play (BABIP). Both stats suggest a regression. Detroit also needs newly-acquired Ian Kinsler to replace Prince Fielder's lost production. This team certainly looks overvalued to me.
Houston Astros (57.5) – Houston's first run through the American League was predictably comical. They lost 111 games last year and have lost at least 100 in three straight years. That is shocking incompetence – and they don't look any better this season. If they can improve on last year's 29 blown saves they have a shot at 62 wins. But I know I'm not betting on it.
Kansas City Royals (85.5) –The Royals are becoming the equivalent of the Houston Texans: every year they are predicted to be a sleeper team, and every year they disappoint. The Royals have finished above .500 just twice in the last 20 years, including last year's 86-76 mark. The last time they topped even was with 83 wins in 2003. They followed that up with just 58 the following season.
L.A. Angels (84.5) –Statistically, the Angels were the second-biggest underachievers in baseball last year (behind the White Sox) by coming up 14 wins short of their season win total. These guys desperately need Josh Hamilton and Albert Pujols to hit like the players they are being paid to be. But even if they do, the back end of this rotation and bullpen are deficient, and this team is still overrated.
Minnesota Twins (65.5) –From 2001 to 2010 the Twins were the paradigm of small market consistency and success, winning an average of 88.8 games per season. What happened? They've averaged just 65 each of the last three years, and the cupboards look bare. Ron Gardenhire is an exceptional manager. But he can only do so much with this dung pile of a roster and rotation.
N.Y. Yankees (83.5) –I can't remember the last time I said this heading into an MLB season, but there may be some value betting on the Bombers this season. New York won 85 games in 2013 despite suffering through the most games lost to injury in the majors. Improved health, an upgraded roster with several marquee additions -- and not having the A-Rod cloud hanging over this team -- should lead to improvement.
Oakland Athletics (86.5) –The A's were one of the biggest surprise teams in baseball last year and did so using a tried-and-true method: young stud pitchers. They have topped 94 wins each of the last two years while taking the West title both times. The core of this team is intact, and while the rest of the division definitely improved on paper they still have to prove that they can top this bunch.
Seattle Mariners (81.5) –Robinson Cano shocked baseball fans across the country by signing with the Mariners for a monster contract. His addition, as well as Corey Hart's, has given this roster some life. But finishing over .500? I don't know that Cano is the answer to everything that ails this moribund organization.
Tampa Bay Rays (88.5) –As long as Joe Maddon is setting the tone and calling the shots for this team there is no way that I am betting against them. Maddon is the best manager in baseball, and nobody so consistently defies expectations.
Texas Rangers (86.5) –A shocking trade with Detroit landed the Rangers Prince Fielder, and the mammoth first basemen has injected life back into this organization after back-to-back "disappointing" seasons. The Rangers have averaged 92.5 wins per season the last four years, and I see them topping 90 wins again.
Toronto Blue Jays (77.5) –What happened? Last year the Jays were the big "buzz" team thanks to an offseason spending splurge. This year their win total is down from 86.5, and most investors are squeamish about this group burning them again. Injuries ravaged their starting staff last season, so there is reason for optimism. But that undisciplined lineup just reminds me why I bet against this team so often last year.
2014 MLB Season Win Totals Predictions and Analysis – National League
Arizona (81.0 Wins) – Clutch hitting, as Arizona's .265 average from the seventh inning on, didn't translate to wins because of 29 blown saves for the Diamondbacks. Any improvement in that area should vault the D-Backs into playoff contention.
Atlanta (86.5 Wins) –This is essentially the same team that won 96 games last year, and the Braves spent the offseason passing out big contracts to lock down key young players. Atlanta won so many games despite the fact that they were really racked by injuries from the start of the season on. They will miss Brian McCann in the locker room, and this lineup is streaky. But another 90-win campaign isn't out of the question.
Chicago Cubs (65.5) –I knew the Cubs would be awful last year, and it was easy money betting them to go "under" 72.5 wins. Theo Epstein is still rebuilding this entire organization, and they still aren't there yet. However, the Cubs statistically underachieved last year, falling five wins short of their Pythagorean Win Total. I think there is some value playing "over" here.
Cincinnati Reds (87.5) –I can't pinpoint why, but I can't shake the feeling that the window for the Reds has closed. Dusty Baker was dismissed, but otherwise the same roster that's earned back-to-back playoff slots is intact. But the lineup is just one injury away from becoming one of the worst in the league, and I think that this is a good time to sell on Cincinnati.
Colorado Rockies (76.5) – If the Rockies can stay healthy, they have a good possibility of beating their season win total for a second consecutive year. But that's a big "if". Justin Morneau and Brett Anderson have been added, and the Rockies need Carlos Gonzalez and Troy Tulowitski to finally take control of the locker room and give them 150-plus strong games. This is a team to keep an eye on.
L.A. Dodgers (92.5) –There aren't any plaudits I can toss on this team that haven't already been passed their way. The renowned PECOTA projections system has the Dodgers penciled in for 98 wins this year. They will be the most overpriced team in baseball betting. But that's only because their roster is absolutely loaded.
Miami Marlins (66.5) –On one hand, Miami could be set to bounce back because they had the second-worst injury luck in the Majors last year. On the other hand, they are still a poorly-run franchise with an underdeveloped roster and zero local interest. But as bad as they are, they have won 67 or more in 16 of the last 19 years.
Milwaukee Brewers (78.5) –Getting more than 61 games out of scumbag Ryan Braun can only help the Brew Crew. But the window for this team has closed, and they are nowhere near as talented as the bunch that made the postseason in 2011. This team is as shaky as they come, and my recommendation is to give them a wide berth.
N.Y. Mets (71.5) – I wouldn't say that I am bullish on the Mets, but I certainly think they are better than this win total suggests. I have seen worse Mets teams than this one win more games, and New York has topped this number in eight of the last nine seasons. Bartolo Colon and Curtis Granderson were nice additions to a group that won 74 games last year. I'm looking over.
Philadelphia Phillies (78.0) –As bad as last season was for the Phils, it should've been worse. Philadelphia surpassed its Pythagorean Win Total by seven games, the highest number in the league. That's a dead red indicator that a team is set up for a regression, and I'm looking at the under here.
Pittsburgh Pirates (85.5) –The Bucs were the feel-good story of pro baseball last year. What can they do for an encore? A.J. Burnett will certainly be missed. But the Pirates actually still have room to grow, as indicated by their weak .229 mark with runners in scoring position. But on the whole the offense is still suspect, and the bullpen overworked, so this could be a letdown year for this suddenly overvalued group.
San Diego Padres (76.5) –This has been the most frequently injured franchise in baseball from 2010-2013. Is that bad luck? Is it something systemic? I'm not sure. But unless the Padres can keep their modest talent healthy they show zero signs of climbing out of the West cellar. This win total is majorly optimistic.
San Francisco Giants (90.5) –Despite some subtle improvements – namely Tim Hudson and Michael Morse – I still think that this win total is a tad high for the Giants. They plummeted from 94 wins in 2012 to just 76 in 2013. And if you look back, this franchise has only topped 90 wins twice in the last nine years.
St. Louis Cardinals (86.5) –Forget Albert Pujols: the Cardinals organization is the machine. They have won an average of 91.3 games per season the past three years. However, there is absolutely no way they can repeat last year's record-setting .330 average with runners in scoring position.
Washington Nationals (92.5) – The Nationals had the same expected wins last year but flat-out didn't play very well. It was a letdown after their thrilling 2012, and everyone expects this group to bounce back in a big way. I do as well. But this win total is a little rich for my blood. Like the Reds, the pitching is brilliant, but the lineup lacks depth. And if the Braves pick up where they left off, the Nats should go under again.
Robert Ferringo has posted six of eight winning baseball seasons and from June 2012 to the close of the 2013 season he has been the best baseball handicapper in the country, banking $12,000 in profit. We are offering discounted rates on his full season package and that will get you every selection from April through October. Also, Doc's Sports is offering $60 worth of member's picks absolutely free – no obligation, no sales people – you don't even have to enter credit card information. You can use this $60 credit any way you please for any handicapper and any sport on Doc's Sports Advisory Board list of expert sports handicappers. Click here for more details and take advantage of this free $60 picks credit today.
Read more articles by Robert Ferringo