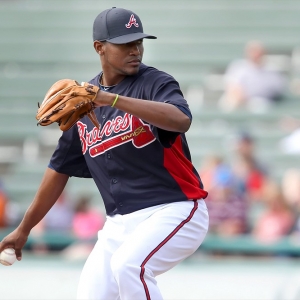 For those of you just coming out of baseball hibernation, the Houston Astros are the American League and the Washington Nationals are the World Series front-runners.
I don't know what happened either.
Major League Baseball will be back in just a few weeks, and the sport is going to look a lot differently than it did just six short years ago when steroids were running rampage through the clubhouses. Pitchers and catchers have already reported for duty, and Thursday the Spring Training schedule officially kicked off when the Red Sox split squad played a pair against Northeastern and Boston College.
Get a $100 Free Bet,
Paid Cash No Rollovers

promocode FREEBET
at Sportsbook.com
(Offer good for new customers only)
Click Here
It is officially baseball season, and it is time to start thinking about building our bankrolls up through the spring and summer so we will be full power for the 2013 fall and winter betting seasons.
One of my favorite avenues for baseball betting profit is with MLB futures bets on the MLB season wins totals. Throughout the year there will be all manner of insanity – wild rallies, crazy comebacks, heartbreaking blown leads, spellbinding extra inning games, and ill-timed rainouts that crush a winning wager – and those will be dealt with on a day-to-day basis. But betting on MLB season win totals odds gives me a perspective on The Big Picture in terms of what happens on the diamond. Whether it is locking into a team that is grossly overrated (*cough, cough* Toronto *cough, cough*) or getting in early on a team that might be somewhat undervalued (am I the only one not bailing on Philadelphia?), the futures props offer a tremendous value that is somewhat insulated from the everyday twists and turns of a season.
Below is a look at the 2013 MLB regular season wins odds, courtesy of Sportsbook.ag. I can't come out and give full 2013 MLB regular season wins predictions just yet because I haven't finished running my numbers. But I will have my rated MLB futures predictions available around mid-March and I have had unprecedented success with these wagers in the past.
But here are some predictions and analysis for the 2013 MLB regular season wins betting odds:
MLB Season Win Totals Predictions and Analysis for the American League
Baltimore (78.5) – I don't think the magic of last season is going to carry over into this year for the Orioles. The oddsmakers obviously don't feel that way either. Baltimore beat its Pythagorean wins by a whopping 11 games, and they were a jaw-dropping 29-9 in games decided by one run. Can you say, "regression"?
Boston (83.5) – After failing to beat their Vegas win total in four straight years, the books finally adjusted to the sad reality: the Red Sox are a bad baseball team. Boston has completely overhauled its clubhouse, but they are still one of the weaker rosters in the American League. I don't know if they will lose over 90 games again this year, but I have a hard time seeing them finish over .500.
Chicago White Sox (91.5) – The White Sox have had a knack for beating their Vegas season win total odds recently. They have gone over in four of the last five years and beat last year's projection of 74 wins easily. This number seems high considering they are still No. 2 in their division, and they have topped 92 wins just three times in the last 20 years.
Cleveland Indiana (77.5) – Signing Nick Swisher will take the clubhouse in a completely different direction for the Indians, in a good way, and the pickup has turned their lineup into a potentially potent unit. But Cleveland's starting pitching is still a mess. Anyone waiting for Cy Young-caliber Ubaldo Jiminez to return is kidding themself.
Detroit Tigers (93.0) – The Tigers were World Series runners-up last year and should be in the mix for the American League pennant this season. Veteran Torii Hunter was a nice addition – if he can keep hitting – and if Victor Martinez comes back healthy and productive this team could be even better in 2013. That's scary.
Kansas City Royals (77.5) – It has been 27 years since the Royals have been to the postseason, and they have finished below .500 in 16 of 17 seasons. Kansas City has actually improved its record each of the last four years from 65 to 67 to 71 to 72. They traded some blue chip prospects this winter to get proven veteran starters. I say it's about time. I think this team is just one or two bats away from getting over .500.
L.A. Angels (92.5) – For the second winter in a row the Angels made a staggering free agent signing, luring Josh Hamilton away from rival Texas. Albert Pujols was disappointing in his first A.L. season, but now with Mike Trout and Hamilton surrounding him this lineup is serious. But, unless their fix their bullpen (22 blown saves), this team won't reach its potential.
Minnesota Twins (67.0) – It is still odd to see the Twins projected this low. Throughout the majority of the 2000s they were one of the American League's premier organizations, going to the playoffs six times in nine seasons. From 2001 to 2010 they only finished below .500 one time, but in 2011 and 2012 mustered just 63 and 66 wins, respectively.
N.Y. Yankees (88.5) – The Yankees have averaged 97.5 wins over the last four seasons and have beaten their MLB season win totals in three of the last four years. They are obviously aging. But until I see a body in the coffin I won't believe this team is dead. They have won 90 or more games in 15 of 17 years.
Oakland Athletics (83.5) – I don't know how a team can hit .238 and win 94 games, but the A's did it. I promise you they won't do it again. This franchise is doing a savvy job of building its roster, but the A's have been overvalued for most of the last five years, and I think they set an unsustainable pace last year.
Seattle Mariners (78.5) – The Mariners made some nice moves in the offseason, and if they can get anything out of the middle of the order they should be OK. But the Mariners are still a distant fourth in a loaded division, and I have a hard time seeing them winning around 80 games. This number is about three or four games high.
Tampa Bay Rays (86.5) – Much like the Cardinals, you bet against the Rays at your own peril. They have topped their Vegas win total three straight years and four of the last five seasons. As long as Joe Maddon is calling the shots, I know I won't be betting against this team.
Texas Rangers (86.0) – The Rangers lost Josh Hamilton and Michael Young. And now, in a twist of fate, they will be relying on their pitching staff to carry them. This is going to be a dangerous team to bet on or against because we really don't know how the locker room is going to respond even though they have had plenty of experience playing without Hamilton over the last three years.
Toronto Blue Jays (86.5) – This number is inflated because Toronto made so many moves in the offseason, bringing in Mark Buehrle, Jose Reyes, Josh Johnson, R.A. Dickey and Melky Cabrera. But we saw the same thing with Miami last year after their big offseason, and the Marlins weren't even close to the 85 wins they needed to go 'over' last year. Until I see some results, I'm not buying into Toronto.
MLB Season Win Totals Predictions and Analysis for the National League
Arizona (82.0 Wins) – I am apparently in the minority of people who think that Arizona will be just fine without wildly-inconsistent outfielders Justin Upton (Atlanta) and Chris Young (Oakland). Arizona finished .500 despite a pathetic 15-27 mark in one-run games. If they clean up the bullpen they could beat this total.
Atlanta (87.5 Wins) – The Braves loaded up on Uptons this offseason, and B.J. and Justin are being touted as the guys to get this franchise back to glory. They will miss Chipper Jones. And some of the departed pitching. But, after winning 89 or more games in three straight years, this could be their best team of the decade.
Chicago Cubs (73.0) – Ah, Cubs bettors – always the optimists. This number seems high for a team that lost 101 games last year 91 the year prior. The demo stage of the rebuild appears to be over. But Chicago hasn't added anything to make this a competitive team. Since winning 97 games in 2008, this team has seen its record decrease every season. Can it get worse?
Cincinnati Reds (91.5) – The Reds have had a knack for not beating their Vegas season win total odds recently. They have gone under in four of the last six years. But they did destroy their 86-win projection last year with a 97-win dream season. The Reds haven't won 90 games in back-to-back seasons since 1979-1980, and they won't be as fortunate in one-run games again this year after leading the league with 31 such victories in 2012.
Colorado Rockies (70.5) – The Rockies have gone under their season win total in back-to-back years after going over in four of five seasons. Carlos Gonzalez and Troy Tulowitzki can't seize control of this locker room and franchise and need some grizzled veterans around them. And, until this team gets serious about its pitching staff, they will remain a N.L. West bottom feeder.
Houston Astros (59.5) – This team could actually be fun to watch, in a train wreck sort of way. They lost 107 games last year, and that was in the watered-down National League. This pitching staff is completely unprepared to face American League lineups, and things should spiral out of control pretty quickly.
L.A. Dodgers (91.5) – The Dodgers have gone on a stunning spending spree the last two years. On paper this team – with Carl Crawford, Matt Kemp, Adrian Gonzalez, Hanley Ramirez and Andre Ethier – is among the best in baseball. But does this team have any heart? Who is going to do the little things, the gritty things, and the unspectacular things that make good teams great? Or will they be the most underachieving team in baseball two years in a row?
Miami Marlins (64.0) – I think Miami should play Houston every game. World Class scumbag Jeffrey Loria gutted this roster just one year after an absurd spending spree to get "name" players to fill in his brand new, publicly-financed stadium. Miami is horrible in all facets, and I'll be stunned if they don't lose 100 games.
Milwaukee Brewers (81.0) – Ryan Braun's steroid fun is casting somewhat of a cloud over this franchise right now. But the juiced-up slugger can still mash and is still the fulcrum of this clubhouse. Milwaukee doesn't have the pitching to be anything beyond mediocre, though. And the Brewers lineup has proven time and time again how unreliable it is.
N.Y. Mets (74.5) – I am a Mets fan, so I hate this team more than most. But I think this total seems a bit low. New York has won 74 or more in three straight years. They did lose Cy Young winner R.A. Dickey. But I have a hard time seeing their bullpen being as bad as it was last season when they were No. 29 in reliever ERA.
Philadelphia Phillies (83.5) – The Phillies won 81 games last year despite all manner of plague in the locker room. They were fourth in the Majors in terms of days lost to the disabled list. If they can stay out of the Top 10 this year I think the Phillies can have a big bounce-back season.
Pittsburgh Pirates (83.5) – I really like how the Pirates are building their roster. But they still need some more pop in the lineup. This team hasn't finished over .500 since winning 96 games back in 1992. I think it is premature to set their expectations here, and I will be looking to bet on the under if this line holds.
San Diego Padres (75.0) – No team in baseball lost more starts to injury than the Padres. That would seem like fluke luck. But when a team continues to try to sell itself that Carlos Quentin can stay healthy, that's what happens. The fourth-place team in the N.L. West has averaged 76 wins the last four years, so if the Dads can be better than the Rockies they could threaten to go over.
San Francisco Giants (88.0) – I was convinced that the Giants would come back to earth after statistically overachieving in both 2010 and 2011. Instead they won their second World Series in three years. I won't make the mistake of betting against this squad again this year.
St. Louis Cardinals (86.5) – All the Cardinals do is win. They have secured 85 or more wins in 11 of the last 13 years and have been the best futures play in baseball lately. The Cardinals have sailed over their MLB season win total five straight years, and this number still seems a little soft.
Washington Nationals (92.5) – The Nationals won 98 games last year despite having to shut down Stephen Strasburg late in the season. (For the record, I was one of the few people that agreed with the move.) I think if these guys stay healthy – especially Strasburg and Ryan Zimmerman – I don't see any reason this team can't win 90 again. But Philadelphia and Atlanta are going to be competitive all season, and I don't see three teams winning 90 from the East so something's got to give.
Robert Ferringo has posted five of seven winning baseball seasons and from June 12 to the close of the season last year he was the best baseball handicapper in the country, banking over $11,200 in profit over the last four months of the year. We are offering discounted rates on his full season package and that will get you every selection from April through October. Also, Doc's Sports is offering $60 worth of member's picks absolutely free – no obligation, no sales people – you don't even have to enter credit card information. You can use this $60 credit any way you please for any handicapper and any sport on Doc's Sports Advisory Board list of expert sports handicappers. Click here for more details and take advantage of this free $60 picks credit today.
Read more articles by Robert Ferringo