2019 MLB Season Win Totals Predictions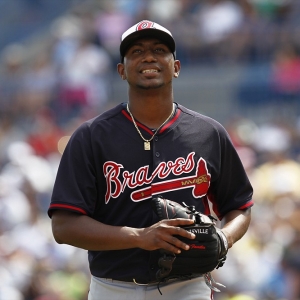 I really like checking in on Major League Baseball season win totals just as spring training is getting rolling. It serves a couple of purposes. First, it is a good chance to think about every team and get a sense of both what your expectations are and what the betting public is thinking. Second, and more important, it's a good exercise in humility. By checking back in August or so, you can remind yourself how little you actually can know about a team before they have played and how quickly things can change. Some of the teams will perform just as we will expect them to. But others will be so far off these numbers that they will be almost unrecognizable. Here's a look at all of the numbers set at BetOnline right now:
Free $60 in Member MLB Picks No Obligation Click Here
Arizona - over/under 74.5: This is one of several teams on this list that seems to keep coming close to relevance but really struggles to get over the hump. And this just isn't going to be their year. I like the over, but because I like them to win about 78 games, not because I like them to be good.
Atlanta - o/u 86.5: I like the youth on this team, and they have done a decent job of building on it. Odds would suggest that they are the third-best team in the NL East. But if I had to pick one team to win it, this would be it. It might just be sentimentality, but I like what they have going on. I like the over.
Baltimore - o/u 59.5: How pathetic is it that the lowest number on the board isn't nearly low enough. This is going to be a horrifyingly bad team. Just awful. The under is solidly favored at -125, but even at that price it's the right play.
Boston - o/u 94.5: I was convinced early on that the Red Sox were going to win the AL East. But as things have gone along, I have changed my mind and think they will finish second behind the Yankees. I see 95 wins, so there isn't any value in this number. I'd take over if I had to.
Chicago Cubs - o/u 88.5: At this point, I think one of three teams is going to win the NL Central, and they are going to do it with a win total somewhere in the low 90s. The issue, though, is I can't decide which team it will be. I like things about all three - Milwaukee less than the others. The Cubs should bounce back to a disappointing end to an often-disappointing season, so I lean over.
Chicago White Sox - o/u 74.5: I'm disappointed that the White Sox couldn't get any traction with the big free agents, because I like the upside here. They have been bad for a long while, but they have done a good job of rebuilding the right way. I don't think they will contend or anything, but I like the over here.
Cincinnati - o/u 79.5: I'm watching Reds play in Chicago this summer, so I would really like for them to be at least decent. It would make for a better game. But, unfortunately, this feels like a generous number. Like, five or six wins generous in my eyes. I'll all over the under here.
Cleveland - o/u 90.5: There are 13 guys who were on the roster at the end of last year who aren't now. Stunning turnover. But they have talent still, and the Central is a mess so they get a boost from that. In any other division I'd lean under, but here I lean over.
Colorado - o/u 84.5: Last year this team was a pleasant surprise. There are few things tougher than following up a season like that. But I really like that they stepped up for Nolan Arenado, and have reasonable faith in the young pitchers. I'm going over.
Detroit - o/u 68.5: When is the last time it felt like the Tigers had a plan? It's been too long, and right now they seem to be just treading water. They aren't any good and don't seem to be moving towards respectability with any urgency. I hate where this team is right now. Very easy under.
Houston - o/u 96.5: This is a big number. Scary big. But the Astros are my pick to win it all this year, and there is so much explosiveness on this team. I have to go over - whether I like it or not.
Kansas City - o/u 69.5: The Royals show just how hard building a team is outside of a massive market. They slowly built, had their success, and now they are just awful again - and it's going to take a long while until that changes. Easy under.
L.A. Angels - o/u 83.5: If you have a guy as special as Mike Trout on your team and you are as underwhelming as the Angels are, you are really doing something wrong. In fact, you have to really work hard to be this bland with a guy like that. What a mess. Under.
L.A. Dodgers - o/u 93.5: I've long doubted this team mentally. And I can't shake the feeling like this is going to be a rough year. Clayton Kershaw is uncertain. They lost out on landing their big free agent target and lost the swagger that would come with that. And they are not running out of egos in the clubhouse. I like the under here.
Miami - o/u 63.5: I never even remotely liked Derek Jeter as a player. Seeing him as a CEO and owner, though, has made me think that maybe I undersold him as a player. At the very least, he was way, way, way better at that than he is at this. He should feel deep embarrassment every time he looks in the mirror. Under.
Milwaukee - o/u 86.5: I was waiting for Milwaukee to implode last year, and they never did. They surprised me. So, when I say that I don't really believe in this team, and feel that a little too much was driven by overachievement last year, you should probably ignore me. I lean under, but the over is solidly favored.
Minnesota - o/u 84.5: This feels like one of the teams with the widest ranges of possibilities. If the team won 88 games, I wouldn't be any more surprised than if they won 78. I really struggle to nail them down. I'd lean under just because there are more likely totals under the number than over it, but I have no faith in my pick.
New York Mets - o/u 85.5: What is it about sports in New York other than the Yankees? The Mets have been treading water for years. The Rangers are a mess. The Knicks are embarrassing. It just doesn't make sense. I think the under is quite attractive here, and it shouldn't be given what this team has to work with.
New York Yankees - o/u 96.5: I wish the team would invest some of their wealth in the bottom of the rotation, but the top end is good, and they are going to be able to hit like crazy. They should flirt with something in the neighborhood of 100 wins, so the over is the right side here - but not one with high value given that it is at -125.
Oakland - o/u 83.5: They were a nice surprise last year, but they aren't going to sneak up on anyone this year. I like a lot of what they are doing, though, and feel reasonably optimistic. I'm not sure they'll be a playoff team, but they will be right in the mix. Take the over.
Philadelphia - o/u 89.5: They have spent like crazy this offseason, and they got their man in the end, but this number feels a bit optimistic. I am not convinced that they are the best team in their division like this price suggests, so I lean under.
Pittsburgh - o/u 77.5: Pittsburgh is a team that is going nowhere fast. They are neither particularly awful or particularly good. They are just there - existing merely as a team for other, better, more inspiring teams to play. Neither rebuilding nor contending, really. Just existing. And that makes this number really hard to deal with. I guess I lean under.
San Diego - o/u 78.5: I like the young talent, and I like the boost in swagger they will have from the Machado signing. This is too early for them to be contending in any real way, but they should be able to make a little noise. I'll take the over - though it might be as much because I find this team really easy to cheer for right now as anything.
San Francisco - o/u 73.5: The league is better when the Giants are good. That's bad news for the league, then, because I struggle to see how this team wins 70 games this year. Under.
Seattle - o/u 71.5: If it wasn't bolted down this offseason, the Mariners traded it out of town. It's a full-on rebuild for a team that felt close to relevance but never managed to get there. I have always hoped for better, but I like the approach. I am always a little optimistic about this team - I grew up watching their Triple-A team - and that won't change. Seventy-four wins feels like a target, so I lean over.
St. Louis - o/u 88.5: I like the offseason a lot, and I quite like the team. I think they are my pick to win the tough NL Central, but the Cubs might be, too. Either way, I lean solidly to the over here, and I quite like that play.
Tampa Bay - o/u 84.5: I was really hoping that this number would be more like 82.5, because I kind of like this team. They have some nice talent and will get some easy wins over Toronto and Baltimore - which makes up somewhat for the challenge of playing Boston and the Yankees so much. I like the over here, but not by much.
Texas - o/u 70.5: This number feels right on, and that's just sad. This is another team, like Seattle or Toronto, that got so close and has had to step back and regroup. But this team is in worse shape than those other two right now. I'd lean under if I had to, but only barely.
Toronto - o/u 74.5: Before I looked at these numbers, I said 74 wins would be good for Toronto. Pitching is a question, though they have added some veteran depth and it might not be a disaster. And they are going to be young. If Vlad Guerrero Jr. comes up early and comes close to meeting his hype, they could go a bit over this number. At +100 on the over I'd probably gamble, but I'm a Canadian so maybe I'm biased.
Washington - o/u 88.5: They lost their highest-profile player, and they play in a brutally-tough division, but it would be a mistake to rule them out. They have lots of talent still and will likely be very motivated to beat Philadelphia. I would take the over because I don't want the under at this number, but only barely.
Doc's Sports is offering $60 in member's baseball picks - no obligation, no sales people - you don't even have to enter credit card information. You can use this $60 credit for any of our top MLB handicappers. Get $60 worth of premium members' picks free. Also, for a limited time only get three MLB handicappers for the price of one. Click here for details . Get free MLB picks daily on Doc's Sports homepage.
Read more articles by Trevor Whenham