2017 MLB Season Win Totals Predictions with Betting Odds and Picks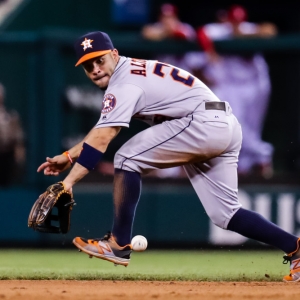 As has become a bit of a tradition, the Atlantis Casino in Reno has become the first to post baseball season win totals. Now, season win totals are really hard, and doing them now before pitchers and catchers have even officially reported is just crazy. There is one good reason to look at them, though - it's a whole lot of fun. Here's a quick thought on each team:
Arizona - "over/under" 78.5: Under. I don't hate the offseason they had, and they should be able to pitch better than they have recently. Still, there are too many issues to really get excited.
Free $60 in Member MLB Picks No Obligation Click Here
Atlanta - 71.5: Under. This is a bad team. Really, really bad. There is just nothing to rally around when looking at this team. I guess that there are some reasonably decent young players, but they just aren't close to ready yet.
Baltimore - 84.5: Pass. This is a strong number. When I thought about Baltimore this year my first reaction was that they were good for 84 or 85 wins. Hard to bet this number with that opinion.
Boston - 90.5: Over. They won 93 games last year and invested heavily in pitching again this year. If they don't at least match last year's win total it will be a real disappointment.
Chicago Cubs - 95.5: Over. This is a crazy number, but we have no choice to but to go over. They won 103 games last year, and are just as good this year - arguably better because they get their injured players back.
Chicago White Sox - 73.5: Under. They won 78 games last year, and they were 23-10 out of the gate. They aren't notably better and can't be trusted to start hot again. Dark days in Chicago - at least on the South Side.
Cincinnati - 73.5: Under. The Reds are rebuilding and doing a decent job of it, but it's a long process. The rotation is a complete mess, and it is going to let them down early and often.
Cleveland - 92.5: Over. This is a very tough one, and I should probably pass on it. They won 94 last year, and on paper they are about as good. They are more experienced but could also suffer a hangover from their crushing World Series setback.
Colorado - 79.5: Over. The pitching staff has a chance to be solid. They have some decent bats - and a good place to hit. I like Bud Black on the bench. I don't expect big things from them, but they should be .500 or better.
Detroit - 85.5: Pass. Like Baltimore, this number sits right between the two totals that came to mind when I thought about this team.
Houston - 87.5: Over. The Astros won 84 last year, and that was a mild disappointment. I like the offseason and the talent and think they will be right in the mix to win the division.
Kansas City - 80.5: Over. There is some good talent here, and there is plenty they could risk losing to free agency if they don't play well and make themselves attractive. They should be better than they have been.
L.A. Angels - 76.5: Under. How can a team with Mike Trout be this bad? When their philosophy seems to be to have the best player in baseball and hope he can win single handedly.
L.A. Dodgers - 90.5: Under. I don't believe in the Dodgers and their mental game, so I just can't back this team. The number is decent, but the under is where I sit.
Miami - 77.5: Under. They have to deal with the psychological and on-field impact of losing their best pitcher, they have the distraction of an ownership change to potentially deal with, and they just aren't deep enough. Easy under.
Milwaukee - 72.5: Under. I think I could convince three of 10 casual baseball fans that the Brewers had folded. That's how invisible they are. They were lousy last year, and then they let Chris Carter and his 41 home runs leave town.
Minnesota - 70.5: Under. Last year they had a really, really bad pitching staff - the worst in the league, and it wasn't close. So what did they do to change things in the offseason? Pretty much nothing.
N.Y. Mets - 89.5: Pass. They were crushed by injuries last year. They can't be unlucky again. The problem, though, is a familiar one - I like them to win 89 or 90 games.
N.Y. Yankees - 83.5: Under. The best thing about this number is that it exists. How can a team with the money and resources the Yankees have be this underwhelming? Awesome.
Oakland - 66.5: Over. This is just a guess. I'll admit that. They could easily lose 100 games. Or win 80. This team, because of their youth and turnover, is an absolute mystery.
Philadelphia - 72.5: Over. They have been stuck in purgatory for a couple of years, and now the rebuild seems to have gained some traction. I don't think they will yet be good, but they should be a little better. Nice value here.
Pittsburgh - 85.5: Under. They are coming off a brutal 78-win season. I can't help but feel like the window has slammed shut for this team. They wasted the good chances they had, and now they are doomed to be mediocre. Again.
San Diego - 64.5: Under. This may be the easiest one on the board. If San Diego doesn't lose 100 it will be the biggest upset of the season. The A's could win the World Series and I would be less surprised than I would be if the Padres won 70.
San Francisco - 87.5: Over. I like a whole lot about how this team is built. I have already told you I have a standing policy to be negative about the Dodgers. It feels, then, like it could again be the time for the Giants to shine.
Seattle - 85.5: Over. Every year I convince myself that the Mariners are going to break through. Then I try to convince others. Then they don't. But this year will be different. Trust me. I like a whole lot about this team. Enough that they can win the division.
St. Louis - 87.5: Over. When was the last time that it paid off to be negative about the Cardinals? It's been a long while.
Tampa Bay - 75.5: Pass. Bad team. Apathetic ownership. Not enough talent. Over or under -- you could make a case for either, but only by a game or two.
Texas - 86.5: Over. The offseason was solid, and there is a lot to like. I am nervous about the impact injuries could have, and I wish I trusted the rotation a little more, but they will be in the mix in a very tough AL West.
Toronto - 86.5: Over. I am more optimistic than most about Toronto. They didn't have a very good offseason, but Kendry Morales is decent, they have a very good bullpen, and the rotation remains elite. And The Yankees and Rays suck, and Baltimore is just okay. They could easily be a wild-card team.
Washington - 90.5: Over. When you have the stars that this team has they should win more than this. There is no excuse not to.
Get free picks from any Doc's Sports handicapper - there is no obligation for this offer and no credit card required. Just sign up for an account, and you can use the $60 in free picks for any Doc's Sports Advisory Board handicapper and any sport. Click here to get started now .
Read more articles by Trevor Whenham