2018 MLB Season Win Totals Predictions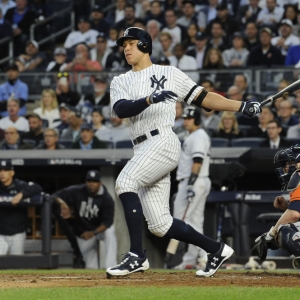 Every year at about this time I look at Major League Baseball season win totals to see what stands out in terms of value. And it has never been harder than it is right now after a truly bizarre offseason. There are a lot of really good baseball players who do not have jobs yet - but don't call it collusion. A significant number of these players would be able to impact the win totals of their new teams - and quite significantly in the case of guys like Jake Arrieta or J.D. Martinez. But we'll persevere anyway - that's why we're here. Odds are from BetOnline :
Free $60 in Member MLB Picks No Obligation Click Here
Arizona (85.5): "Under". There are some things I like about this team - the rotation is solid, I like the coaching, and they have some nice players. But the depth has taken a hit, and the bullpen needs to prove itself. The number is close - which will be a recurring theme in this article - but I have to lean under.
Atlanta (74.5): "Over". The rebuild is going to be running for a while, but there is a lot to like here. They have some nice young talent to work with. The next couple of years are more about developing these guys and figuring out what they have than anything else, but they could quietly win some games in a division that just sucks beyond the Nationals.
Baltimore (73): Under. The Orioles are a total freaking mystery - as in it is impossible to figure out what in the world they are thinking. They had the worst rotation in baseball last year, and they have done basically nothing to address that as of yet. They seem totally disinterested in winning.
Boston (91.5): Under. I still expect the Red Sox to sign J.D. Martinez at some point, and that would be a positive move. David Price remains a concern, though, and they haven't kept pace with the Yankees. They are a viable playoff team, but the value is in the under.
Chicago Cubs (94.5): Under. I like the offseason they have had and expect them to shake off the funk that stole the first half of their season last year. They should be solid. The only reason I am pessimistic at this point, though, is that the bullpen is far from awesome. If they take some more steps to fix it before the season then I could swing to the over, but not yet.
Chicago White Sox (68): Over. The White Sox are a long way from being relevant, but they finally feel like they are moving in the right direction. They aren't going to be good, but they could easily win 70-plus games.
Cincinnati (73.5): Under. There is a chance for some upside here if the rotational development is far ahead of schedule. They have some nice guys in the minors, but it is far from a guarantee that they will be ready this year. Or that that will really help. This team is not good yet. One day maybe, but not yet.
Cleveland (94.5): Over. The rotation is as good as it was, the bullpen is strong, and they will be able to hit. They went way over this number last year, and they should do so again. This feels like a reasonably comfortable over.
Colorado (82): Over. I loved this story last year because it came basically from nowhere. They were a huge shock. But I don't think it was a total fluke. The bullpen has been improved, the starting pitching is decent, and the bats are there. There is good value here. Really good.
Detroit (68.5): Under. The Tigers are rebuilding. Or at least that is what they want you to believe. It really feels like they are lost in the desert and dying of thirst. It's generally a mess, and it's going to be an ugly year.
Houston (96.5): Over. I am a huge believer in this team. The offense was potent last year without feeling like they were overachieving, and they were left largely intact. And the rotation is even better than it was last year - Justin Verlander is with the team all year, and Gerrit Cole is a nice addition. This is a great team.
Kansas City (71.5): Over. The Royals are not far removed from their glory days, but that window has slammed shut. Really hard. They are forced to rebuild, and they don't have a lot of positives on their side at this point. I am glad I am not a fan of the Royals.
L.A. Angels (84.5): Over. For the first time in quite a long time I am actually positive about the Angels. After wasting too much of Mike Trout's career wallowing in mediocrity, they finally have done some nice things - with winning the Shohei Ohtani sweepstakes being at the top of the list. The rotation should be solid, and the team could be a contender.
L.A. Dodgers (96.5): Under. I have a general policy of always discounting the Dodgers because I think that they are mentally weak. It hasn't let me down yet, so I have no incentive to change.
Miami (64.5): Under. They have traded away every guy with a pulse, and replaced them with, well, nothing. Unless Derek Jeter is planning to play himself, this is going to be a joke of a year. If they don't lose 100 games it will be a total miracle.
Milwaukee (84.5): Over. They had a good offense last year, and they have added to it this offseason. The rotation is more of a question mark than I would like, but they are better than last year, so I guess we have to go with the over.
Minnesota (82.5): Over. I have no idea how this team did what they did last year, so it's tough to predict what could happen this year. The pitching is more of a concern even than last year, but they are young and plucky. I am cautiously optimistic - but mostly because I'm a sucker for good underdog story.
New York Mets (81): Under. The Mets had totally disastrous pitching last year. So what did they do about it this winter? Pretty much nothing. They let it ride. And if that doesn't terrify you then you are a much more optimistic person than me - or you weren't paying attention last year.
New York Yankees (94.5): Under. They are the class of the AL East, and the addition of Giancarlo Stanton is almost unfair. But they are going to be relying on some young players in key positions, and CC Sabathia scares the heck out of me in the rotation. It's not a high-value play, but the under is the only play.
Oakland (74.5): Under. Oakland's payroll is pretty close to $12. It's a complete and utter joke. They just seem determined to never be relevant. They are embarrassing.
Philadelphia (75.5): Over. Like the Braves, this is a team stuck in a long rebuild, but they are doing it right, adding some nice pieces patiently, and I guess I want them to be rewarded for that. I would definitely not bet the farm on this, though.
Pittsburgh (73): Under. After years of not being quite good enough, the franchise has seemingly given up entirely. Ugly. This is not going to be a great year for this team. Or a good one. In fact, it will be just kind of pathetic.
San Diego (69.5): Over. This team has been totally irrelevant for a very long time. As a result, though, they have a good farm system, and some of those youngsters are on the rise at the major league level. Maybe I just pity the franchise, but I think they could win more than 70 games this year. In fact, I feel pretty good about that belief.
San Francisco (81.5): Over. They got Evan Longoria and Andrew McCutchen. Now they just need to find a time machine, because if they can port those two guys back to 2012 then they will be unbeatable. Barring that, though, this isn't a great team. I could just as easily take the under, but I'm going to give Buster Posey enough credit to move it to the over.
Seattle (81.5): Over. This one is automatic. I always take the over on Seattle. It goes back to my youth when I had season tickets to their Triple-A team and always felt like the glory days of the franchise were just around the corner. They weren't then, of course, and haven't been since. This team seems cursed, but the memory of that happy 12-year-old in the stands of Foothills Stadium keep me feeling optimistic.
St. Louis (85.5): Over. The addition of Marcell Ozuna was really good, the pitching is solid, and the bullpen has promise. This franchise is one that always seems to maximize their resources, so I have to lean to the over.
Tampa Bay (77.5): Under. They lost Evan Longoria and Logan Morrison, and they didn't adequately replace either their production or their leadership. The starting rotation is solid enough, but it's not enough. It feels like this could be a lost season, and it's only February.
Texas (77.5): Under. Word is that the Rangers are planning to use a six-man rotation. That is, of course, just idiotic - and a sign that they aren't confident with what they have going on. They are a team that has had their window open for a long while, but those days are done and it's time to regroup.
Toronto (81): Over. I feel at least a little optimistic about the Jays. They won't be good, but they could be better than people think. They had impossibly bad luck with the health of their rotation last year. If they get better pitching, better luck, and some good performances from new players in the field then they could go over this number. Not miles over this number, but over.
Washington (92.5): Over. Way over. They have no excuses. Pitching. Bats. A better manager. A weak division. They have absolutely everything going for them - and this could be their last chance if Bryce Harper doesn't stick around after this year.
Get free picks from any Doc's Sports handicapper - there is no obligation for this offer and no credit card required. Just sign up for an account, and you can use the $60 in free picks for any Doc's Sports expert handicapper and any sport. Get $60 worth of premium members' picks free .
Read more articles by Trevor Whenham