Belmont Picks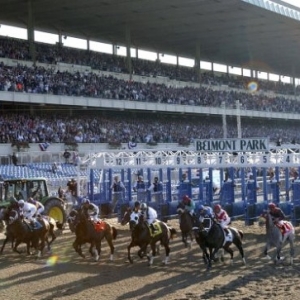 Doc's Sports Team has been handicapping all major horse races since he started the company back in 1971. All Belmont Picks will be released on Friday, June 10th, 2016. The Belmont Stakes takes place on Saturday, June 11th, 2016.

Need the winner for the 2016 Belmont Stakes. Look no further than Indian Cowboy, as his $180 superfecta bet grossed $1,906.90 in the 2015 Preakness Stakes. This is the third straight year Indian Cowboy has nailed the superfecta in the Preakness Stakes and you can receive his 2016 Belmont Stakes selections for just $35. Indian Cowboy also nailed the trifecta in the 2016 Kentucky Derby.

Raphael Esparza has shown a profit in both of the 2016 Triple Crown Races and looks to complete the trifecta in the 2016 Belmont Stakes. Robert Ferringo has collected on the trifecta & exacta in both the 2016 Kentucky Derby & the 2016 Preakness Stakes.

The Belmont offers different obstacles when handicapping the race. This is the race that has eluded numerous Triple Crown hopefuls in the past. Doc expects the field in this race to have about 12 entries and a few will be holdovers from the Kentucky Derby & the Preakness Stakes.

Doc's Sports is your place for handicapping the Belmont Stakes. We will be in contact with numerous sources from the New York area during Belmont Week. Doc's Sports Team really likes one horse running this long distance and that choice may surprise you. Once the post positions are established, Doc's Sports Team will post the current morning line odds more the Belmont Stakes.

All handicappers will release their Belmont Stakes Selections on Friday, June 10th, 2016. Receive all four handicappers picks for just $140! If you have any questions don't hesitate to call our office toll free at 1-866-238-6696.


Saturday at Oaklawn Park - Rebel Stakes - $35.00
The Kentucky Derby may be the most famous horse race of them all but the BEST value is in all the Kentucky Derby prep races before the big event. Raphael Ezparza; Former Race and Sports Book director from the Aria Resort and Casino in Las Vegas, has all the inside connections and the years of experience. Build your Kentucky Derby bankroll with the expert. Horse racing plays will be posted on Saturday 11:30AM EST


** Please note if you have purchased picks from us in the past your username and password are still active and you DO NOT need to sign up and enter a new username again. Instead click the member log-in button to the left enter your username and password and proceed to purchase additional picks. All of your information will be there and you will only need to re-enter your credit card. If you don't remember your username email us at service@docsports.com.