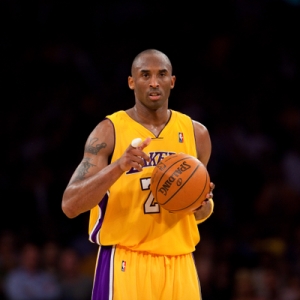 The NBA season is only a few days away. And with both football and baseball in full swing, gamblers are about to enter into sports betting heaven. So before we start getting bombarded so full of spreads that we don't know what to do with them, let's take a minute and look at the betting line on NBA season win totals and make a few predictions of our own.
(All lines come from Bovada Sportsbook).
The Contenders:
Oklahoma City Thunder: "Over/Under" 59.5: The Thunder will be out for blood after coming so close to a title but not actually winning it. Expect OKC to bring a war every single night. Prediction: 64-18
Miami Heat: O/U 60.5: Winning a title usually brings complacency, but with the media scrutinizing the Heat's every move, the defending champs should stay hungry. Prediction 61-21
Los Angeles Lakers: O/U 58: With Steve Nash at the helm, the Lakers should not have any chemistry issues. Los Angeles is an older team and probably will not care too much about the regular season, so do not expect them to truly dominate until the playoffs. Prediction: 57-25
San Antonio Spurs: O/U 55.5: The Spurs simply do not make mistakes during the regular season. Expect another solid year from the perennial contenders. Prediction 55-27
Boston Celtics: O/U 50.5: The Celtics drafted a few sleepers in Fab Melo and Jared Sullinger. Boston is primed and ready for another run at an NBA title. Prediction: 49-33
The Lottery
Charlotte Bobcats: O/U 19.5: The Bobcats won seven games last year. And while they did add some talent during the off season, expecting anything over 18 wins is a stretch. Prediction: 18-64
Orlando Magic: O/U 23.5: The Magic traded Dwight Howard and did not get Andrew Bynum back in return -- don't expect much from them this season. They are hoping and praying to win the lottery. Prediction: 20-62
Portland Trail Blazers: O/U 33.5: The Trail Blazers are in such bad shape that they signed Adam Morrison -- that should tell you everything you need to know about Portland's upcoming season. Prediction: 23-59
Washington Wizards: O/U 27.5: Expect another tough year for the Wizards. John Wall won't be able to get more than 20-something wins with this group. Prediction: 26-56
Detroit Pistons: O/U 31.5: The Pistons are a talentless team with a huge payroll. Anything over 25 wins would be overachieving with this group. Prediction: 27-55
The Rest:
Atlanta Hawks: O/U 43.5: The Hawks had a complete roster overhaul as a result of their trade with the Nets. They may have lost their best player in Joe Johnson but still have a solid roster to work with. Prediction: 46-36
Brooklyn Nets: O/U 44.5: Nets Billionaire owner Mikhail Prokhorov has put together quite a team. And even though they still need a lot work to reach elite contender status, a 50-win season is easily within their reach. Prediction: 52-30
Chicago Bulls: O/U 47.5: Even though the Bulls went 18-9 during the regular season in games without Derrick Rose, they are going to have a hard time being a .500 team. Entering the season knowing Rose will be out for most, if not all, of the year will take a toll on their confidence. Prediction: 40-42
Cleveland Cavaliers: O/U 30.5: Kyrie Irving is a stud of a player. The Cavaliers might not have much talent around him, but the kid can carry a team to 30 wins by himself. Prediction: 32-50
Dallas Mavericks: O/U 42.5: The Mavericks missed out on every marquee free agent they went after. However, they still have a better than .500 team, so expect a solid season from them. Predictions: 47-35
Denver Nuggets: O/U 50.5: Last year the Nuggets were a team that relied more on chemistry than talent. Expect a playoff team but not much more. Prediction: 48-34
Golden State Warriors: O/U 36.5: The Warriors tanked last season to try and get into the Anthony Davis sweepstakes -- this team is a lot better than last year's record would indicate. Prediction: 40-42
Houston Rockets: O/U 30.5: The Rockets really put all their eggs in the Dwight Howard basket and now have a roster full of unknowns (other than Jeremy Lin). Prediction: 33-49
Indiana Pacers: O/U 51.5: The Pacers gave Miami all they could handle during last years playoffs. Expect to see a very confident group heading into the season: Prediction: 50-32
Los Angeles Clippers: O/U 49.5: The Clippers have a lot talent and should easily get 50 wins. No one knows what shape Lamar Odom will show up in, but Grant Hill should be a nice addition to the team. Prediction: 52-30
Memphis Grizzlies: O/U 48.5: The Grizzlies are due for a letdown after two overachieving seasons. Prediction: 41-41
Milwaukee Bucks: O/U 36.5: The Bucks didn't make any major moves in the offseason, so expect the same type of team you saw last year. Prediction: 38-44
Minnesota Timberwolves: O/U 39.5: Kevin Love is injured, Brandon Roy's knees are suspect, and Ricky Rubio is not expected back until December-- there is not much to look forward to in Minnesota. Prediction: 35-47
New Orleans Hornets: O/U 27.5: The Hornets drafted two potential superstars in Anthony Davis and Austin Rivers. Expect both rookies to make an immediate impact. Prediction: 35-47
New York Knicks: O/U 46.5: The Knicks once again showed how mismanaged and stubborn they truly are by not resigning Jeremy Lin over the offseason. Prediction: 48-34
Philadelphia 76ers: O/U 45.5: The 76ers made out like bandits in the Dwight Howard trade. They are well-coached and have talent at every position: Prediction: 49-33
Phoenix Suns: O/U 32.5: The Suns let go of the only thing that was holding this team together (Steve Nash). Expect things to get ugly in Phoenix. Prediction: 30-52
Sacramento Kings: O/U 30.5: The Kings are dysfunctional in every single area. If DeMarcus Cousins continues to control that locker room, expect a lottery season. Prediction: 28-54
Toronto Raptors: O/U 33.5: The Raptors have a team full of role players but no real leaders; they will need someone to step up if they want to stay out of the lottery. Prediction: 30-52
Utah Jazz: O/U 43.5: The Jazz are a middle-of-the road team that will probably be in contention for the eighth seed in the west. Prediction: 45-37
Doc's Sports is offering $60 worth of member's picks absolutely free – no obligation, no sales people – you don't even have to enter credit card information. You can use this $60 credit any way you please on any of our top NBA handicappers. Click here for more details and take advantage of this free $60 picks credit today.