2023 NBA Season Win Totals Predictions with Odds and Expert Betting Picks
by Spencer Toth - 8/27/2023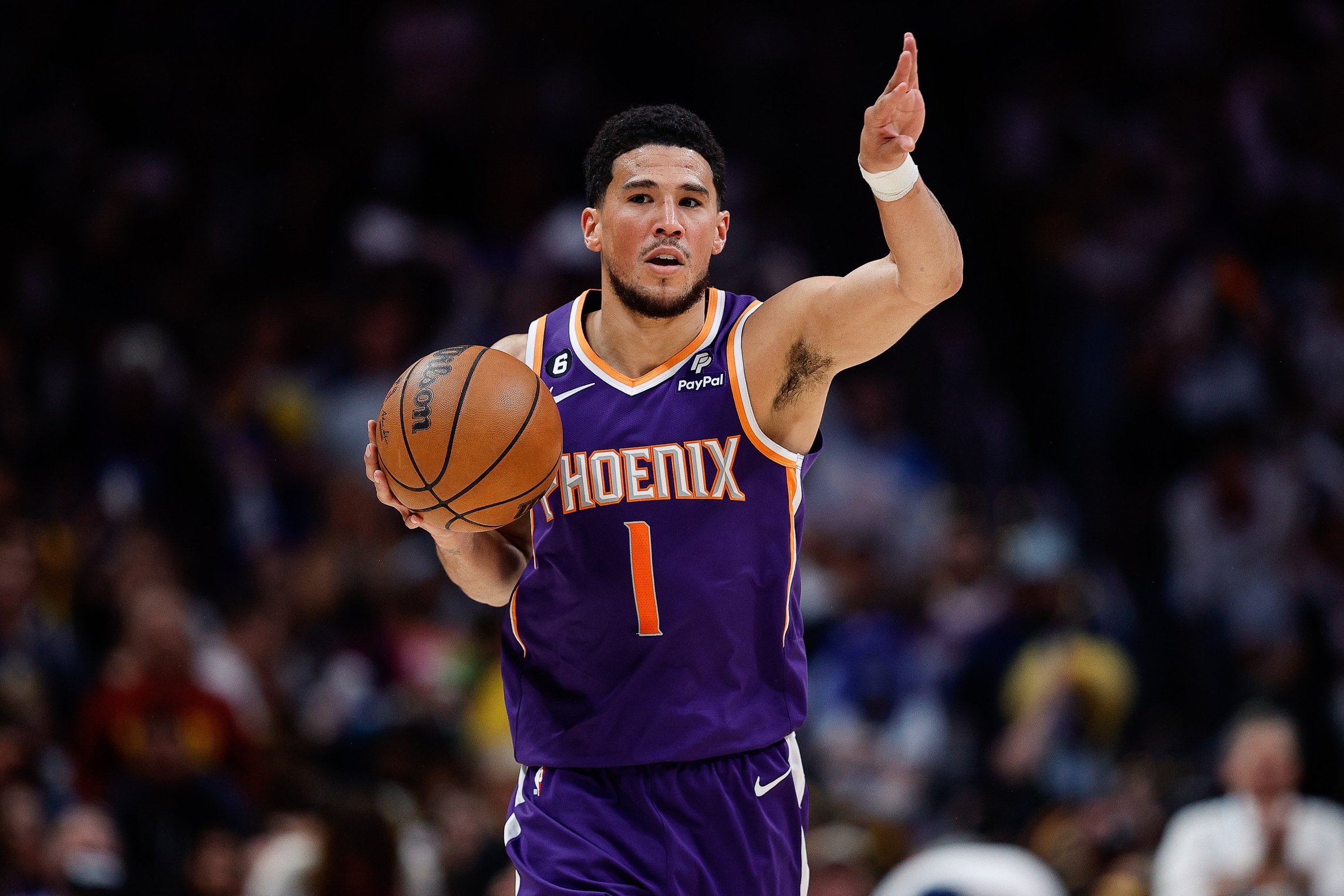 One of the greatest feelings in sports is watching your season-long future bet slowly come to fruition. In the regular season wins market, there are rarely bad beats. If you can correctly identify an over or undervalued franchise, it'll be smooth sailing throughout the season watching your team rack up the wins. It has been a very eventful offseason, and there has been dramatic line movement in the market. Let's dive in.
Doc's Sports offers NBA picks for every game on our NBA predictions page.
Eastern Conference
Atlanta Hawks: 42.5 Wins
The Hawks finished last year 41-41. And with rumors of Siakam joining the franchise, they could do even better. However, the rest of their Eastern Conference competition has gotten better, while the Hawks look to once again finish in the lower play-in positions. UNDER
Boston Celtics: 54.5 Wins
The Celtics made a run to the Eastern Conference Finals after finishing the regular season 57-25. This total is very reasonable. However, considering they have elected to stick with the core for the third straight season, I expect the rest of the league to have figured out their game plan. It won't be by a large margin, but at 54.5 I have no choice but to take the UNDER.
Brooklyn Nets: 37.5 Wins
After losing Kevin Durant and Kyrie Irving, this team was a bottom tier team who found themselves in the playoffs. Their 45 wins do not reflect their current quality, and they will struggle to make the play-in tournament. This line is very generous for an unproven core of players. UNDER
Charlotte Hornets: 30.5 Wins
The Hornets once again improved their roster amidst the rebuild, thanks to their 27-55 record last year. LaMelo Ball and Terry Rozier finally have a little bit of support around them, and this young core will be able to improve once again. They'll miss the playoffs, but they'll finish with just enough wins to cash this bet. OVER
Chicago Bulls: 37.5 Wins
If it ain't broke, don't fix it. However, this team is broken, and the management are comfortable running it back with virtually the same core. The Bulls scraped into 10th place thanks to a 40-42 record and have no reasonable hope for an NBA title. I wouldn't be surprised to see this team get blown up at the deadline and will happily bet on them to once again fall short. UNDER
Cleveland Cavaliers: 50.5 Wins
The Cavaliers eclipsed this mark by the finest of margins last season, going 51-31. Darius Garland has proven he can successfully lead a team, and their budding young core has Cavs fans excited for the opening tip off. However, this line is too high. I'm not saying the Cavaliers will be a play-in team, but at 50.5 I have no choice but to go for the UNDER.
Detroit Pistons: 27.5 Wins
The Pistons had the honor of dwelling in the basement with just 17 wins last season. Cade Cunningham will be back, and the Pistons will be at full health, but this line is too high. They picked up Joe Harris to improve their 3 point game but won't have what it takes to compete with the league's middle third of teams. UNDER
Indiana Pacers: 35.5 Wins
Indiana finished 11th last season with 35 wins and will be looking to further develop their young core this year. They picked up Bruce Brown, but once again this team lacks true firepower. However, with this line and assuming the Pacers can stay out of the doctor's office after watching their stars miss extended time last year, I'll take the OVER.
Miami Heat: 48.5 Wins
There is certainly some Damian Lillard baked into this line. The Heat made a surprise run to the Finals, carried by hot shooting from their unknown backcourt. It's risky to bank on a super star coming or not. However, regardless of that fact, this team can achieve this total. They did come 1st in the East not long ago… OVER
Milwaukee Bucks: 53.5 Wins
A line of 53.5 wins only has the Bucks trailing the Celtics and Nuggets in the season projection. And considering they finished last year 58-24, it seems fair. Their core is aging, with Holiday, Lopez, and Middleton all expected to regress this year. In a competitive Eastern Conference, the 50-win mark feels about right for this squad. UNDER.
New York Knicks: 44.5 Wins
The Knicks made a surprise appearance in the top 5 of the Eastern Conference last year with 47 wins, and I expect them to thrive once again. Julius Randle was unable to consistently support Jalen Brunson throughout the season. However, after having had time to develop chemistry within the squad, I expect the Knicks to be one of the dark horses in the East. OVER
Orlando Magic: 36.5 Wins
The Magic are excited. Despite posting just 34 wins last year, Paolo Banchero took home ROY honors. A very talented young core featuring Banchero, Franz Wagner, Wendell Carter Jr. with a hungry rotation behind them will be able to make some waves and push for a play-in spot this year. OVER
Philadelphia 76ers: 50.5 Wins
Joel Embiid finally captured his MVP award and will be looking to lead his team to a deep playoff run. The turmoil surrounding Harden has certainly been a distraction, and the 76ers will struggle to compete with the top dogs if he isn't 100% committed. This line is too high for a team with so many question marks. UNDER
Toronto Raptors: 36.5 Wins
The Raptors have been stuck in mediocrity since their 2019 Championship and will once again be too good for a lottery pick, but not good enough to challenge for a title. This team continues to find ways to win, and at 36.5 wins, their young core surrounded by a few solid veterans will do just enough to get it done. OVER
Washington Wizards: 24.5 Wins
The Wizards have already thrown in the towel, trading away any aging pieces in their roster. Jordan Poole will entertain the fans, but his inconsistent playstyle will not lead to many wins. However, only one Eastern Conference team finished with fewer than 27 wins. Therefore, as ugly as it may be, we have to play the odds and take the OVER.
Western Conference:
Dallas Mavericks: 44.5 Wins
The Mavericks were possibly the most disappointing team of the season last year. They won just two of their final 10 games and didn't even get a play-in spot with 38 wins. This year, Kyrie Irving and Luka Doncic will have had plenty of time to develop a game plan, and I expect a bounceback. A line of 44.5 Wins is quite high, but I expect them to get it done by the finest of margins with a record of 46-36. OVER
Denver Nuggets: 54.5 Wins
Will there be a championship hangover? If the Nuggets keep their foot on the gas, there is no reason this team won't get 55+ wins. Head coach Malone will push his squad, and the Nuggets know how important home court advantage is in the postseason. OVER
Golden State Warriors: 48.5 Wins
The dynasty that is the Golden State Warriors will look for their 5ith title, with a fancy new toy at guard. Chris Paul will make an instant impact on this team full of shooters, and this team is clearly better than a year before. Their aging stars are worrying. However, as long as they can suit up for a majority of games, the Warriors will be able to cash their OVER.
Houston Rockets: 31.5 Wins
The Rockets picked up some veteran presences to lead their young stars. Regardless of his price, Fred VanVleet and Dillon Brooks will be able to get the most of the budding young core, but this line feels a little high. The Rockets got just 22 wins last season, and the Western Conference comes with very few easy W's. UNDER
LA Clippers: 46.5 Wins
The Clippers will always have a chance to win with Kawhi Leonard on the floor. Unfortunately, the last few seasons have been derailed by injuries to Leonard and Paul George, forcing the role players to step up. Considering they got 44 wins last year, this line is very reasonable. OVER
LA Lakers: 47.5 Wins
After finding themselves in 13th place in late February, the Lakers stormed to the Western Conference Finals on the back of 43 regular season wins. Their season was filled with injuries, and there's no reason to expect anything different this year. If everyone's healthy, they blow this number out of the water. But that isn't happening. UNDER
Memphis Grizzlies: 45.5 Wins
The Ja Morant suspension will force the Grizzlies to use their role players in a larger role to start the season. This may be a blessing in disguise as we've seen the Grizzlies' stars step up when they need to, posting 51 wins last year. This line feels way too low, and this is honestly one of my top plays of the list. OVER
Minnesota Timberwolves: 43.5 Wins
The Timberwolves are lost. Anthony Edwards is finally developing into the star they'd hoped, but the team lacks the chemistry needed to succeed. They closed out last year 42-40, and they aren't getting any better. UNDER
New Orleans Pelicans: 43.5 Wins
The Pelicans battled through various injuries and still managed to get 42 wins last season. If Zion Williamson is able to suit up, they blow this number out of the water. Even if he isn't, Ingram and co. have proven they can stay competitive against anyone in the league. OVER
OKC Thunder: 44.5 Wins
This will be a fun team. Shai Gilgeous-Alexander had an MVP caliber season last year, leading the Thunder to 40 wins and a play-in spot. This year, they'll get Chet Holmgren at center, which will provide them with a big boost within their young core. This line is more than reasonable for one of the NBA dark horses. OVER
Phoenix Suns: 51.5 Wins
The Suns acquired Bradley Beal in the offseason and are ready to challenge for a championship. There isn't a better trio in the league than Beal, Devin Booker and Kevin Durant. And despite this high total, I'll play the over. As long as they can put two of their three stars on the court most nights, this team will succeed. OVER
San Antonio Spurs: 30.5 Wins
Victor Wembanyama will make an instant impact, but the pressure may get to him. The 'unicorn' will be expected to make this team competitive in his first season, which simply won't happen. The Spurs will not want to overwork their young star, and 30.5 wins is simply too high for a team that finished with 22 last year. UNDER
Sacramento Kings: 44.5 Wins
The Kings used their high-octane offense to power them to 48 wins last season. However, this year will be different. If they can't shore up their defensive issues, teams will figure them out, and they won't be able to rely on insane 4th quarter shooting from D'AAron Fox. UNDER
Utah Jazz: 36.5 Wins
This team was surprisingly competitive last year, thanks to Lauri Markkanen leading them to 37 wins. A few hot streaks saved them from an ugly record, and they made no real improvements. It won't be by a large margin, but it's an UNDER for me.
Get NBA picks on every single game, or if you want our very best bet premium picks by the experts, sign up for your free $60 account with a guarantee.