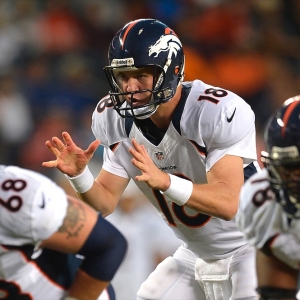 The dust hasnít even settled from free agency yet, and the draft is a long way off, so a lot will change between now and the regular season in the NFL. Thanks to Covers, though, we have some very early NFL season win totals to look at. Hereís a quick first reaction and some predictions for every number:
Denver Broncos 11 (ďOverĒ -115): They are investing aggressively in their defense, and so they should. I have real concerns about how they bounce back from that crushing loss, though. The value is in the under.
Free $60 in Member NFL Picks No Obligation Click Here
San Francisco 49ers 11 (Over +100): I remain bullish on this team. I think the coaching controversy is overblown, I like their early free agency moves, and the offense is strong. Iíll take the over at a bargain price.
Seattle Seahawks 11 (Over -110): Just on principle I have to take the ďunderĒ on the defending champions. Nothing comes easy the year after you win a title.
Green Bay Packers 10 (Over -105): If Aaron Rodgers stays healthy, they should be better than last year. Iím not convinced they are dramatically better, though. There is no value in either side, though I would lean to the under if forced to.
New England Patriots 10 (Over -125): I long ago quit trying to fade Brady and Belichick no matter what happens to their rosters. Over it is, I guess.
New Orleans Saints 9.5 (Over -105): They overpaid massively for Byrd at safety, and they are crippled by their cap so canít do much else. The Jimmy Graham affair will be a distraction, and the team isnít getting any younger. I like the under.
Cincinnati Bengals 9 (Over -115): Last time I checked, Marvin Lewis is still the coach. He defines incompetence, so under is easy here.
Indianapolis Colts 9 (Over -115): Last year they won 11. That was a slight overachievement, but the core here is strong, and early indications are that they will come through free agency is decent shape. Iíll take the over.
Pittsburgh Steelers 9 (Over -110): Under. For sure. This is a franchise too proud to make the dramatic changes that are likely needed. They arenít going anywhere.
Chicago Bears 8.5 (Over -105): Over. I like coach Marc Trestman a lot, and in his second year he should be able to accomplish quite a bit ó especially if Cutler can stay healthy and coach and QB can bond.
Philadelphia Eagles 8.5 (Over -125): They won 10 games in the first year of the Chip Kelly era. Now Kelly has had more time to formulate this team, and he knows more of what to expect. Floes is a good QB, and this will be a good team. Definitely over.
Carolina Panthers 8.5 (Over -120): Again, an easy over. I am concerned about the loss of Steve Smith from a character viewpoint, but that can be overcome. This is a very talented team moving in the right direction on both sides of the ball
Baltimore Ravens 8.5 (Over -110): I donít like what the team has done so far in the offseason, and I think they need more of an overhaul than they are willing to accept. The under is attractive.
Houston Texans 8.5 (Over -110): Under. I like the coaching change, and they have lots to work with, but quarterback is going to be a big question no matter which direction they go in. This is a year to build towards the future in Houston.
San Diego Chargers 8 (Over -120): Over. I like the coaching staff, and I liked how the team played with a toughness at times last year that they never had under Norv Turner. The lack of cap space makes things tough, but the upside is there.
Kansas City Chiefs 8 (Over -125): At this price I have to take the under. They have lost a lot to free agency, and they could need a year to get back on track. I donít hate this team, and I wouldnít be surprised to be wrong, but this is too much to pay to go over.
Dallas Cowboys 8 (Over -120): Under. The gross mismanagement in Dallas is going to come to a head this year. The coaching is awful. The roster is depleted by poor choices. And Tony Romo needs a new address ó for his sake and the teamís.
Atlanta Falcons 8 (Over -120): Under. I donít think they will be as bad as last year, but I still really question the heart of this team at the core. They just arenít tough enough, and they havenít done enough yet this offseason to overcome that.
Detroit Lions 8 (Over -115): Over. I will probably regret this, but I have some faith in the Lions. They have more talent than they have displayed, and if they get on track they have what it takes to win 10 or 11.
Miami Dolphins 7.5 (Over -125): I like a lot of what they are doing in Miami, and hopefully the locker room distractions are in the past, but at this price I have to be a pessimist. Under.
Arizona Cardinals 7 (Over -120): Over. This one feels like a bit of a gift. They won 10 last year, have great coaching and a decent core, and consistently play tough.
New York Giants 7 (Over -110): Under. I donít like the core of this team at all, and their offseason has been moronic.
Washington Redskins 7 (Over -110): Under. I have not jumped completely off the RGIII bandwagon. I donít love the coaching choice, though, and there are real talent issues that they havenít completely overcome yet.
Buffalo Bills 6.5 (Over -110): Over. I like the coaching here quite a bit, and it will be interesting to see what Manuel can do with a year under his belt.
Cleveland Browns 6.5 (Over -105): Under. Itís Cleveland, so you have to take the under. That could conceivably change if they figure out the QB situation in a good way, but right now there arenít a lot of reasons for optimism.
Tampa Bay Buccaneers 6.5 (Over -130): This price practically forces me to take the under. I liked Lovie Smith in Chicago but hesitate to believe in him here. The departure of Revis shows that there are clearly changes to be made, and that could take a while.
New York Jets 6.5 (Over -120): Under. I donít have any faith in their QB situation. Mostly, though, I just hope I am right because the world is more fun when Rex Ryan feels like he is under attack.
St. Louis Rams 6.5 (Over -120): Over. I am cautiously optimistic here. I will probably regret that. I like Jeff Fisher, and I still have faith in Sam Bradford.
Tennessee Titans 6.5 (Over -110): Under. I like the hiring of Ken Whisenhunt in the long term. He has a lot of changes to make, though, and needs a year to get on track.
Minnesota Vikings 6.5 (Over -110): Under. Hard to say for sure at this point because there is no clarity at QB. Still, their struggles last year were no fluke.
Oakland Raiders 5 (Over +110): Under. Hard to imagine a team with so much money to spend doing so little early in free agency. Incompetence doesnít win games in this league.
Jacksonville Jaguars 4.5 (Over +100): Over. I love how the team finished last year. They could have given up, but they fought hard. Jettisoning Blaine Gabbert was another solid move. This team is feisty. They arenít going to the playoffs, but they could win six or seven.
Docís Sports has a great offer for new clients. You can get $60 worth of picks from any Advisory Board handicapper for any sport he handicaps. All with no obligation and no credit card needed. Claim your free picks today.
Read more articles by Trevor Whenham