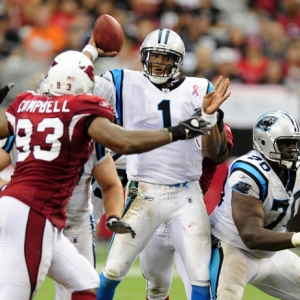 If you are like me, NFL training camps can't get here soon enough. Alas, they are still more than two months away. But props are starting to roll out at some books, including the first team-by-team win totals of the year. In case you need a refresher, the Broncos and Falcons led the league with 13 wins last season, but neither made the Super Bowl. The 10-win Ravens won it all. The Jaguars and Chiefs each finished with the fewest wins at two.
Here's a look at all 32 teams' totals for 2013 along with my NFL season win totals predictions for 2013-14.
Free $60 in Member NFL Picks
No Obligation
Click Here
Arizona Cardinals "over/under" 6 (-110/-120): The Cards will open the season with their best quarterback since Kurt Warner retired in Carson Palmer. That should mean big numbers for Larry Fitzgerald, but there's little else to be excited about in Bruce Arians' first season in the desert. The NFC West is ridiculously tough. Under.
Atlanta Falcons over/under 10 (-135/+105): Tony Gonzalez is back for one more season, and the running game should be improved with Steven Jackson. The defense leaves a lot to be desired. Under.
Baltimore Ravens over/under 9.5 (-120/-110): Were Ray Lewis, Ed Reed and Anquan Boldin all well past their primes? Certainly. But who fills that leadership void? I expect a Super Bowl hangover. Under.
Buffalo Bills over/under 5 (-135/+105): Kevin Kolb will be their Opening Day starter barring something unforeseen (E.J. Manuel is nowhere near ready). Need I say more? Under.
Carolina Panthers over/under 6.5 (-130/even): This is probably my lock of all: over. The Panthers came on late last season once Cam Newton shook his sophomore slump. I think the Cats are a playoff team.
Chicago Bears over/under 8.5 (-145/+115): Brian Urlacher and Lovie Smith are gone -- can't believe someone hasn't signed Urlacher yet -- but tight end Martellus Bennett and left tackle Jermon Bushrod have arrived to help Jay Cutler and that terrible offensive line. Over.
Cincinnati Bengals over/under 9 (-115/-115): The Bengals are a tough group to figure. Is Andy Dalton ready to become an elite QB? AJ Green is a stud for sure. It wouldn't surprise me if Cincy won 11 games and the AFC North or lost 11. I slightly lean under here.
Cleveland Browns over/under 5 (+120/-150): I love Trent Richardson, and the offensive line is very good, but I don't much like Brandon Weeden or his receivers. I don't think the Browns would mind stinking again to land a high draft pick next year and draft someone like Louisville QB Teddy Bridgewater. But the Browns should go slightly over that total.

Dallas Cowboys over/under 8.5 (-150/+120): Always the most overhyped team in the NFL. The Boys went 8-8 last year, and I could see that again -- meaning the end for coach Jason Garrett. Slightly under.
Denver Broncos over/under 11 (-130/even): It's scary to think that Peyton Manning should be even better with a year under his belt in the Mile High City. Adding Wes Welker only makes that offense stronger. But that fax snafu with Elvis Dumervil is going to hurt. Under.
Detroit Lions over/under 7 (-115/-115): Jim Schwartz is a goner after this season if the Lions fail to make the playoffs again. Their offense should be electric with the addition of Reggie Bush. The question, as usual, will be whether Detroit can stop anyone. Over.
Green Bay Packers over/under 12 (-115/-115): The Packers got Aaron Rodgers some backfield help in Eddie Lacy and Johnathan Franklin in this year's draft. Still, it's a first-place schedule and tough division. Under.
Houston Texans over/under 11 (-150/+110): I think it's a make-or-break season for Matt Schaub. He's sometimes great and sometimes not all that good. The Texans get to beat up on a pretty weak division, so I lean over here.
Indianapolis Colts over/under 8 (-150/+120): This time last year the Colts were projected to have the fewest wins in the league, but Andrew Luck was even better than advertised. I think it was a bit of fool's gold, however. The future is bright, but there will be a bit of a step back this year. I have a feeling this total will be a push, but I'd lean under.
Jacksonville Jaguars over/under 4.5 (-140/+110): I'm flat-out stunned the Jaguars didn't take Geno Smith with that first pick of the second round. Blaine Gabbert is not the answer. Under.
Kansas City Chiefs over/under 6.5 (-130/even): Alex Smith's resurgence was more a product of the 49ers' system and Coach Jim Harbaugh than Smith himself. But there's way more talent here than last year's 2-14 record would indicate, and Andy Reid himself is good for a few more wins. Over.
Miami Dolphins over/under 7.5 (-115/-115): The Fins vastly overpaid for Mike Wallace, but they really had to with that weak receiving corps. Definitely not sold on Daniel Thomas as the featured back. Under.
Minnesota Vikings over/under (-115/-115): It was truly amazing how far Adrian Peterson carried this team last year, but it's unrealistic to expect a similar season. Christian Ponder just isn't very good. Under.
New England Patriots over/under 11.5 (-140/+110): At some point, all that continued success has to catch up to the Pats, right? Maybe not as long as Tom Brady is healthy, but losing Wes Welker will hurt, especially with the uncertain health status of stud tight end Rob Gronkowski. Slightly under.
New Orleans Saints over/under 9.5 (-115/-115): Have we ever seen the value of a good head coach more than we did last year when Sean Payton was away from the Saints? You know the offense will hum, and I have to think the defense will be better because it can't be worse than in 2012. Adding Rob Ryan as defensive coordinator was a great move. Over.
New York Giants over/under 9 (-120/-110): The G-Men are rather like the Bengals to me in that they could be very good or just so-so, and neither would surprise me. I'm not a big fan of New York's backfield after losing Ahmad Bradshaw. Is David Wilson ready to be the guy? Under.
New York Jets over/under 7 (-120/-110): You know these guys will be good theater all season as we get to watch the Mark Sanchez/Geno Smith QB derby in addition to always fun coach Rex Ryan. This team certainly isn't better without Darrelle Revis. Under.
Oakland Raiders over/under 5.5 (-115/-115): We should finally find out whether Matt Flynn is a starting quarterback in this league. But who does he throw the ball to? Can Darren McFadden stay healthy? Recent history says no. Under.
Philadelphia Eagles over/under 6.5 (-150/+120): I can't wait to see how Chip Kelly's up-tempo offense extends to the NFL. The Patriots use a form of it, and they seem to fare pretty well. If you lean over here you essentially are banking on Michael Vick's health -- never a good thing. But there's a ton of skill position talent for Kelly to play with. Over.
Pittsburgh Steelers over/under 10 (-130/even): It's never wise to bet against the Steelers because they are so well-run and coached, but they are just so old and have very little offensive talent outside of Big Ben. Under.
San Diego Chargers over/under 7 (even/-130): This is definitely a make-or-break year for Philip Rivers, who has become a turnover machine the past couple of seasons. I do think new coach Mike McCoy will be perfect for Rivers. Over.
San Francisco 49ers over/under 11.5 (-140/+110): Will there be a sophomore slump for Colin Kaepernick? Yeah, I know he's in his third year overall but second as a starter. This team looks loaded, but I still expect five losses because of a very tough schedule. Under.
Seattle Seahawks over/under 11 (-140/+110): If Russell Wilson plays like he did the second half of last season, I think this is a Super Bowl team if new addition Percy Harvin stays healthy. The defense is stacked. Over.
St. Louis Rams over/under 8 (-115/-115): I would be really high on the Rams this year if they had addressed the running back position. Watching rookie Tavon Austin will be major fun, but the Rams could easily go 1-5 in their own division. Under.
Tampa Bay Buccaneers over/under 6.5 (-115/-115): The Bucs put a bit of pressure on QB Josh Freeman by taking Mike Glennon in this year's draft. I don't think Coach Greg Schiano is sold on Freeman, who was both very good and very bad at times in 2012.
Tennessee Titans over/under 6.5 (+110/-140): Mike Munchak was a heck of a player, but he might be in over his head as the head coach. Nothing very exciting about this team on either side of the ball other than Chris Johnson. Under.
Washington Redskins over/under 9 (-110/-120): Clearly this number is presuming that Robert Griffin III will be ready by Week 1. I just worry he's going to be injury-prone his entire career because of his style. I'm not a big fan of RG3's receivers and believe Alfred Morris was a bit of a fluke in his brilliant rookie season. Under.
Get free picks from any Doc's Sports handicapper – there is no obligation for this offer and no credit card required. Just sign up for an account, and you can use the $60 in free picks for any Doc's Sports Advisory Board handicapper and any sport. Click here to get started now.
Read more articles by Alan Matthews