2016 NFL Season Win Totals Predictions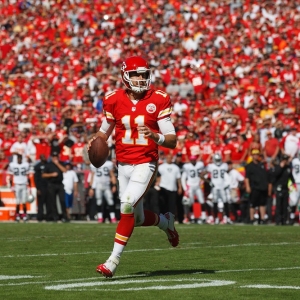 I know that right now March Madness is dominating the sports gambling world. But football never sleeps. And last week CG Technology - formerly known as Cantor Gaming - released its 2016 NFL Season Win Totals, so we have our first live, betable numbers for the 2016 NFL season.
Here is my team-by-team breakdown and predictions for the way-to-early 2016 NFL season win totals:
Arizona Cardinals (9.5) - The only question to ask here is, "Have the Cardinals peaked?" Bruce Arians has taken a wayward franchise and turned them into a powerhouse, winning 34 regular-season games in his three seasons at the helm. Arizona has the core of its team locked up heading into next season, and they are $20 million under the salary cap. Arians has a plug-and-play system in place, and I would be hard-pressed to make the argument that this team won't tally double-digit wins next season. PLAY 'OVER'.
Free $60 in Member NFL Picks No Obligation Click Here
Atlanta Falcons (7.0) - The Falcons wasted a 5-0 start with a 3-8 finish in the first year of the Dan Quinn Era. The Falcons are projected to have $30 million in cap space, but their pathetic three-year run (18-30) has been the result of horrific front office management. Quinn didn't impress me in his first year as a head coach, either. So despite having a franchise quarterback, I don't trust the Atlanta decision makers enough to buy into them next season. PLAY 'UNDER'.
Baltimore Ravens (7.5) - No team in football was decimated by injuries the way that Baltimore was last season. They should get everyone back this fall, and if so this is definitely a sleeper team in the AFC. Baltimore has had just four other losing seasons since 1998. They won at least eight games in each of the four following seasons, and their average improvement was 4.5 wins. That would put them near 10 wins next year, and I would definitely bank on a rebound season. PLAY 'OVER'.
Buffalo Bills (8.0) - The Bills have the proverbial $1 million body but a 10-cent head. This roster should've won 10 games last year. But Rex Ryan is a joke of a head coach. Since he is still in charge I wouldn't expect the Bills to be anything but the undisciplined rabble that they were last year. This is a loser franchise with a loser head coach. They crossover with the AFC North and NFC West, two divisions that won't be pushed around, and I don't see much improvement next season. PLAY 'UNDER'.
Carolina Panthers (10.5) - This number seems a bit low considering that Carolina won 15 games during last year's regular season and nearly won the Super Bowl. However, the books are obviously skeptical of Carolina's bona fides from 2015, considering they played one of the weakest schedules in the NFL. Add in a Super Bowl hangover, and there is apparently nowhere to go but down. However, Carolina is a system team. And with the offense getting Kelvin Benjamin back they could be even better. The division is still a mess, so I would PLAY 'OVER'.
Chicago Bears (6.5) - The Bears couldn't beat a win total of 6.5 last season, so why would they this year, especially after losing offensive coordinator Adam Gase? Well, the Bears were extremely competitive in 2015, with five of their 10 losses coming by six points or less and four of them coming by four or less. Chicago has a ton of cap space, and John Fox is a proven winner as a head coach. I like the Bears to rebound in 2016, they will be better in the second year of Fox's system, and I think there is some value here. PLAY 'OVER'.
Cincinnati Bengals (9.5) - The Bengals will spend another offseason answering questions about their postseason failures. But that doesn't matter when we're talking regular-season win totals. Cincinnati is 5-0 against their Las Vegas season win total the last five years and have posted 52 wins during that span. I would keep going to the well with this organization and PLAY 'OVER'.
Cleveland Browns (4.5) - It can't get any worse for the Charlie Browns of the NFL, can it? Cleveland endured a horrific 2015 - and that's saying something considering how bad this franchise has been for, oh, the last 30 years. Their three wins were the fewest since 1999 - their expansion season - and their offseason tribulations were even more comical than normal. That said, Cleveland has won five or more games in nine of the past 15 years, and if they can use their $40 million in cap space to address their disgusting offense this team could whittle its way to five wins next season. PLAY 'OVER'.
Dallas Cowboys (9.0) - The belief is that the return of Tony Romo will stabilize this farce of a franchise. But I'm not buying. The Cowboys are losers. And outside of one fluke season in 2014 they have been perennial disappointments, going 34-46 since 2010 if you discount their anomalous 2014 season. Dallas is 1-5 against their season win total in that span, and this team is still ridiculously overrated and a lot more hype than heart. PLAY 'UNDER'.
Denver Broncos (9.5) - I actually think the Broncos will be better off if Peyton Manning retires. Manning was pretty awful for most of last season, and Denver won on the back of an all-time great defense. Most of those pieces are still in place, and coach Gary Kubiak's system is a proven moneymaker. Kansas City and Oakland are both catching up to the Broncos. And this veteran team has a lot of free agents that will likely try to cash in on their championship run. Denver will be in a transition year. And while I don't think they will go in the tank, I do think they will take a step back. PLAY 'UNDER'.
Detroit Lions (7.0) - The Lions have won at least seven games in each of the past three seasons. And their stats from last season suggest that they should have been much better than they were. But without Calvin Johnson (and perhaps more importantly, without Rashean Mathis) the Lions are leaking veteran talent. I am not a fan of Jim Caldwell's or Matt Stafford's. And I don't see this team getting better. I expect another vintage terrible Detroit season, and I'll be surprised if they muster more than six victories. PLAY 'UNDER'.
Green Bay Packers (10.5) - Well, they have Aaron Rodgers, so they have a chance. The Packers failed to top last year's 11.0 season win total and underachieved compared to their Super Bowl expectations. But Green Bay is built for the long haul. And with Jordy Nelson coming back, and expected defensive upgrades, the Packers should again be among the class of the NFC. PLAY 'OVER'.
Houston Texans (8.0) - The Texans won nine games with seemingly 17 quarterbacks last season. They still don't have the position solved, though, so any enthusiasm about their 2016 expectations should be tempered. That said, they have a strong foundation of defense and running the ball, and coach Bill O'Brien has topped .500 in each of his first two seasons. I think Houston is the best team in the AFC South, and I think that for the fifth time in six years they can get to at least nine wins. PLAY 'OVER'.
Indianapolis Colts (8.5) - This number is going to go up during the offseason. Indianapolis is going to be the "sleeper pick" of every media bobblehead in the country over the next six months based solely on the return of Andrew Luck. But I'm not as optimistic. The Colts don't have any cap room, and I think their roster is flimsy at a lot of spots. Everyone in their division is getting better. They are getting worse. Wait on this one to get to 9.0 or 9.5 and then PLAY 'UNDER'.
Jacksonville Jaguars (6.0) - I know a lot of people are going to be giddy about the improvements that Jacksonville showed last year while winning five games and being competitive in most others. But the Jaguars haven't won seven or more games in six seasons and they've only done so twice in the last eight years. I've gotta see it before I believe it with this team, which still has gaping holes on defense and a schedule that will see them take on the very deep, talented teams from the AFC West and NFC North. PLAY 'UNDER'.
Kansas City Chiefs (9.0) - All Andy Reid does is beat his Las Vegas season win total. Reid has gone an outstanding 11-6 against his season win total and has beaten it in all three years he's been at the helm of the Chiefs. Kansas City has an aging core and some tough free agent decisions. But Reid is a winner (at least in the regular season), and if Denver steps back and Oakland doesn't live up to the hype I think Kansas City can jump up and take control of this division. PLAY 'OVER'.
Los Angeles Rams (7.0) - I don't care where the Rams are playing: they are still terrible. St. Louis hasn't finished at .500 in 10 years. Their offensive skill players are laughable and the defense has been leaking talent for two years. For all the respect that Jeff Fisher garners, seven of his last 11 teams have finished below .500. PLAY 'UNDER'.
Miami Dolphins (7.0) - The Dolphins are a terrible franchise with a rookie head coach and not a lot of talent. PLAY 'UNDER'.
Minnesota Vikings (9.0) - I love how this Vikings team plays football and I think that Mike Zimmer has constructed his roster. Minnesota won't sneak up on people this year. But they won 11 games last season against a brutal schedule that will ease up this fall. Add in the excitement from a new state-of-the-art stadium - paid for by money scammed away from the people of Minnesota - and this is a franchise on the rise. PLAY 'OVER'.
New England Patriots (10.5) - Is Tom Brady still alive and under center? Is Bill Belichick still alive and on the sideline? Then PLAY 'OVER'.
New Orleans Saints (7.0) - The Saints are still in salary cap hell, and it would not stun me if they were forced to cut (or trade) Drew Brees to balance their budget. The talent on this roster surrounding Brees is below average at best. They have a brutal road lineup for next season. And I don't think this team is set to be any better this fall than they have been the past two years, when they've failed to top seven wins. PLAY 'UNDER'.
New York Giants (7.5) - I think the Giants made a poor hire promoting Ben McAdoo to head coach. However, anything is going to be better than Tom Coughlin, who had simply worn out his welcome in the swamps of New Jersey. The Giants lost eight games by six points or less, and a stunning five losses came by three points or less. Their numbers were those of an 8-8 team last season, and I think that this franchise, which has been one of the most underrated in football, will bounce back this season. The Giants haven't finished below .500 in four straight seasons since 1977-1980. PLAY 'OVER'.
New York Jets (8.0) - The Jets overachieved last year on the back of one of the oldest rosters in the NFL. They don't have any cap room and anyone that thinks that Ryan Fitzpatrick is a long-term solution at quarterback hasn't been paying attention. They've been very good against their season win total the past several seasons (5-3). But I think the Jets are going to backslide. This is a tough number. My preliminary research has the Jets at exactly 8-8. But if I had to do it, I'd say to PLAY 'UNDER'.
Oakland Raiders (7.5) - I'm a big Derek Carr fan. I love the young core that this team has on offense. But they still have a ton of work to do on defense, and the front office is taking a methodical, long-term approach to rebuilding the Raiders. Oakland is going to enter next fall with a ton of hype. But they've won eight games just twice in the last 13 years. I think that this number will rise as we get closer to training camp. Wait for it to get to 8.0 and then PLAY 'UNDER'.
Philadelphia Eagles (7.5) - I am still not sure what to make of this team. On one hand, they were much better than they played last year. On the other, this was a roster built over three years to fit Chip Kelly's unique style of play. We have no idea what Doug Pederson is capable of, so we should expect some growing pains. PLAY 'UNDER'.
Pittsburgh Steelers (10.5) - I know the Steelers will be expecting to get Big Ben, Antonio Bryant and Leveon Bell all back healthy next fall. And that trio is good enough to get to 10 wins all by itself. But I still think that this number is high. The Steelers were overachievers in 2015, and they still have question marks on both the offensive and defensive lines. Also, healthy for those three players can't be guaranteed. The schedule is manageable, but this team has only won 11 or more games four times in the past 10 years and they have gone just 2-2 against their season win total the last four years. PLAY 'UNDER'.
San Diego Chargers (7.0) - This line is kind of a joke. I think Phil Rivers is one of the best quarterbacks in football. But all of the terrible karma surrounding the Chargers obviously impacted them last season as they bumbled their way to just four wins. And I don't see a lot of talent upgrades coming for a team whose financial future is kind of in limbo. Rivers will keep them competitive. But I would be absolutely stunned if they win more than six games playing in front of a fan base that kind of hates them right now. PLAY 'UNDER'.
San Francisco 49ers (5.0) - The sportsbooks are still counting the cash that they made from Chip Kelly's failings in Philadelphia last season. And obviously the public has soured on Kelly's gimmicky approach to the game as well. The Niners are a bad roster that is trying to learn a whole new system. But I am actually going to swim upstream here and suggest that Kelly will get things going sooner rather than later in San Francisco, a city with a night-and-day different vibe toward its football team than Philadelphia. I know I'm all alone with this one, but I would PLAY 'OVER'.
Seattle Seahawks (10.5) - The Seahawks basically took the first two months of last season off and still won 10 games in a very competitive division. They have the same coach, same quarterback, same system, and same talent level that they've ridden to four straight double-digit win seasons, and I think the Seahawks will have a bit of a chip on their shoulder entering next season. Seattle gets to face the feeble NFC South and top-heavy AFC East next season, so I see them getting back to 12 wins. PLAY 'OVER'.
Tampa Bay Bucs (6.5) - I have no idea why Tampa Bay fired Lovie Smith after just two seasons. Smith was installing a system that would've set up the Bucs for sustained long-term viability. Instead it is back to square one for what has been one of the worst franchises in sports over the past 40 years. There's no way in hell the Bucs are going to win seven or more games next year. PLAY 'UNDER'.
Tennessee Titans (5.5) - Statistically, the Titans should've been much, much, much better than they were in the win column the past two seasons. Every metric I use suggests that this should be a bounce-back team in 2016. I am going to defer to the numbers. And if they can upgrade the offense around Marcus Mariota then this could be a team that, like the 2015 Raiders, is pretty feisty all fall. PLAY 'OVER'
Washington Redskins (7.5) - The Redskins are another loser franchise. They have engendered a lot of leeway after winning the division last year. But the NFC East was terrible in 2015 and will be vastly improved this fall. Washington hasn't had back-to-back winning seasons since 1990-91, and they have finished at .500 or better in back-to-back years just twice since the turn of the century. Daniel Snyder is a horror of a human being, and I think his team will come back to reality. PLAY 'UNDER'.
Robert Ferringo was the top football handicapper in the country in 2013 and 2014, earning nearly $13,000 in total football profit with back-to-back winning seasons. Robert tallied over $20,000 in football profit during a four-year stretch and in 2013 he hit 62.1 percent for the entire NFL season (95-58). We are offering new clients $60 in free football picks for Robert's picks or any Advisory Board handicapper of your choosing. Get your free picks now!
Read more articles by Robert Ferringo