2015 NFL Season Win Totals Predictions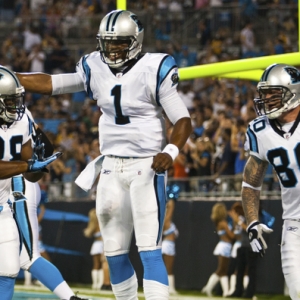 The National Football League's machinations have been cranking and churning since February, as this monolithic sport has still dominated the national sporting consciousness even though there hasn't been a meaningful play in months. New coaching hires, free agency and the NFL draft have all helped teams restock and reshape themselves, and everyone is ready for a fresh start with the coming 2015 campaign.
There is no better indicator of how the winds of public perception are blowing around each NFL team than analyzing its Las Vegas season win total over the past several months. Initial 2015 Vegas season win totals were released by Cantor Gaming back in mid-February, and the numbers have shifted thanks to offseason turnover.
Free $60 in Member NFL Picks No Obligation Click Here
As a result we can see teams that are trending upwards or downwards in the eyes of the betting public. And these season win totals will serve as the baseline of expectations for each group once training camp opens in 2015.
I will be releasing my 2015 NFL Futures Wagers in August, including my 7-Unit top NFL selection. I have won my 7-Unit NFL Futures Play each of the past five seasons - including an easy winner with Carolina going 'under' last season - and I am looking forward to cashing another easy ticket this fall.
But there are moves yet to be made and numbers left to be crunched over the next several months. And I expect some of these win total numbers to drift even further. But for right now let's take a look at the current NFL win totals for the 2015 season:
Arizona Cardinals (8.5 Wins) - Bruce Arians is a maestro and has led this team to 21 wins the past two years. Their win total seems modest considering they are still much better than the Rams and given the implosion going on in San Francisco. You wouldn't think it, but the Cardinals have won nine or more games in four of the past seven years.
Atlanta Falcons (8.5) - Mike Smith was scapegoated after 66 wins and 48 losses while leading the Falcons. Almost half (22) of those losses came the past two years courtesy to a laughable defense and horrid offensive line gifted to him by an incompetent front office. They have Matt Ryan - and statistically the easiest schedule in the NFL - so they have a chance. But this roster has holes and a new coaching staff to break in.
Baltimore Ravens (9.0) - The Ravens have won nine or more in seven of the last nine years and topped this total four times in five years while going 52-28. Ozzie Newsome is the best general manager in football and routinely produces one of the best 53-man rosters in the game. It's a lot bolder predicting that they won't win 10 games than betting that they will.
Buffalo Bills (8.5) - The Bills have the talent of a postseason team everywhere except where it matters most: coach and quarterback. Rex Ryan is a proven loser. He brought his bluster to Upstate New York, but he's dealing with the same quarterback issues he had in New York. The Bills are going to break their fans' hearts again, and I see them going 'under'. Buffalo is a bunch of losers, and the overwhelming optimism surrounding this team is hilarious given their third-rate history.
Carolina Panthers (8.5) - This group went 7-8-1 last year despite massive roster turnover and an absolutely brutal schedule. That's a testament to Ron Rivera's system. They NFC South is still a train wreck and has been notoriously unpredictable the last 15 years. Improvement from the bottom of the group can make things even tougher on this squad.
Chicago Bears (7.0) - I'm a big fan of John Fox, the new Bears coach. But I think it is a massive mistake to shift Chicago to a 3-4 defense, and I expect growing pains from one of the worst defenses in football. Also, there is simply too much negative karma surrounding Jay Cutler, and I think it is a stretch to predict this underachieving franchise finishing .500 or better.
Cincinnati Bengals (8.5) - The Bengals have won 10 or more games the past three years in a row, and they have won nine or more games in four straight seasons. The Bengals are consistent, and they are balanced. And no, I never thought I'd type that sentence. The Bengals may not be able to win in the playoffs. But they do just fine in the regular season.
Cleveland Browns (6.5) - The perpetually rebuilding Browns are still throwing feces against the wall and hoping something sticks. They made the lateral move from Brian Hoyer to Josh McCown and are hoping that will give a boost to an offense that's averaged around 18-19 points per game over the last three years. This team is underrated defensively. But until they find an offensive identity they will remain a distant fourth in this stacked AFC North.
Dallas Cowboys (9.5) - This total is just begging for square public action on the over after Dallas' breakout 2014 season. The Cowboys benefitted from playing the easiest schedule in the NFL, in terms of opponents winning percentage, last year. This is still a quality team on both sides of the ball. But Dallas teams have a habit of handling success poorly. They should win 10 games. But will they?
Denver Broncos (10.5) - Peyton Manning has gone 11-1 against his Las Vegas season win total over the last 12 years he has been a starting quarterback. The Broncos have a new coach, a new system, and aging stars on both sides of the ball. But there's still no way in hell I'm betting against Manning to beat the bard.
Detroit Lions (8.5) - The Lions made the playoffs last year but are a fickle franchise. They haven't finished above .500 in two straight seasons since doing it three straight times from 1993-95. The Lions have taken advantage of Minnesota's rebuilding and Chicago's implosion to become the clear No. 2 team in the NFC North. But they open and close the season with three of four games on the road, and the home schedule features tough games against Denver, Arizona, Green Bay and San Francisco.
Green Bay Packers (11.0) - As great as this franchise has been, the Packers have only won 12 or more games three times in the last 12 years and just four times in the last 17 seasons. I don't know that I'd be in a hurry to play the under here. But as I look at their mediocre defense and their tricky schedule I can say I don't see the Packers reaching 12 wins this year.
Houston Texans (8.5) - The Texans have beaten their season win total in three of the last four years. They won nine games and outscored opponents by 65 points last year despite getting less than nothing from the quarterback position. They still haven't really solved their passing problem, though, with Brian Hoyer and Ryan Mallet set to give us the least interesting QB competition since, well, last year's Houston training camp.
Indianapolis Colts (10.5) - While most pundits lauded Indy's offseason spending spree - and their win total has spiked from an open of 9.5 - I felt their moves to add Andre Johnson, Trent Cole and Frank Gore reeked of desperation. But it doesn't matter if this team is any good or not. For the fourth straight season they project to have one of the easiest schedules in football, and they get to crossover with the dreadful NFC South. The Colts can't beat good teams. But they never lose to bad ones, so they should hit 11 wins without breaking a sweat.
Jacksonville Jaguars (5.5) - Time for Gus Bradley to show some progress. Jacksonville has gone 14-50 over the last four years. Read that again: 14-50. They've only won more than five games twice in the last seven years. They still don't have any wide receivers, and their secondary is average at best. But, hey, it's not like the passing game is important on either side of the ball, so I guess the Jags will be OK.
Kansas City Chiefs (8.5) - Andy Reid has won 20 games the last two years and beat his season win total both times. He is 5-2 against his Vegas win total the last seven years he's coached and is another one of those guys that I just don't like to bet against. But I think some key veterans are going to let them down this year, and their schedule is pretty relentless until late November.
Miami Dolphins (8.5) - It is time for Joe Philbin to put up or shut up. The Dolphins have gone 8-8 the past two years, and their defensive and offensive units have seesawed back and forth during those campaigns. They need to find some consistency on the field and some good karma in the locker room. They only face one 2014 playoff team in the first two months, and I have the Fins as a team to watch.
Minnesota Vikings (7.0) - Mike Zimmer looks like a keeper and had the Vikings playing way over their heads in 2014. But that's what worries me: they thoroughly outperformed their expectations last year. Are they set for a regression or further ascension? A lot about this team's future depends on the ugly Adrian Peterson situation. This guy could drag down this franchise for a second straight year.
New England Patriots (10.0) - Tom Brady's tenuous situation has led to this total being pulled at most sportsbooks. But if the defending champions can simply go 2-3 in their first five games I think they have a great chance to get to 10 wins. In fact, New England has only won less than 11 games twice since 2003, so I wouldn't be in a huge hurry to play against Bill Belichick.
New Orleans Saints (9.0) - The Saints have been a roller coaster team the past four years, going from 13 wins in 2011 to seven to 11 and then back to just seven wins last year. They've undergone a massive overhaul this offseason, but I'm not sure they are significantly improved. If they can't fix their atrocious defense, which has finished No. 31 or worse twice the last three years, I don't know that they'll hit double-digits this year.
New York Giants (8.5) - I felt that the Giants needed to fire Tom Coughlin - a Hall of Fame-caliber coach - two years ago and rebuild. They haven't, and now the franchise is stuck in a massive rut near the bottom of the NFC East. Yes, they have suffered the worst injury luck in the NFL two straight years. But if you kick out their dramatic playoff run in 2011 this team has been garbage over the last four years, seeing their win total shrink from nine down to six.
New York Jets (7.5) - The Jets have a new coach and have a lot of buzz coming out of the NFL draft. So much buzz that their win total has jumped up from its open of 6.5. But are they really much better this year than the team that's butt-fumbled its way to four straight underachieving seasons? They do have an excellent foundation to build on. But the quarterback situation is still a mess, and we still don't know how the new coaching staff will play in New York.
Oakland Raiders (5.5) - More than anything the Raiders need to stay healthy. They have been in the bottom 10 in the league in adjusted starts lost to injury each of the past three seasons. That includes a stint at No. 28 last year. But I suppose that's what happens when you stock your roster with past-their-prime veterans. Until I see the Raiders do anything positive I would never bank on it actually happening. Yet this number has risen from 4.5 in February to 5.5 right now.
Philadelphia Eagles (9.5) - Look, instead of questioning Chip Kelly's sanity maybe people should just accept the fact that this guy has an amazing system and a unique perspective on the game. Kelly's won 10 games each of his first two NFL seasons, and he will only get better as he stocks his roster with guys suited for his style of play. I see the Eagles playing over this number.
Pittsburgh Steelers (8.5) - The Steelers have been one of the model franchises in the NFL over the last 15 years. They've failed to reach .500 just one time in this century. But they have also won more than eight games just once in the last three years. And that was last year when they A) benefitted from the easiest schedule in the NFL and B) benefitted from some superhuman individual efforts. The sledding will be a lot tougher this season.
San Diego Chargers (8.0) - You can already mark the Chargers down for one big win this year: they kept Philip Rivers. San Diego would be in big trouble without the All-Pro quarterback, who reportedly wanted out this offseason. But with him back in the fold, and with some better luck on the injury front (they lost the second-most games in the league to hurt players), this team could actually be considered the frontrunner in the AFC West.
San Francisco 49ers (7.5) - This number has been one of the biggest movers on the board, dropping from an open of 8.5. Jim Harbaugh went 44-20 over the last four years in San Francisco. Obviously that wasn't good enough, and he was run off to Michigan. The 49ers have probably had the worst offseason in the NFL, and this win total suggests that they are set to slide back to their ugly pre-Harbaugh levels. I would concur with those projections.
Seattle Seahawks (11.0) - The Seahawks have averaged 12 wins per year over the last three years. And while the Super Bowl hangover might have been A Thing at some point, the championship loser has won exactly 12 games in each of the last four years, including Denver posting 12 wins in 2014. In fact, the last Super Bowl loser to win less than 10 games was Chicago back in 2007.
St. Louis Rams (8.0) - Frankly, I think that this number is ridiculous. The Rams have won seven, seven and six games the last three years. They still don't have a competent quarterback or acceptable crop of skill position players. Add in a rugged schedule that has them crossing over with the tough AFC North, and I don't know that I'm picking this as the season in which the Rams top .500 for the first time since 2003. It doesn't get talked about much, but this is one of the worst franchises in sports.
Tampa Bay Buccaneers (6.0) - Let me be definitive: I think Jameis Winston is a loser and I think the Bucs are making a mistake building their franchise around him. However, besides Winston's horrible karma (and likely horrible play), everything about the Bucs points to a team on the rise. Their metrics suggest the team should've gone 5-11 last year, and they had an astounding eight losses by six points or less. Lovie Smith is a proven winner, and young talent is everywhere on this roster.
Tennessee Titans (5.5) - Besides Chicago, I don't know that any team was more disappointing to me than the Titans last year. They should've been much better than they were, and there is at least six wins worth of talent on the roster heading into 2015. But I think they will take a step back as Marcus Mariotta gets his feet wet.
Washington Redskins (6.5) - There are some pretty clear statistical indicators that the point to the Redskins as a potential bounce-back team in 2015. But Robert Griffin III is a loser. And if they go with him under center there is zero chance that they will top this season win total. They've only won seven or more games once in the last six years and just four times in the last 13.
Robert Ferringo is one of the best football handicappers in the country and no one can top his $15,300 in football profit over the last three seasons. Robert has notched four of five winning overall football seasons, which has resulted in over $23,000 in football profit, and Robert has a devastating stretch 35 of 40 winning football months. His unique and innovative Ferringo Method is unlike anything else in the country and has his clients have enjoyed more long-term profit across all sports than any handicapper in the country over the last five years. Put the Ferringo Method to work for you today!
Read more articles by Robert Ferringo