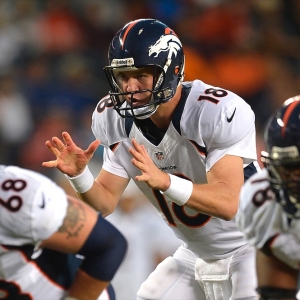 A few weeks have passed since we last look at the Super Bowl futures and made some 2014 Super Bowl predictions. Now is as good a time as any to take another look since all teams have four games left in the regular season (all odds are form Sportsbook.ag)
Denver Broncos (+250)
I have been highly skeptical of this team since they opened as heavy Super Bowl favorites just after last year's Super Bowl. I remain just as skeptical — perhaps even more so. The latest reason for my doubt is two halves — the second half against New England followed by the first half against the Chiefs. They just weren't very good in either situation. It's the former that was really the concern — they just got punched in the mouth by a pretty good team, and they didn't have an answer. The weather was lousy, and that really affected them, too. That's far more of a concern for a New York Super Bowl than a San Diego or New Orleans one. I don't see a title happening, and I really don't like them at this price.
50% up to $2,500
NFL Betting Bonus
JOIN BETONLINE.AG
Click Here
Seattle Seahawks (+250)
They have now won seven in a row, but the first six aren't particularly impressive given the weakness of the opposition. Most recently, though, they took no prisoners against the Saints. It was ugly, and it clearly established the pecking order amongst the top two seeds in the West. It also addressed a big concern about the team — they have lost a lot in their secondary lately, but a very good passing team looked completely lost against them. There are obvious concerns — most significantly that this is a far different and less-impressive team on the road, and last time I checked the Super Bowl isn't in Seattle. They are the best team in the NFC right now and probably the best in football, but I don't trust Russell Wilson or the secondary nearly enough to justify this price.
New England Patriots (+700)
These guys are the little engine that could. Brady is finally finding chemistry with his receivers after a rocky start, and the team is determined and playing angry. They have beaten New Orleans and Denver, and they should have at least gotten a chance to beat Carolina if it weren't for the officiating error, so they have shown that they measure up well. Unlike the other two teams we have discussed so far, the price here is about right. There isn't any value, but it is realistic.
Carolina Panthers (+1000)
The Panthers are making things very interesting. They have won eight straight, including victories over the Patriots and Niners. Cam Newton has been playing very well, and he has emerged as a leader — finally. The defense is extremely legitimate, and the team moves the ball well on the ground. I question their depth, and I feel like they are still a year away from their best. The price is a tad low, but this team is no worse than the fourth-best team in the NFC — and quite possibly better than that. Two of their last four are against the Saints. That's significant because it can help them win the division but more so because it is a very good measuring stick of just where this team is. Right now I don't like this price, but three weeks from now I could have a very different opinion.
San Francisco 49ers (+1000)
I have picked the 49ers every single time I have look at Super Bowl predictions this year. So, am I going to make a change now? Not at this price. The defense is solid and getting healthy. The receiving corps is finally mostly back to full steam after missing key players all year. Colin Kaepernick is rediscovering his mojo. They play Seattle at home his coming weekend, and that will be very telling. At this point, though, I feel confident that this price is higher than it should be. That means value.
New Orleans Saints (+1000)
They have lost three of six games on the road — including one to the freaking Jets! The Super Bowl isn't in New Orleans. They aren't as effective on the ground as I would like, and I don't trust the defense against elite opponents — Seattle certainly exposed them. Their games with Carolina will be very telling, but at this point I feel like they are at least a step behind the elite contenders.
Kansas City Chiefs (+4500)
Great season? Yes. Remarkable turnaround from the first overall pick last year? Yes. Building a strong foundation for future success? You bet. Ready to compete with the big boys this year? Nope. The defense is tired and has slipped badly. The offense is a work in progress.
Philadelphia Eagles (+5000)
Want a longshot? Early in the year I had my eyes on the Panthers, but they aren't a longshot anymore. Now the Eagles fit the bill. After a very rocky stretch they have found their stride, and Nick Foles has turned into a very competent quarterback under the Kelly system. The defense is lousy-but-improving, the offense is strong, and the team is well-positioned to win their division if they maintain their momentum. We know that Kelly will have lots of tricks up his sleeve down the stretch and into the playoffs, and that will make this team fun — and potentially very profitable. I like the value of this pick.
Want free NFL picks? Doc's has you covered. New clients can take advantage of this great offer of $60 in free Doc's Sports members' picks for any handicapper on Doc's Advisory Board. Just check out these guys' pages and see what great work they have done making money for themselves and their clients over the years. Click here for this exclusive $60 picks offer.
Read more articles by Trevor Whenham