2017 Super Bowl Predictions: Futures Odds and Handicapping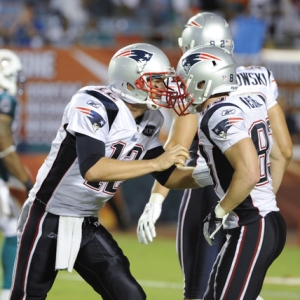 One of my favorite things to do the day after the Super Bowl is take a look at the futures odds that have just been posted for the game that is a full calendar year away. It's a good way to put the past season to bed and begin the long march to the next championship. This year we have a team we saw play yesterday as the favorites to win it next year, but it isn't the current champion. What other interesting situations arise in the futures odds? Let's take a look (all odds are from BetOnline):
Free $60 in Member NFL Picks No Obligation Click Here
Carolina Panthers (+800): The obvious downside here is that team after team has proven how hard it is to make it to the game twice in a row - especially after a loss. The core of the team is young and very talented, though, and they have a decent amount of cap space to deal with some gaps. If they can turn the humbling defeat into a motivating factor then the sky is the limit. The team certainly wasn't a fluke this year, but I am very nervous about them at this price.
New England Patriots (+900): They need to get healthy, and they have some holes to fill - and virtually no cap space. And their QB, while still among the elite of the elite, is getting to that age where that can change in a hurry. But I'm not ever going to bet against a Bill Belichick team finding a way to remain at the top. You can debate the price if you want, but their position as AFC favorites as this point is hard to argue with.
Seattle Seahawks (+900): They finished strong last season, they don't have the Marshawn Lynch uncertainty to deal with anymore after his retirement, the cap is in better shape than it has been, and the core is solid. There's a lot to like. I don't like their chances in the NFC any less than Carolina's, so the price is right by that measure.
Pittsburgh Steelers (+1000): I'm a little surprised by this one. They have a lot of work I would like to see them do - especially on defense - and very little cap space to do it. They are certainly going to be in the picture, but I don't see them as among the true elites as this point as the price suggests.
Arizona Cardinals (+1200): Carson Palmer is still the QB. You have to win playoff games to win the Super Bowl. Palmer has really struggled to do that. I like so much about this team, but I can't put them anywhere near the two NFC teams ahead of them until there is resolution on this front.
Denver Broncos (+1400): Cap Space is a crunch. Von Miller is a free agent due a big raise. So is Malik Jackson. C.J. Anderson and Ronnie Hillman are both free agents, too. They need to improve their offensive line, and that doesn't come cheap. And then there is that whole QB issue. Peyton Manning is surely done, and Brock Osweiler is a free agent who will be in demand. There is far too much uncertainty right now to even consider this team at this price.
Cincinnati Bengals (+1600): Is Marvin Lewis still in charge? Miraculously, yes. And that rules the Bengals out from serious consideration. Handicapping is hard, so I love it when circumstances make it this easy.
Indianapolis Colts (+2000): Talk about a leap of faith. The Colts were mostly horrific last year, and Andrew Luck looked shell-shocked when he was healthy enough to play - which was rare. They are in a decent place on the cap, though, and finally have coaching stability. If Luck can become what he should be then they are a contender - especially in their division. I just wish that the price was a bit more realistic.
Dallas Cowboys (+2000): It's time for that annual tradition - let's name the Cowboys a contender before they find near-impossible ways to crush those expectations. I can't trust Tony Romo to be healthy for a whole season at this point, and I don't trust their ability to replace him. They also don't have a ton of cap space, though in their case that could be a good thing because it limits their ability to do stupid things. I'll pass.
Jacksonville Jaguars (+6600): You need to take a flier on a long shot, and this is mine. Blake Bortles is progressing and enters his third year. He should be solid. There is some talent around him, and they have a stunning amount of cap space to improve that talent. They don't exactly play in the toughest division, and their underachieving coaching staff has potential to be much better. At this price they could be worth a shot - for a VERY small bet, mind you.
Cleveland Browns (+20000): Here's a shocking development - the Browns are the longest shot on the board. I mean, what is there not to like - yet another new coaching staff, a front office that is more science experiment than proven path to success, no quarterback of note, just one top draft pick with about 26 areas of immediate and pressing need, and more drama surrounding them than a season of Shonda Rhimes shows. You could add four more zeroes to the end of this price and it would still be by far the worst bet on the board.
Want free sports betting picks? Doc's Sports has you covered - get $60 worth of picks free from any of Doc's Sports expert handicappers. Click here for free picks (new clients only).
Read more articles by Trevor Whenham