MLB: Betting on the 2011 MVP
by Richard Gardner | Bodog Sportsbook Manager - 7/14/2011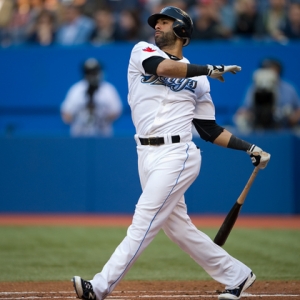 There are two unofficial halves to the baseball season. They're not exact halves, but they're close enough. The first "half" comes to a close at the All-Star break, something the players just enjoyed with some time off or by traveling to Phoenix to be part of the festivities. But now it's back to business; and with the second half of the season underway, we've put together a handful of props to kick the stretch drive into gear at Bodog's online sportsbook.
Instant $250 Free Bonus Bet from Bovada -
CLICK HERE
The most popular of our new bets has been the odds to win the 2011 AL MVP. The two front-runners are Boston's Adrian Gonzalez (4/5) and Toronto's Jose Bautista (5/4). Both are enjoying spectacular seasons. Gonzalez leads the American League in batting average and RBI; Bautista is tops in home runs.
Of course, Bautista led the AL in homers last year, too, but that wasn't good enough to beat out Rangers slugger Josh Hamilton. One of the things that might've held Bautista back in 2010 was his batting average, which ended up at a mediocre .260. This year, however, he went into the All-Star break with a .334 average, second to only Gonzalez (.354). And nobody's close to Bautista's .702 slugging percentage.
What Gonzalez has going for him is a winning team. There haven't been many MVPs from non-playoff teams, at least of late. Hamilton's Rangers made the playoffs. The NL MVP was Cincinnati's Joey Votto, an award that correlated with the first Reds postseason appearance since 1995.
The last league MVP from a non-playoff team was Albert Pujols, who won it in 2008. Before then, it was Ryan Howard in 2006.
The last AL MVP from a non-playoff team was Alex Rodriguez, all the way back in 2003 when he was still with the Rangers.
Our list of candidates with a good shot to win the 2011 NL MVP is a plentiful one. Jose Reyes and Prince Fielder are the co-favorites, each at 7/2, followed by Matt Kemp and Ryan Braun, each at 5/1, and Joey Votto at 7/1.
We've booked most of the early action on Fielder. I imagine that's because Fielder is a home-run hitter and everyone loves those guys. Reyes hits for average, and while he does that very well (.354), the Mets shortstop isn't exactly playing for a contender either.
One player you might want to consider if you're looking for a long shot with a big payout is Lance Berkman (16/1). The Cardinals' outfielder currently leads the NL in home runs (24) and is a big part of the reason St. Louis is neck and neck with Milwaukee for the Central crown. Berkman had six home runs in the 11 games prior to the All-Star break, and while his batting average (.290) is nothing to get excited about, he's definitely put himself in the running. Berkman finished third in NL MVP voting in 2006 (behind Howard and Pujols), so he's been among the leaders in the past.
I will be posting weekly articles about betting previews, matchups and the inside scoop from a bookmaker's point of view right here at Doc's Sports. Read my past articles – Click Here, and learn more about Bodog sportsbook – Click Here. If you're ready to set up an account and start playing I'd like to offer you a sign up bonus Click Here and enjoy our services.