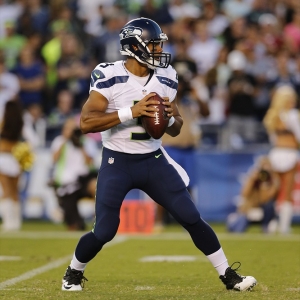 The Seattle Seahawks are Super Bowl Champions, finally bringing a title to the Emerald City and rewarding their patient and persecuted fan base.
But who cares! The Seahawks had their fun, and their fans can stick it, because bringing up that title as a reason why you'll be good in 2014 is just living in the past! Last season ended with the first drop of confetti on the Meadowlands turf, and we now live in a society in which anything that isn't happening A) now, B) within the last two days, or C) isn't about to happen sometime soon doesn't matter. It's like it doesn't exist!
Free $60 in Member NFL Picks No Obligation Click Here
So now it's time to start thinking ahead to who will win the Super bowl in 2015!
Super Bowl 45 will be held on Sunday, Feb. 1 at University of Phoenix Stadium in Glendale, Arizona. Las Vegas sportsbooks have already installed the NFC as a token three-point favorite over the AFC in next year's championship game.
Most sportsbooks have already released their futures odds on 2015 Super Bowl contenders. Here is a look at the best bets, sucker plays and value plays for betting on who will win the 2015 Super Bowl:
BEST ODDS
Seattle (+450) –There has not been a back-to-back Super Bowl Champion since the Patriots won it all in 2004 and 2005. But prior to that, it wasn't that rare. The Broncos (1998-98), Cowboys (1993-94) and 49ers (1989-90) each accomplished the feat in the last 25 years. Seattle is young, and most of its core is still under contract, so it should be essentially the same team. Three things to be concerned about: 1) they were inches away from not even making it to the Super Bowl, 2) they overachieved this year compared to their preseason statistical indicators, and 3) the league had a lot less parity back when the Cowboys and 49ers were racking up titles.
San Francisco (+700) –The 49ers are one more loss away from entering Philadelphia Eagles territory in terms of Good Team, But Not Good Enough To Win A Super Bowl. They have played in the NFC Championship Game three times. Their two losses were excruciating as was their near miss in the Super Bowl. I feel like San Francisco was the best team in football this year, and they should be healthier next year. But the window is closing. There has to be some doubts about Colin Kaepernick, and they have a lot of key free agents this year, including Anquan Boldin, center Jon Goodwin and several key secondary pieces.
New England (+750) –The Patriots made it to the AFC Championship Game with half its team. Seriously. The Patriots were crushed by injuries, played under the cloud of the Aaron Hernandez situation, and had one of the youngest rosters in the league. And they still almost made it to the Super Bowl! It is an absolute joke that Bill Belichick wasn't the coach of the year. And I expect the Patriots to be in the mix again next year, especially if they get Tom Brady some help on offense.
SUCKER BETS
Atlanta (+3000) – These odds have already dropped at some books. When the initial lists were released, Atlanta was one of the Top 10 teams with the shortest odds to win the Super Bowl. Huh? The Falcons have maybe four guys on their roster that are legitimate starting NFL defensive players, and their offensive line is a joke. I agree that Atlanta could be primed for a bounce-back season. But a run at the Super Bowl is a massive reach.
Carolina (+2500) – So about midway through this season Ron Rivera was going to get fired, and now he's ready to coach a team to the title. Right. Got it. I like Rivera. A lot. But I don't trust Cam Newton at all, and the Panthers still have a pretty flimsy roster. They have 24 players set to hit free agency, and 21 of them are unrestricted. This team is going to look a lot different next September, and that could cut either way. Also, no way Newton wins a Super Bowl. Ever.
Cincinnati (+2500) – Remember what I said about Cam Newton? Ditto for Andy Dalton. Dalton is a loser and a major weak link for the Bengals. They have built a very solid foundation in Cincinnati – something unimaginable just 15 years ago – and the Bengals will again be in the running for a playoff spot. But they don't have enough top-end talent, and their quarterback is in the bottom half of the league. Oh, and they haven't won a postseason game since 1990. They are further away from a title than these odds suggest.
Dallas (+4000) – Hahahahahaha! If you bet a single dollar on the Cowboys to win the title next year you should be forced to punch yourself in the face.
VALUE PLAYS
Green Bay (+1500) – Do they have a top-tier quarterback? Yes. Do they have an experienced coach and core that has seen recent postseason success? Yes. Do they have massive holes on their roster that must be filled in free agency? Yes. OK, so the Packers may not be a real threat to overtake the powerhouse teams in the NFC West just yet. But they have a better team than anyone in the East, they are still the top dogs in the Central, and they are at least the equals of anyone in the South. So it's not a stretch to say that the Packers will enter next year as the fourth or fifth best team in the NFC. That gets you in the Super Bowl discussion.
Chicago (+3000) – The Bears have been the best team in the NFL to not play in the postseason the last three years. If I weren't a Bears fan, it would be comical. Instead, it is tragic. They have 37 wins over the past four seasons and have not finished worse than 7-9 since 2004, yet the Bears have made the postseason just one time in the last seven years. They are much better than people realize. And if they can shore up their defense and add another receiver in the offseason this team could be dominating in 2014.
Philadelphia (+3000) – I will be the first to admit that I didn't buy into Chip Kelly's voodoo heading into last season. However, I saw enough out of this team to be impressed. Imagine what Kelly will do now that he has some time to actually find guys that can fit his system? The NFC East is in shambles, and Philadelphia is clearly a team on the rise. Their free agent losses could be negligible and they have the 10th-most salary cap space in the league. These are decent long shot odds.
Here is a complete list of odds to win Super Bowl 45, courtesy of Sportsbook.ag:
Arizona Cardinals +3000
Atlanta Falcons +3000
Baltimore Ravens +4000
Buffalo Bills +7000
Carolina Panthers +2500
Chicago Bears +3000
Cincinnati Bengals +2500
Cleveland Browns +7500
Dallas Cowboys +4000
Denver Broncos +700
Detroit Lions +4000
Green Bay Packers +1500
Houston Texans +4000
Indianapolis Colts +2500
Jacksonville Jaguars +20000
Kansas City Chiefs +3000
Miami Dolphins +5000
Minnesota Vikings +10000
New England Patriots +750
New Orleans Saints +2000
New York Giants +4000
New York Jets +6000
Oakland Raiders +20000
Philadelphia Eagles +3000
Pittsburgh Steelers +4000
San Diego Chargers +4000
San Francisco 49ers +700
Seattle Seahawks +450
St Louis Rams +4000
Tampa Bay Buccaneers +6000
Tennessee Titans +6000
Washington Redskins +4000
Want free sports betting picks? Doc's Sports has you covered – get $60 worth of picks free from any of Doc's Sports expert handicappers. Click here for free picks (new clients only).
Read more articles by Robert Ferringo