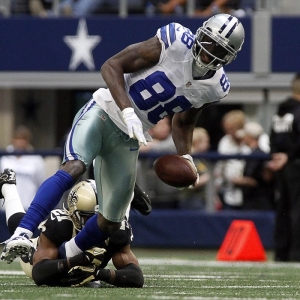 Whenever people find out what my job is, they inevitably ask the same question: "Who is going to win the Super Bowl?"
My answer usually surprises them: "I don't care."
I really don't care about trying to predict the Super Bowl champion. That's not how my skills work. I'm a professional football handicapper, not a fortuneteller. I analyze data, gauge value and make predictions based on my own investing theories. I don't think that I can plot out the full results of 240-plus interlocking regular season games and a full NFL postseason. It's a fun exercise. But I've found that things like this aren't a very effective use of time and show a poor return on investment.
Free $60 in Member NFL Picks
No Obligation
Click Here
But this is America. The People love gun violence, fad diets and wild predictions. I'm a man of The People, so I'll give them what they want, and if that means a breakdown of the primary contenders to win the Super Bowl, I will oblige.
If we're going to do this, let's be smart about it. Any NFL futures wager on a team to win the Super Bowl shouldn't be about what team you think will win the Super Bowl. That is dumb. You don't know who is going to win the Super Bowl. You don't know who will get injured, who will come out of nowhere, who will have a schedule they can't overcome, who will start fighting in the locker room, who will fall victim to a soul-crushing rash of turnovers, and who will become a Victim of Fate and be doomed to having their season forgotten.
If you're going to make a bet on Super Bowl futures, your wagers should be based on which teams' odds and value are out of whack compared to their actual chances of taking home the Lombardi Trophy. And the primary goal of a Super Bowl future should be that your team makes it to the championship game so as to create a sweet hedging opportunity and a guaranteed profit.
For example, let's say I put $1,000 on the Saints to win the Super Bowl at 20-to-1 odds. And let's say the Saints win the NFC and make it to Super Sunday. Well, the first thing I would do is put $10,000 down on the AFC opponent on the moneyline (or, better yet, with the points if the Saints were favored; this way I could hit a middle). This means that no matter which team won the Super Bowl, I would be guaranteed to win around $10,000.
That is how it is done.
The 2014 Super Bowl will be played on Feb. 2 at the Meadowlands in East Rutherford, NJ. I can think of about 1,000 better ways you could invest your money this football season. But if you insist on making a wager on who will win the Super Bowl, then here is a breakdown of the teams with the best value to hoist the Lombardi Trophy, with odds courtesy of 5Dimes:
BEST BETS
San Francisco 49ers (+700)
The 49ers are the deserving favorites right now. They were one play away from winning the championship last year and were able to retain a core of players that is just entering its prime. John Harbaugh is one of the best football coaches in the country, and he is armed with the top defense in the NFL. San Francisco has had to deal with some wide receiver attrition this offseason. But they didn't win anything with their passing game last year. As long as they are one of the toughest, most physical, most violent teams playing on Sundays, they will be on the short list of teams equipped to win a title.
Denver Broncos (+700)
About three months ago I would've pounced on odds like these for Peyton Manning and the stacked Broncos. But since May everything has gone wrong. They've had issues in the front office. They had that bizarre Elvis Dumervil situation. They've lost key players to injury and shady suspensions. And it just seems like the Football Gods don't want Manning to win another title. But with their schedule they should be one of the top two seeds in the AFC. That means they are just two (home?) games away from making it to the Super Bowl. And if Manning makes it back to The Big Game, then having a 7-to-1 ticket to hedge off of would be money in the bank.
New England Patriots (+850)
Just so I'm understanding this: the loss of Brandon Lloyd and an allegedly murderous tight end means so much to the Patriots that you are going to doubt them going back to the Super Bowl? Not me. As long as they have Tom Brady and Bill Belichick, I will gladly put cash down on the Patriots. They are another team that was just one play from a title two years ago. And they have made the AFC Championship Game in four of the last seven years and six of the last 10 seasons. Yup: I'll take those odds.
SUCKER BETS
Seattle Seahawks (+800)
These guys aren't winning the Super Bowl. How am I the only guy that sees it? Seattle stole a win from Green Bay with the Fail Mary last year. They used ridiculous comebacks against the Patriots and Bears and a desperate goal line stand against Carolina for three more wins last season. That's four relatively fluky wins. Let's say that just three of those four don't break Seattle's way – and none of them probably should've – and the Seahawks finish 8-8 last year. Would anyone be talking about them as a Super Bowl favorite right now? I don't think so.
Atlanta Falcons (+1600)
The Falcons were a "viable long shot" when I wrote this article back in February. And I know that the addition of Steven Jackson is a massive upgrade over Fat Michael Turner. But Atlanta's weakness last year was its defense. How did they solve that problem? They let three of their four best defensive players go? And they are starting how many rookies in the secondary? The Falcons did not improve this offseason. They have a more difficult schedule, and they will suffer an improved division this fall. They were so close to a ring last year. But that's as close as they will get in the foreseeable future.
New Orleans Saints (+2000)
I don't really understand all the love that people have for the Saints right now. Truly, everyone I talk to loves the Saints this year. Why? Is last year's historically pathetic defense any better? No. Is their offensive line or running game improved even the slightest bit? Nope. So just having Sean Payton back is going to take these guys from 7-9 to Super Bowl Champions? I'm not buying it. At all. New Orleans is back to being a player in the NFC. But that defense couldn't stop my 5-year-old from getting to an ice cream cone, much less three good quarterbacks in January.
BEST VALUE WAGERS
Houston Texans (+1600)
I'm not really coming around on the Texans. I still think they have too much "loser" in their DNA. (Wade Philips and second-generation Shanahanite Gary Kubiak will do that to you.) But the fact of the matter is that there are probably only three teams – New England and Denver are the others – that can win the AFC. You can't win the Super Bowl if you're not playing in it. So if the Texans have a strong shot to make The Big Game then they offer some value. Would they beat a top NFC team? Hell no. But they can get there. And if you are sitting on a $500 Houston ticket at 16-to-1 on Super Bowl Sunday then you can make a solid profit hedging against them.
New York Giants (+2800)
When the Giants get into the playoffs, which they have only done once in the past four years, they don't seem to lose. I don't think this year's squad is anywhere close to a title team. But if I have learned anything about the Giants it is that they always play their best when the expectations are the lowest.
Dallas Cowboys (+3900)
Jesus, now that people have shut up about the Cowboys there might actually be some value here. Dallas is perpetually overrated in regards to their Super Bowl odds. But after three straight seasons of missing the playoffs, they are an afterthought heading into 2013. I actually think this their best team in four seasons, and they have a schedule that should guarantee them at least 10 wins and a home playoff game. Talent has not been the issue with this team. And if the defense takes off under maestro Monte Kiffin then the offense is good enough to do some serious damage in the NFC. Their weakness is the offensive line. But their line isn't much worse than those in Green Bay, Atlanta or New Orleans. Dallas has a much, much better defense than any of those three teams yet far worse Super Bowl odds. Of course, if Dallas advances deep in the playoffs the pressure and hype is going to be ridiculous. And we know how these idiots handle that. But the fact is that these odds are comical compared to Dallas' actual chances of making it to the Super Bowl.
Chicago Bears (+4100)
I am firmly on record as saying that this year the Bears are either going to go to the Super Bowl or they are going to go 7-9 and then have a major roster purge. I don't know that there is a middle ground with this group. Three years ago these guys were hosting the NFC title game. Two years ago they started 7-3 before losing their quarterback and running back. Last year they were 7-1 before a brutal second-half schedule swallowed them up. (They still went 10-6.) So the Bears have been much better than people realize. They have a lot of wins with little to show for it. Last year a change in scheme propelled talented-but-underachieving Atlanta to 13 wins and the NFC title game. The Bears fall into the exact same category. And if Marc Trestman's systems take root, the Bears could be nasty. All things considered, these odds are a joke, and Chicago's real Super Bowl odds are probably closer to 18-to-1. So this is one of the best value bets on the board right now.
Other stories you may be interested in:
2013 AFC North Preview and Predictions
2013 AFC West Preview and Predictions
2013 NFC West Preview and Predictions
Robert Ferringo is a lead writer for Doc's Sport and he has earned over $9,000 in football profit for his clients over the last 15 football months. He is looking forward to another amazing season on the gridiron and has banked five of six winning NFL seasons, two of three winning years and 27 of 39 winning football months. And this fall, for the first time ever, Robert will release selections from his incredible KING College Football Betting System. (Learn more HERE.) We are so confident that you will be amazed by this moneymaking system we are going to give you a free, no-strings-attached $60 credit to use toward a purchase of Robert's football selections. CLICK HERE for $60 absolutely free!
Read more articles by Robert Ferringo