British Open Golf Futures Betting Odds and Tiger Woods
by Richard Gardner | Bodog Sportsbook Manager - 7/8/2010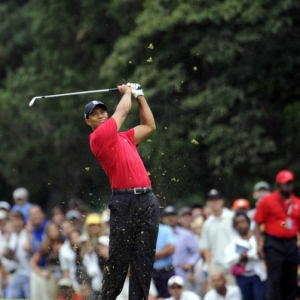 The 2010 British Open tees off next week at St. Andrews and we're expecting good activity on the golf betting board at Bodog.
The biggest story heading into the tournament? You guessed it – Tiger Woods. He won the Open at St. Andrews in 2000 and 2005, so there's no question that he likes the course. The big question: Is his game and mental state where it needs to be to win a major? We're giving Tiger 7/2 odds to win the British Open, making him the heavy favorite despite the fact he's winless so far on Tour. After Woods, it goes Phil Mickelson at 12/1, Lee Westwood at 14/1, Padraig Harrington at 16/1, Ernie Els at 16/1 and Rory McIlroy at 18/1.
Instant $250 Free Bonus Bet from Bovada -
CLICK HERE
So far, we've booked a modest amount of futures action on Tiger, but nothing that has us overly worried he'll win. But one player we'll be definitely be cheering against is Justin Rose, the Englishman at 20/1.
I fully expect Rose's odds to come under pressure in the run-up to the first round after his victory at the AT&T National last weekend. That win came just a week after a horrendous fold job, when he blew a three-stroke lead at the Travelers Championship.
"I was obviously a little worried about today based upon last Sunday, there's no doubt about it," Rose said on Sunday. "But I just had to try to stay within my rhythm. I was walking slow, trying to stay real calm — did a great job of that."
If Rose finds himself in contention at St. Andrews, bettors seem to think that his recent experiences will serve him well. Also remember that Rose won the Memorial back in June, so it's been a good month and a bit for the 29-year-old.
Make no mistake,v however, all the attention will be on Tiger, at least until the action gets underway. He already exchanged pleasantries with the British press at a charity event in Ireland earlier this week, so expect fireworks off the course, if not on it.
Will Tiger win a major in 2010? We've got odds on that as well. "Yes" it at +225; "No" at -350.
Regardless of where you stand on the bet, you have to think St. Andrews will be his best chance considering his history of success at the course. At the same time, the press might take a bit of his legendary focus off the task at hand.
I will be posting weekly articles including betting previews, matchups and the inside scoop from a bookmakers point of view right here at Doc's Sports. Read my past articles - Click Here, and learn more about Bodog sportsbook - click here. If you're ready to set up an account and start playing I'd like to offer you a Sign up Bonus - Click Here. Enjoy the Bodog Experience.