NFL Betting Lines & Team Props: The San Francisco Treat?
by Richard Gardner | Bodog Sportsbook Manager - 8/4/2010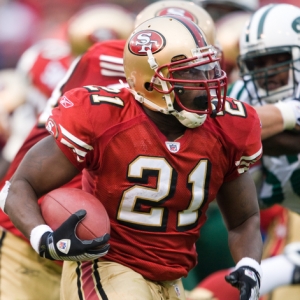 If recent action at Bodog's online sportsbook is any indicator, the 2010 NFL regular season should be a good one for the San Francisco 49ers.
Ever since our NFL Team Prop Bets were released, a flurry of wagers has come in on the scarlet-and-gold. With a win total of 8.5 (Over -175, Under +145), this Niners prop bet has shot to the top of our list in terms of total handle, with a large number of bettors playing the over.
Instant $250 Free Bonus Bet from Bovada -
CLICK HERE
Looking at the 49ers situation for the upcoming season, it's easy to see why.
San Francisco finished the 2009 season at 8-8 with a 6-2 home record and a two-game winning streak to finish the year. The Niners certainly looked like a team on the rise – they had the sixth-best run stopping unit in the NFL and middle linebacker Patrick Willis emerged as a defensive superstar. Those two factors went a long way in the Niners shutting down two of the NFL's most prolific offenses; they held Indianapolis to 18 points in Week 8 and Arizona to just nine points in Week 14.
Based on last year's effort, the Niners have to be considered contenders for the 2010 NFC West title. Helping their cause is the relative weakness of the division. The St. Louis Rams (1-15) were the worst team in football last year and aren't promising to be much better this season. While optimism is high in Seattle under new coach Pete Carroll, many of the problem areas from last year's 5-11 team (running back, offensive line, secondary) haven't been fixed. Arizona, the reigning division champion, lost the services of Kurt Warner, Anquan Boldin, Karlos Dansby and Antrel Rolle and will start unproven QB Matt Leinart under center. Given that the Niners went 5-1 against the NFC West last year, sweeping the division in 2010 is a realistic goal.
Then there's the strength of schedule. San Francisco's ranks as the fifth-easiest in the NFL – based on last season's records, opponents had just a .457 winning percentage (117-139). The Niners do open with a tough game at Seattle before a home date against defending Super Bowl champion New Orleans – but after that, it's wide open. From October 10 to November 21, San Francisco will play four of its six games at the friendly confines of Candlestick Park (versus Philadelphia, Oakland, St. Louis and Tampa Bay). Also in that stretch is a neutral-site game in London, England against the Broncos and a trip to Carolina to take on the Panthers. Considering just one of these six teams (11-5 Philadelphia) finished with a winning record last season, it stands to reason that the Niners could make some serious hay during this stretch.
One more thing to consider: San Francisco hasn't been to the playoffs since 2002, a long layoff for this once-proud franchise. Could the desire to participate in the postseason push the Niners over the 8.5 win total? There are more than a few NFL bettors hoping it will.
I will be posting weekly articles including betting previews, matchups and the inside scoop from a bookmakers point of view right here at Doc's Sports. Read my past articles - Click Here, and learn more about Bodog sportsbook - click here. If you're ready to set up an account and start playing I'd like to offer you a Sign up Bonus - Click Here. Enjoy the Bodog Experience.