NFL Week 12 Betting Props at Bodog
by Richard Gardner | Bodog Sportsbook Manager - 11/26/2010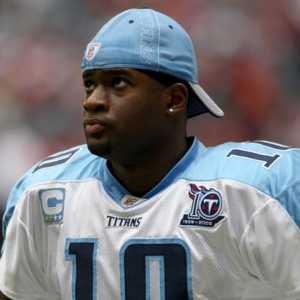 Happy belated Thanksgiving! A bunch of great props take us into Sunday's football betting action in Week 12 of the NFL season here at Bodog.
Perhaps the biggest story of the past week has been Tennessee quarterback Vince Young and his falling out with Titans coach Jeff Fisher. I'm sure you're all familiar with the details of the situation by now. The question remains, what happens next? And that's where Bodog's NFL props come in.
Instant $250 Free Bonus Bet from Bovada -
CLICK HERE
So, will Young and Fisher kiss and make up and be together next year with the Titans? According to our book makers, the chances of that happening are pretty slim. To be exact, the odds are +350. Will neither be back in Tennessee? That option's even less likely at +400? So will it just be Young returning to play football? That's at +200. How about just Fisher coaching? There's your favorite at even odds.
So far most of the action has been on just Fisher returning. But it's worth noting that we've booked a few sharp bets on just Young coming back. After all, Young was playing very well before he injured his thumb. What's more, Titans owner Bud Adams has been a big Young supporter, and there's been speculation in the media that he'll choose his enigmatic quarterback over the coach.

Of course, with both Young and Kerry Collins out with injuries now, somebody has to come in and play quarterback for the Titans on Sunday when Tennessee travels to Houston to take on the reeling Texans. And that somebody is rookie Rusty Smith.
It might seem like a tall order for a rookie, but the 6-foot-5, 226-pound Smith, out of Florida Atlantic, certainly has his coach's support.
"He played the pro-style offense, made all the throws. He's a very accurate passer, he has a strong arm. He's tall and he sees well and he's very intelligent," Fisher told the media this week. "We had him up on our board; we had him quite high after our visit with him. We felt like he had a chance."
Smith will also have the luxury of playing against the NFL's worst pass defense, which belongs to the Texans.
At Bodog's Online Sportsbook, we've set his total passing yards for the game at 200.5 and his total completion percentage at 55.
One last prop that our bettors have been very interested in since it was posted involves Michael Vick and his next contract. We've set his total guaranteed money at $45 million, which tells you all you need to know about the fantastic season he's having in Philadelphia. It wasn't that long ago that most teams wouldn't touch Vick; now it's expected he'll be raking in the millions once again.
I will be posting weekly articles including betting previews, matchups and the inside scoop from a bookmakers point of view right here at Doc's Sports. Read my past articles - Click Here, and learn more about Bodog sportsbook - click here. If you're ready to set up an account and start playing I'd like to offer you a Sign up Bonus - Click Here. Enjoy the Bodog Experience.