NFL Player Props: Terrell Owens and Chad Ochocinco
by Richard Gardner | Bodog Sportsbook Manager - 7/29/2010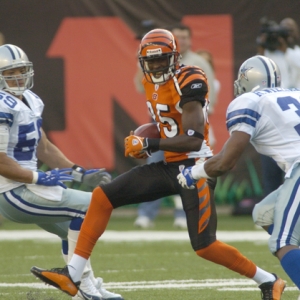 It's been one of the big stories in the NFL heading into the 2010 season: Terrell Owens and Chad Ochocinco, together at last. The Cincinnati Bengals now boast two of the most talented and controversial wide receivers in the game. As such, we've created a few fun prop bets for the dynamic duo.
Head over to Bodog's NFL player props board and you can bet on which of the pair will receive more total fines (monetary value) from the league during the regular season. As it stands, Ochocinco is the clear favorite at -200, while you can get the underdog Owens at +150.
Instant $250 Free Bonus Bet from Bovada -
CLICK HERE
You can also bet on whether the pair will be fined by the NFL for a touchdown celebration that they perform together. Currently, "Yes" is at +200 while "No" is at -300.
As most football fans already know, neither player is a stranger to excessive celebrating. Just one example involving Owens: In 2002 on Monday Night Football against Seattle, he pulled a Sharpie out of his sock and signed the game ball, after which he proceeded to hand the ball to his financial adviser (of all people) who just so happened to be sitting in a seat close to the end zone.
But Owens has nothing on Ochocinco, the current king of the TD celebration. That guy's done everything from performing the "Riverdance" to kneeling down and proposing to a cheerleader after scoring a touchdown. One time, he even held up a sign requesting that the NFL not fine him again. (They fined him.)
It will be interesting to see how the two players react to the spotlight that will be brightly shined upon them this year. Will they just go out and play football? Or, will they take it upon themselves to give the fans a show?
Granted, for Bengals fans, the most important thing at the end of the day won't be touchdown celebrations – it'll be whether or not the team has success on the field. Remember that Owens racked up just 829 yards receiving last year in Buffalo, his lowest output since 2005 when he only played in seven games for the Eagles. Moreover, he only caught five TD passes in 2010, his lowest total since 1999. Whether or not Owens, now 36 years old, can once again be a 1,000-yard receiver and a dangerous scoring threat will be the subject of much debate.
At Bodog's Online Sportsbook, we've set Owens' total receiving yards at 900, with most of the early action coming on the under. His total touchdowns is at 7 and total receptions at 65.5. So far bettors have been split pretty evenly on those two props.
I will be posting weekly articles including betting previews, matchups and the inside scoop from a bookmakers point of view right here at Doc's Sports. Read my past articles - Click Here, and learn more about Bodog sportsbook - click here. If you're ready to set up an account and start playing I'd like to offer you a Sign up Bonus - Click Here. Enjoy the Bodog Experience.