Tiger Woods Betting Odds for PGA Championship
by Richard Gardner | Bodog Sportsbook Manager - 8/12/2010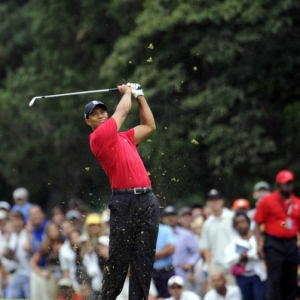 Tiger Woods will once again be the big story heading into the PGA Championship this week at Whistling Straits outside Milwaukee. With rumors linking Tiger to swing coach Sean Foley surfacing on Monday, most people were still trying to get a handle on what they saw last weekend at Firestone. Was that really Tiger Woods hacking around out there? Because it didn't look like Tiger Woods. Frankly, it looked like John Daly after a particularly hard-drinking night and a trip to the drunk tank.
Instant $250 Free Bonus Bet from Bovada -
CLICK HERE
We've got Woods at 12/1 odds to win the PGA Championship at Bodog Sportsbook. Phil Mickelson, who was equally as bad on Sunday, is the favorite at 10/1. We've seen a few early bets on the top two golfers in the world (at least according to the rankings) but I think most of the action this week will be spread among international players like Rory McIlroy (16/1) and Padraig Harrington (20/1) as well as young Americans like Hunter Mahan (33/1) and Sean O'Hair (40/1). Veterans like Steve Stricker (22/1), Jim Furyk (33/1) and Ernie Els (28/1) will also garner interest.
But make no mistake, most of the eyeballs will still be on Tiger, which is why we've created a number of prop bets involving the holding-on-by-the-skin-of-his-teeth top golfer in the world. The one that I expect to be particularly well subscribed to is the one that asks whether or not Tiger will make the cut. At the moment, we've got "Yes" at -400 and "No" at +275. A month ago there's no way we could've put up a line like that. We would've been flooded with "Yes" bets. But last weekend was so bad for Woods that I expect the action to be balanced fairly evenly. After watching some of the shots he hit at Firestone and the way he looked so utterly defeated mentally by the end of his four-round nightmare, a +275 payout for that to continue will seem pretty good for a lot of people.
We've also got odds on where Woods will finish if he makes the cut. Top 10? Yes is at +135. Top 20? Yes is at -160. Remember that Tiger finished tied for fourth at both the Masters and the U.S. Open. Then again, that was then, and Firestone was just a few days ago.
For those wondering whether or not Tiger will play his way onto the Ryder Cup team or be worthy of a captain's pick for the October event, you're not alone. Corey Pavin is probably wondering that, too. For the record, we've got Europe as the -188 favorite with the United States the considerable underdog at +188.
I will be posting weekly articles including betting previews, matchups and the inside scoop from a bookmakers point of view right here at Doc's Sports. Read my past articles - Click Here, and learn more about Bodog sportsbook - click here. If you're ready to set up an account and start playing I'd like to offer you a Sign up Bonus - Click Here. Enjoy the Bodog Experience.