Bookmaker's Corner: 2010 US Open Head-to-Head Odds
by Richard Gardner, Bookmaker, Bodog Sportsbook - 6/17/2010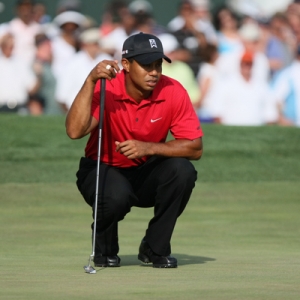 With the 2010 US Open coming up at Pebble Beach, I thought I'd highlight a few of the head-to-head matches we've got going at Bodog's online sportsbook.
If you can't guess the most popular head-to-head match in terms of handle, you're probably not a golf fan. That would be Tiger Woods versus Phil Mickelson. Currently, there's no favorite, with both golfers at -115 to win.
Most of the early action has been on Mickelson, and that tells you all you need to know about Woods' season to date. It's been a real struggle for the world's top golfer. Other than a decent showing at the Masters in April, there haven't been many highlights. Statistically, Woods has shot in the 60s in just two of his last nine rounds and hasn't gone lower than 69 since Round 1 of the Masters.
Instant $250 Free Bonus Bet from Bovada -
CLICK HERE
On the bright side, at least he's staying positive. "As far as my game, I'm very excited about how it's progressed, since before [the] Memorial, then obviously during Memorial, and now here it's gotten better," Woods said on Tuesday in published reports. "The more time I've been able to practice and play, it's starting to solidify, and I'm actually really excited to tee it up on Thursday."
Mickelson has also had his ups and downs, but his victory at Augusta is still fresh in the minds of many bettors. It's extremely rare that we cheer for Tiger over Lefty at Bodog, but that will most definitely be the case this weekend. (The two are co-favorites to win the tournament at 7/1 odds.)
The next biggest head-to-match match in terms of handle could very well be Rory McIlroy versus Ernie Els. The youngster takes on the veteran. Again, both are at -115 to win the match.
McIlroy, a 21-year-old from Northern Ireland, has taken the golf scene by storm and currently ranks 10th in the world, three below Els.
McIlroy has already won on tour this year, capturing first place at the Quail Hollow Championship in May, but he didn't fare too well at Augusta, failing to make the cut after rounds of 74 and 77. Granted, he finished in a tie for 10th in last year's US Open, so there's reason to believe he can handle a tough USGA set-up.
Three other popular matchups to consider are Dustin Johnson (-110) versus Steve Stricker (-120), Jim Furyk (-120) versus Luke Donald (-110) and Paul Casey (-115) versus Retief Goosen (-115).
I will be posting weekly articles including betting previews, matchups and the inside scoop from a bookmakers point of view right here at Doc's Sports. Read my past articles - Click Here, and learn more about Bodog sportsbook - click here. If you're ready to set up an account and start playing I'd like to offer you a Sign up Bonus - Click Here. Enjoy the Bodog Experience.