Tough Sunday Coming Up for NFL Running Backs
by Richard Gardner | Bodog Sportsbook Manager - 1/21/2011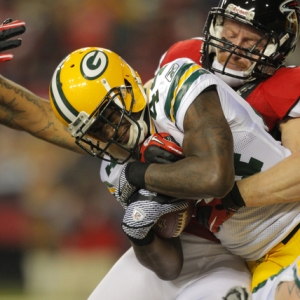 The Pittsburgh Steelers finished first in the NFL in run defense in the regular season, allowing just 62.8 yards per game. For comparison's sake, the Buffalo Bills were last, surrendering 169.6 yards per game. And that's the challenge facing the ground-and-pound New York Jets rushing game on Sunday when it takes on the Steelers at Heinz Field: trying to run on Pittsburgh.
Only six teams have held the opposition under an average of 70 rushing yards for an entire season since the league expanded to 16 regular-season games in 1978.
Instant $250 Free Bonus Bet from Bovada -
CLICK HERE
"It's not just impressive," Jets defensive lineman Trevor Pryce said of the Pittsburgh run defense. "It's historic."
Right guard Brandon Moore was similarly complimentary.
"Any time you can get 100 yards against them, you feel like you've got something off your back," he said. "They're looking at it like they're on their heels a little bit, because they're not used to that. You feel like you can do more, because they're pressing a little bit. There's a lot more you can do if you feel comfortable."
But the Steelers aren't the only team still alive in the quest for the Super Bowl that regularly stuffs the run. The Chicago Bears ranked second in the league in run defense; the Jets were third. The Green Bay Packers, meanwhile, were 18th.
And that brings us to one of our special NFL props for Sunday's AFC and NFC championship games: Which running back will finish with the most yards gained on the ground?
Chicago's Matt Forte and Pittsburgh's Rashard Mendenhall are the co-favorites, each of whom are getting 7/4 odds. After that it's Green Bay's James Starks (7/2), New York's Shonn Greene (5/1) and his teammate LaDainian Tomlinson (6/1).
So far most of the action has come in on Forte, perhaps because the Packers have struggled at times to stop the run. In Week 17, Forte rushed for 91 yards against Green Bay at Lambeau, and that was on just 15 carries, giving him an average of 6.1 yards per attempt.
Mendenhall has seen good support as well. In Week 15, he put up 99 yards on 17 carries against the Jets, good for an average of 5.8 yards per carry. It's worth noting that Ben Roethlisberger attempted 44 passes that game, which really cut down on the opportunities for Mendenhall. If the Steelers can build a lead on Sunday Mendenhall should get the rock a lot more.
I will be posting weekly articles including betting previews, matchups and the inside scoop from a bookmakers point of view right here at Doc's Sports. Read my past articles - Click Here, and learn more about Bodog sportsbook - click here. If you're ready to set up an account and start playing I'd like to offer you a Sign up Bonus - Click Here. Enjoy the Bodog Experience.