NFL Survivor Pools Strategy Advice and Predictions: Week 7
by Trevor Whenham - 10/14/2014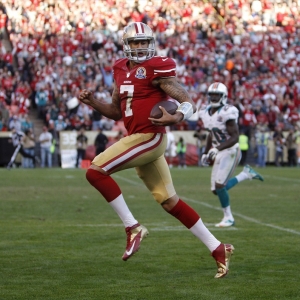 We have fewer remaining competitors with every passing week of NFL survivor pool action, and things get more and more tense for those of us who are still standing. Luckily for us, this week there are three very viable selections, and chances are quite good that you haven't already used up all three teams in prior weeks. It gets tougher and tougher to find teams that are still usable, so it's a good feeling that we are probably fine - and we don't have to make a reckless gamble. As we do every week, we'll look at all the games in which there is a lopsided favorite. There are five that fit that criterion, though two would make truly lousy choices.
The Good Ideas
New England vs. New York Jets: New England is probably not an available pick for most survivor pool players at this point in the season, but if they are then this is a no-brainer. The Patriots have played very well the last two weeks, and they have finally found an identity on offense. They are playing angry, and that is a very good thing for this team. The Jets, meanwhile, are a total mess. They have lost five straight, haven't even been competitive the last two, have question marks all over the field, and are playing for a coach who is all but certain to be fired at some point. The Patriots are tough at home, and the Jets just lost their last road game 31-0. I could go on, but you get the point - the Patriots just aren't very likely to lose this one. If you can pick them this week then you absolutely should.
Green Bay vs. Carolina: The Panthers had a surprisingly strong outing last week, but I put that down as much to the issues the Bengals brought into the game as anything. They still struggle to run the ball and to stop others from doing the same. Green Bay, meanwhile, had a surprisingly tough time winning at Miami - and needed to resort to some trickery to get it done. The Packers are returning home, though, and after playing four of their first six on the road they will be happy to be there. Carolina, meanwhile, is on the road for the second week in a row and could face some weather issues in this one that will favor the Packers. Green Bay is clearly the better team right now, and the setting is right for that to be proven out. This pick isn't as comfortable as the Patriots, but it is pretty close.
Baltimore vs. Atlanta: This one makes me a bit nervous. Atlanta is a mess, and I have no problem picking against them - especially on the road. Their defensive line is ugly, they can't do anything right on offense, and they are coached very poorly. They are in a bad place - for the second year in a row. What concerns me in this one, though, is Baltimore. They played about as well as a team can play on offense last week, but they don't strike me as the most consistent team in the world. Are they going to be able to do it again, or are they going to come out flat? If both teams maintain recent form then Baltimore wins easily, but if they play close to their potential then Atlanta has a decent shot. I'd take Baltimore without too much thought if I had to, but only if I couldn't take New England and Green Bay.
The Bad Ideas
Seattle at St. Louis: Stay away from this one! The Rams were surprisingly tough against the Niners, and with a few more breaks - and better defense late in the first half - they could have turned it into a really bad night for the Niners. The Seahawks, meanwhile, are just a shell of what they should be in recent weeks. You need to drop the image of the invincible champions when thinking of this team if you haven't already done so. In their last four games they have lost twice, and they needed overtime to beat the Broncos after blowing a big lead in the fourth quarter. They have allowed 97 points in those games - incidentally the same number they have scored. I'm not saying that they are a bad team - not by any means. They are in a funk right now, though - much like many defending champions have found themselves in - and until they show that they have shaken it, trusting them is a bad idea.
Denver vs. San Francisco: The Niners have won three in a row against decent teams and have looked good doing it. The Broncos in their last three have lost to Seattle and beaten the Jets (which proves absolutely nothing) and an Arizona team that was down to their third-string QB. San Francisco is missing two of their best defensive players and is still playing very stout defense. These are both elite teams, so I am obviously missing something because I don't get why the Broncos are favored by more than a touchdown. Look at it this way - if you woke up Monday morning and heard that the Niners had beat the Broncos, would you be shocked? Would it be an upset for the ages? Or would it just be a viable outcome when good teams clash? The latter is clearly true, and that makes the Broncos a bad survivor pool choice.
Doc's Sports is offering new clients free NFL picks from any handicapper on our Advisory Board. This special offer does not require a credit card, and you will never have to deal with a salesman. Click here to get your free $60 NFL picks credit today. Also, get three handicappers for the price of one when you sign up for a full-season football package! Click Here for details.
Read more articles by Trevor Whenham