2020 Memphis Tigers NCAA Basketball National Championship Odds with Predictions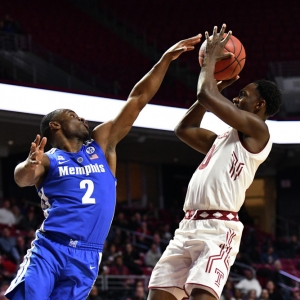 Hiring Penny Hardaway to coach the Memphis Tigers before last season was a risky move. He had only coached high school players, so the risk was that the game could have been too much for him. But he promised that he would bring in players, and he certainly delivered. In just his second year, he has overhauled the entire roster and every player is one he brought in. And the core of that roster is the number one recruiting class in the country. At Memphis. In the AAC. That kind of thing just doesn't happen. Players like this bring massive expectations with them, and it remains to be seen if they are up to it. As we will see, though, they certainly don't face the country's toughest schedule as they look to prove themselves.
Memphis Tigers Additions/Losses
In a normal situation, the amount of attrition the team has faced would be a big concern. Five of last year's top six scorers graduated. Three more down-roster players transferred. Altogether, just over three-quarters of the scoring from last season has disappeared. And now they are going into this season with no one who has been on the roster for more than one season before this one. And a lot of the heavy lifting will have to be done by freshmen this year. It would be a concern if it wasn't a recruiting class like this one.
The recruiting class is quite remarkable. Two five stars, including the top recruit in the country. Five more four star recruits - three within the top 60. They are the only school in the AAC to have added a five star recruit, and the next best recruiting class, UConn, ranks just 18th nationally. This team has an embarrassment of riches.
The star of the class is James Wiseman. The big man is the consensus number one recruit in the country and a serious contender to go first overall in next year's draft. He'll start inside and will eat as many minutes as he can handle. The other five star, and another likely lottery pick at this point, is small forward Precious Achiuwa. It's a dynamic duo with massive potential if they can find their game. The likely third starter is Lance Thomas, who sat out last year after transferring from Louisville after his freshman year. He didn't make a big impact in his freshman year, but after a year practicing in this system, and with this talent around him, he could do some damage.
Boogie Ellis, one of the four star crop, signed with Duke but got a release to join Memphis. He will likely start at the point. Damion Baugh is the lowest rated of the seven recruits but still comes in at 115th nationally, He'll get lots of opportunities at shooting guard, and he can play on the ball as well. And D.J. Jeffries, who flipped his commitment from Kentucky to Memphis, is the top wing on the roster. Lester Quinones is another versatile guard addition who can play two or three spots. It is quite likely that we will see a fair bit of a five-freshman lineup that features three guards. That's what Hardaway started in the opener.
The final additions to the roster are two guards coming off redshirt - Ryan Boyce and Hardaway's son, Jayden. Both are much lower rated than their new teammates, but they will add depth.
Memphis Tigers Schedule
The schedule is far from the toughest out there. Led by a big game from James Wiseman, the team rolled in their opener against South Carolina State. They have one more easy game before heading to Portland for what is their toughest game of the whole season against Oregon, ranked one spot below Memphis in the preseason poll. They play N.C. State in the Barclays Center Classic, host Ole Miss, play at Tennessee, and later host Georgia. That gets them some major conference experience, but not against tough teams. The AAC schedule has some challenges, but Memphis should be clearly the best team out there. The Tigers have a chance to win a whole lot of games this year if the roster comes together - and it won't prove much until the postseason rolls around. The concern, though, is that the schedule is weak enough that their margin for error isn't huge - if they falter, they won't get the benefit of the doubt.
Memphis Tigers Futures Odds and Trends
At +1400 to win the national title, Memphis is tied with Louisville as the fifth choice to win the national title. The ceiling is high for the team, but this feels optimistic. The regular season win total sits at 26.5, which is second highest behind Gonzaga . With 31 regular season games scheduled, and only one that feels like a major challenge, that number is justified.
Not that last year really matters for this team, but they went 19-16-1 ATS, and went under the total 19 times and over 16.
Memphis Tigers Predictions
They are going to win a whole lot of games. The talent is there, and the roster is soft. They should go over the season win total unless things really go off track. But it is going to be really tough to judge what this team is going to be able to do in the postseason given their lack of major tests before then. There is a lot of talent here, and Wiseman really seems special, but I am cautiously pessimistic about a roster this young when things get real in March.
Get all of this Weeks College Basketball Picks
Get all of this Weeks guaranteed Expert College Basketball Picks