2020 Oregon Ducks NCAA Basketball National Championship Odds with Predictions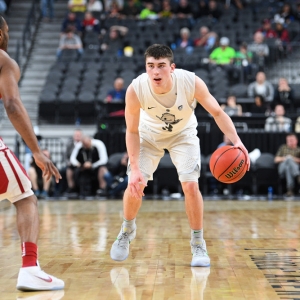 Last year was a really odd year for Oregon. Expectations were sky high heading into the season thanks to the third ranked recruiting class in the country led by big man Bol Bol. But they started slow, Bol was lost for the season after just nine games, and the team started the Pac-12 season an ugly 6-8. It seemed like a total disaster. But then something clicked. They won four in a row to close out the regular season, rolled off four more wins to grab the Pac-12 Tournament title, and then upset Wisconsin and beat UC-Irvine to make the Sweet 16 as a No. 12 seed. The run ended when they ran into the eventual champions from Virginia, but winding up with a conference title and a Sweet 16 trip was a miraculous finish given where the team started. Despite the success, or perhaps because of it, the team has had a whole lot of turnover. But they have another strong recruiting class and another chance to get off to a better start. Can this year be different?
Oregon Ducks Additions/Losses
The team knew before the season that they were going to lose Bol after a year. He was expected to go much earlier than the 44th pick where he wound up going, though. He was picked by Miami and wound up in Denver. What they weren't expecting, though, is that 2018 five star small forward Louis King, or sophomore forward Kenny Wooten, would both declare for the draft as well. It seemed like a mistake in both cases, as neither player was drafted. King had had a strong freshman year and had plenty of upside this year. He could have been a star this season. And Wooten was just a support piece, so his ambition seemed like a real stretch. They also had forward Paul White and guard Ehab Amin, and they saw Victor Bailey Jr. transfer. That's a whole lot of scoring gone from a roster that wasn't exactly offensive explosive last year -- they ranked just 10th in the Pac-12 in scoring.
They have a lot of holes to fill. Again, coach Dana Altman did an outstanding job of recruiting. After ranking third nationally in 2018, the 2019 Oregon class was down just one notch to fourth. There is a bit of a setback as big man N'Faly Dante, the top-rated recruit in the class at 14th nationally, isn't expected to be available until December 14. He reclassified from 2020 to 2019, and the eligibility process has taken time. The other five star is power forward C.J. Walker. He's going to contribute but will likely take some time to ease in. He played only 11 relatively unproductive minutes in the season opener, so he will be eased into things. Another top 100 power forward, Chandler Lawson, will also be given the chance to play himself into the main rotation. Grad transfer Shakur Juiston from UNLV is likely more ready to carry a load right away. He was the national junior college player of the year before joining UNLV in 2017-18 and averaging a double-double. Injuries hijacked his season last year, and he got a medical hardship waiver to come back this year. He's an important piece up front.
In the backcourt, they have junior point guard Payton Pritchard back again, but then have some questions. Grad transfer Anthony Mathis from New Mexico played in high school with Pritchard, so they will have some chemistry. He's a good three-point shooter and will play a lot in this backcourt. They also added Chris Duarte, another national junior college player of the year. They are likely to go with a guard-heavy lineup with those three leading the way.
Oregon Ducks Schedule
They beat Fresno State to start the season and ease into things with another reasonably manageable game against Boise State. But then they face a huge test against another young and inexperienced but wildly talented team in Memphis. That game is in Portland, which is a geographic boost at least. Things don't let up after that. In fact, it's pretty brutal. They host a pretty decent Houston team, then head to the Battle 4 Atlantis, which is an exceptionally difficult tournament this year. They play No. 12 Seton Hall first, could play No. 8 Gonzaga next , and could face No. 9 North Carolina or Michigan in their third game. That's an ugly stretch of games no matter what - never mind that they will come three days in a row. Whether they play Michigan or not in the Bahamas, they will face them again in Ann Arbor on December 14. Things are otherwise simple to close out the year before Pac-12 play gets rolling. Oregon is the highest-ranked team in the conference, and Arizona is the only other one in the Top 25, so the conference isn't the strongest it has ever been.
Oregon Ducks Futures Odds and Trends
Oregon is the solid +250 favorite to win the Pac-12, ahead of Arizona at +400 and Washington at +450. They are +2800 to win the national title, which has them tied with Maryland and behind 12 other teams.
The team wound up at 25-13 last year after their rough start and went a solid 23-15 ATS. They went under the total 25 times in 37 tries, so they were nicely profitable there as well.
Oregon Ducks Predictions
I really like the potential of the backcourt. And there is potential up front, too. There are a lot of questions about how well it will all come together, and the schedule gets relentlessly tough too soon for what would be ideal. But as a long-term play there is a lot to like here, and there is little doubt that this is the team that has the most potential to be the best in the conference.
Get all of this Weeks Free College Basketball Picks
Get all of this Weeks Expert College Basketball Picks