Should I Bet on Virginia in the College Basketball National Championship Game?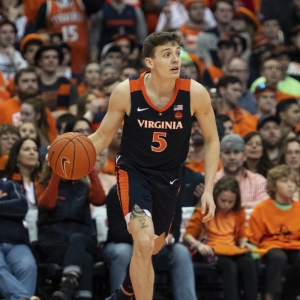 We are down to the final two. On Saturday, Virginia beat Auburn to make the Final Four. Or, depending on your perspective, you might believe that the referees decided that their selective blindness would benefit the Cavaliers in this case. Either way, they are in the promised land, and that it has happened just a year after the most historically-humiliating loss in tournament history is even more amazing. They are not the most exciting team on the planet by any means, but they know what they are, and they are very good at sticking to their gameplan. And now, for bettors, there is just one question remaining - should I bet on Virginia in the College Basketball National Championship Game? Here are five factors in favor of them heading into Monday night's action:
Guy is clutch: Kyle Guy is the most important offensive player Virginia has. For the first three games of the tournament, he wasn't not very effective, though, and the Cavaliers missed him. They obviously aren't a team that wins only on offense, so that isn't as bad as it could be, but it still wasn't ideal. Guy has an instinct for big moments, though, and in the team's last two games he has really shown it when it matters. In the second half of the Elite Eight contest he scored 19 second-half points, including five three-pointers. And in the Final Four game against Auburn he only had 15 points overall, but the final six of those came in the last nine seconds of the very close game. And the last three were ice cold - those three free throws were brutal, and Auburn iced him before the last shot. This is not going to be a high-scoring final, so one player scoring at the right point is likely to be the difference. And Guy is well situated to be that guy.
Motivation: After the utter humiliation of losing to UMBC in the first round last year, it was unclear how the team was going to handle that. It was hanging over the team in a way that no team had ever had to deal with going into this tournament. But it has been very clear that Tony Bennett has been able to channel that very challenging situation into a positive. He has this team focused when they easily could have been looking for ghosts over their shoulders. They are using that past embarrassment as fuel, and that makes them dangerous here.
Can handle adversity: The game is going to be close for the championship, and margins for error are going to be very small. Both teams play a frustrating style, and there are inevitably going to be rough stretches for both teams. Virginia has shown in this tournament that they are comfortable dealing with and overcoming adversity. The Auburn game came down to the final fractions of a second. The Purdue game went to overtime. The Oregon game was tied late. They were down by six at the half to Gardner-Webb and surely haunted by the thought of losing to a No. 16. Only their second game against Oklahoma never particularly got close.
Won't be shaken by Texas Tech's approach: Texas Tech just grinds opponents into the ground until their spirit is broken. When a team has any offensive liabilities at all, the Red Raiders will sense them and exploit them. In the first half against both Michigan and Michigan State, the opponents clearly couldn't figure out what was happening to them. Michigan never did, and Michigan State only sort of did in the second half. But Virginia understands that playbook. In their own way, they live it every day. You can't confuse a team by making them look in a mirror, so Virginia will be more comfortable than other opponents, and that will be a big advantage for them.
I would suffer immensely: I don't want to make it all about me or anything, but a Virginia win would really screw me. It's the only way I can lose my pool. And not only will I lose, but I will lose in the most painful way possible, to the least palatable person I could imagine. I'll hear about the defeat until I have nightmares. It will suck in the worst possible way. And, as anyone who has bet on sports for any amount of time knows, karma has a serious sense of humor. A very twisted one. So, the fact that a Virginia win will make me very uncomfortable for a very long period of time probably makes said win inevitable. This is a very bettable angle.
Read more articles by Trevor Whenham
Get all of this Weeks College Basketball Picks
Get all of this Weeks guaranteed Expert College Basketball Picks