2020 Texas Tech Red Raiders NCAA Basketball National Championship Odds with Predictions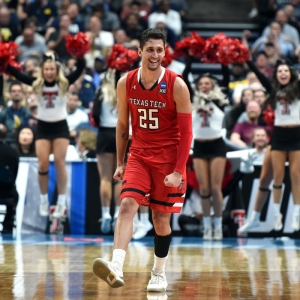 It was a heck of a year last year for the Red Raiders, but it was slow to develop. They split the regular-season Big 12 title with Kansas State, but then flopped in the Big 12 Tournament, losing in the quarterfinals to West Virginia. It was a setback, but they certainly shook it off. They beat Stephen F. Austin and Buffalo - two feisty teams that were wise guy picks - on the opening weekend. Michigan and Gonzaga fell on the second weekend to earn Texas Tech their first Final Four berth. And they weren't done yet, beating Michigan State, and then losing to Virginia in overtime in the championship game. It was a heck of a run. But now the team is facing a lot of change - much more than is ideal for a team in this situation. Did they just capture lightning in a bottle? Or is Chris Beard building an empire in Lubbock?
Texas Tech Red Raiders Additions/Losses
It is far from ideal that the Red Raiders lost four starters from last year. The biggest loss is unquestionable star Jarrett Culver, the guard who was the sixth overall pick in the draft. He was picked by Phoenix but traded immediately to Minnesota. He has seen a lot of playing time early on and had a breakout 20-point performance against the Wizards in his fifth start. Starters Matt Mooney, Norense Odiase and Tariq Owens all graduated. Those four and point guard Davide Moretti started 37 of 38 games together. Only two other guys started a single game. Brandone Francis graduated, and Deshawn Corprew transferred. On top of those losses, the team had four other players transfer out. So, 14 guys saw the court last year, and 10 of them are gone. That's far from ideal.
Moretti returns and is a big shooting presence. He was the first player in Big 12 history to shoot 50 percent from the field, 50 percent from beyond the arc, and 90 percent from the free throw line. He's only a junior, so there is room for growth still. There are three guys who will eat most of the rest of the minutes in the backcourt if all goes according to plans. Sophomore Kyler Edwards is the only guy on the roster aside from Moretti who played real minutes last year and will be looked at to take a big step forward. Freshman Jahmius Ramsey is the highest ranked recruit the school has ever had. And Chris Clarke is a grad transfer from Virginia Tech who missed all of last year due to a suspension but who has three years of playing experience before that.
The frontcourt has more questions. Grad transfer T.J. Holyfield was a star at Stephen F. Austin, and will be relied upon to play a big role here. And after that, they are going to be relying on some youngsters. Four star forward Terrence Shannon will likely be ready to start early, and Tyreek Smith is a high flying forward who will hopefully be tough to guard. And two guys coming off redshirts - Kevin McCullar and Andrei Savrasov - have the chance to play themselves into a role this year. It's very much a work in progress, though.
Texas Tech Red Raiders Schedule
The team opened with an easy win against Eastern Illinois and faces four more very easy games to start the season. With so many changes, it's a luxury to have a virtual preseason. They head to the Las Vegas Invitational, where Iowa and either Creighton or San Diego State are challenging but likely manageable. On December 10 they face their first major test, travel to Madison Square Garden to face Louisville. Things get easy again until the Big 12 schedule. The last nonconference challenge comes on January 25 when they host Kentucky in the Big 12-SEC Challenge. The Wildcats beat No.1 Michigan State in their opener to prove that they are no joke.
Texas Tech Red Raiders Futures Odds and Trends
The Red Raiders are tied with Baylor as the second choice to win the Big 12 at +400, trailing Kansas at +200. They sit at +2500 to win the national title, which has them behind 11 other teams. The regular season win total sits at 22.5. They won 26 games last year in the regular season.
Despite going 31-7 and going deeper than almost anyone imagined, the team was a disappointing 20-17-1 ATS on the season. They were similarly underwhelming on the totals, going under 16 times, and over 21.
Texas Tech Red Raiders Predictions
The backcourt should be solid enough, but that front court terrifies me. Depth is a real concern, and they are going to need guys to step up in a hurry. The Big 12 isn't particularly deep this year, and there are a lot of soft games early on, so they will win a good number of games. But I'm not convinced that they will be a real threat. This ranking seems far too high - though I have massive respect for Chris Beard as a coach.
Get all of this Weeks Free College Basketball Picks
Get all of this Weeks Expert College Basketball Picks