2020 Xavier Musketeers NCAA Basketball National Championship Odds with Predictions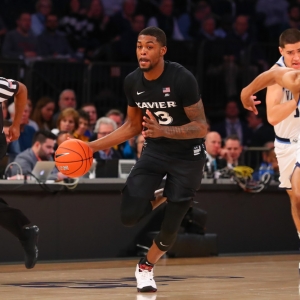 It was a year of transition for Xavier last year. Though he had been a long-time assistant with the program, Travis Steele took over as head coach last season after Chris Mack left for Louisville. They had won 29 games in Mack's last year, and gone to the Elite Eight the year before, but Steele suffered some serious losses on the roster and didn't have nearly as much success. The team was a respectable 9-9 in the Big East, went 19-16 overall, and was relegated to the NIT where they bowed out in the second round. Given the changes, it was never going to be a great year last year. So, Steele almost gets a mulligan - it's as if his career really starts this year. He has a more experienced roster, and he adds some nice new players. This team has a chance to look much more like the Xavier programs we grew used to seeing under Mack and Sean Miller.
Xavier Musketeers Additions/Losses
Last year the team had to replace a lot of the starting lineup. This year four starters are back, and they are all upperclassmen. It was a bit of an odd situation last year that they had the issues they did even though their starters, while new, weren't young. The biggest loss they face this year is forward Zach Hankins, who was solidly productive as a grad transfer from Ferris State, where he had been Division II player of the year the season before. He was a useful starter, but his departure allows things to shake out in a way that could work better. Junior starter Naji Marshall can slide over to small forward, where he fits better. He was solid last year and could be really good this year. That can happen because the Musketeers added one heck of a grad transfer. Jason Carter was the leading scorer for Ohio last year and was in demand as a grad transfer - a particularly attractive one because he still has two years of eligibility remaining. Those two, along with senior grinder Tyrique Jones, could make up a really tough and talented frontcourt. Freshman Zach Freemantle is a big man who could play himself into the rotation early, while the other two new forwards - Daniel Ramsey and Dieonte Miles - are more projects, and at least one could redshirt.
In the backcourt, they return starters Paul Scruggs and Quentin Goodin - a junior and a senior, respectively - so the continuity will help them. Those guys won't have to carry the load alone, though. Freshman KyKy Tandy is the top recruit in the class. He's a versatile, very athletic guard with a natural scoring touch. He's banged up out of the gate, but the injuries aren't significant, and he should play a key role as a reserve for Goodin. And wing Dahmir Bishop, the other four star in the class, will see a lot of playing time because of he's versatile, his deep shooting touch, and his ability to rebound. They also added grad transfer Bryce Moore from Western Michigan. He's not flashy, but he's a strong defender with a three-point shot and will find his minutes as well.
Xavier Musketeers Schedule
They cruised against Jacksonville in their opener. Next up is a Siena team that can always be feisty and a Missouri team that could potentially be ranked at some point this year. Their early-season tournament, the Charleston Classic, is underwhelming save for a potential showdown with No. 6 Florida in the finals. They play cross-town rivals Cincinnati, then play a reasonably challenging game at Wake Forest. It's mostly a manageable nonconference schedule, with a few chances to make a statement. They plunge right into conference play with a trip to Villanova , and they also face Creighton and Seton Hall and travel to Marquette early on, so we will have a very good sense five games into conference play of whether this team measures up.
Xavier Musketeers Futures Odds and Trends
The Musketeers are the second choice to win the Big East at +350, trailing only favored Villanova at +150, and ahead of third choice Creighton at +450. They are at +5000 to win the national title, which puts them among a group of long shots that includes conference foes Creighton and Marquette.
Xavier was just 19-16 last year, and they were even less impressive on the betting front, going 16-17-2 ATS. They went over the total 15 times and under 19.
Xavier Musketeers Predictions
They have had some injury issues early on - aside from Tandy, Carter and Jones have also been dealing with issues through camp. They need to have better luck on that front because this is a team that needs their best players out there. They don't necessarily have a guy who really jumps off the page, but they have a lot of nice guys, and the sum of the parts could add up to something impressive. I am cautiously optimistic about this team and expect massive improvement over last year. The Big East feels fairly wide open, but for some reason this feels more like a second-place team than a winning one. Still, it will be a big step forward for Steele after a rougher debut.
Get all of this Weeks College Basketball Picks
Get all of this Weeks guaranteed Expert College Basketball Picks