Denis Kudla vs. Janko Tipsarevic US Open Qualifying Picks 8/26/2019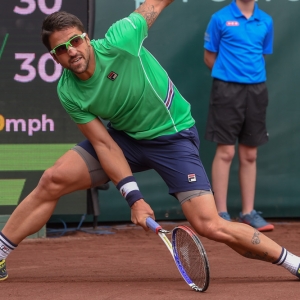 Denis Kudla vs. Janko Tipsarevic
10 am EST, 26th August 2019
New York, NY (USA)
Hard courts
After 16 years spent on the tour, Janko Tipsarevic announced his retirement a couple of days ago. Once a Top 10 player, had a very rough patch in the last 5 years or so. He was battling numerous injuries that were keeping him off the court. And every time he came back and tried to find some earlier success, injuries struck again. This year he didn't play many matches. In the beginning, he appeared in a couple of challengers but soon gave up on those, saying that he's simply too old to be grinding for points on the challenger tour. After that, he was mostly using his protected ranking to get in the main draws of ATP tournaments. He had a few inspired performances. Like the one vs Dimitrov at Roland Garros, where he almost pulled off a comeback from 2 sets down. Or the tournament in Houston, when he was very close to the semifinals. But ultimately, he couldn't get any big results and failed to accumulate enough points to get his ranking high enough and avoid second-tier tournaments in 2020. That was probably one of the main reasons why he retired. But, he'll play out the season, with the new format Davis Cup being his last event.
Related: Get Expert ATP Picks for today's matches
He will face Denis Kudla in the first round. The American player is underperforming this season. He is 9-20 YTD, with 5 consecutive main draw losses, before this US Open. This was usually his part of the season. Playing well on the grass and then successfully transitioning to the faster American hard courts. But that didn't happen, meaning he is completely out of form at the moment. He needs to get his act together fast. Ranked outside of the top 100 at the moment, he'll be forced to drop down to the second level of competition, if he doesn't start winning some points fast.
Matchup
They have never met before, so it's going to be interesting to see how they match up against each other on the court. I think their playing styles are quite similar. Both are playing close to the baseline and relying on their hands and timing to hit the ball on the rise and generate pace by doing so. They are both pretty aggressive and like to hit through the court, even though they don't possess big games. Considering they play similar tennis, it will come down to who feels the ball better that day, confidence and throwing a wrinkle or two into the gameplan to throw the opponent off.
Related: Get ATP Betting Tips for today's matches
Betting odds & prediction
That being said, I believe it could go either way. The public might be reluctant to trust Tipsarevic in this spot, after announcing retirement, but I think it's a plus. Making up his mind about his future will allow him to relax and enjoy these forthcoming tournaments. There will be no pressure whatsoever and with his ball-striking ability, he could potentially be very dangerous in such a situation. On the other side, Kudla can't be trusted as a favorite right now. He usually struggles with opponents that overpower him, so he won't mind playing Tipsarevic. But his form is nowhere to be found at the moment and he has shown very little fight in the last couple of weeks.
Kudla opened at about -200, which seems a bit too much, considering the level of his performance recently. Tipsarevic has every chance to make this match very competitive and even snatch this win in the end.
Pick: Janko Tipsarevic +167
Read more articles by Tony Sink
Get all of Today's Free Tennis Picks
Get all of Today's Expert Tennis Picks