Elliot Benchetrit vs. Kimmer Coppejans US Open Qualifying Picks 8/23/2019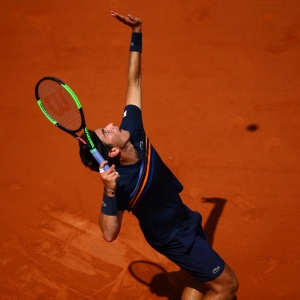 Elliot Benchetrit vs. Kimmer Coppejans
10 am EST, 23rd August 2019
New York, NY (USA)
Hard courts
These matches are extremely important for players that spend most of their season grinding on the Challenger tour. Mostly because of the financial aspect. Even when talking about Grand Slam qualifying rounds, prize money easily surpasses those second-tier tournaments. For example, the winner of this match will get a spot in the main draw, accompanied by a $58.000 check. It's about 50% of what these two guys made so far this year (120k each), so I'm sure both will be very motivated and will bring their A-game.
Seeing Kimmer Coppejans at this stage is a slight surprise for me, to be honest. Kimmer is a fan of clay courts and doesn't play on other surfaces very often. In 2019, he played 41 main draw clay-court matches and only 2 on the hard courts. The reasons for staying away from this type of playing conditions are pretty obvious. His playing style fits the clay courts better and he is achieving better results there. That is why eliminating Korda and Kolar here was a bit of a surprise. But I can guess how he did it. Both Korda (still very young) and Kolar are fairly aggressive players with limited ability, which is preventing them to be more successful. Coppejans was the more patient player, waiting for the opponent's errors and taking advantage of those.
Related: Get Expert ATP Picks for today's matches
On the other side, Benchetrit had a very tough draw, to begin with. He had to play no.1 seed Stefano Travaglia right away and surprisingly eliminated the Italian, after a big comeback from a set down. He was on the brink of elimination himself, defending multiple breakpoints in that second set, but somehow managed to get out of those troubles and win the tie-break, which was the turning point. Second match vs Zhang was way easier. A one-way street for the Frenchman, who surrendered only 5 games total, served up 12 aces and was a constant threat for opponent's serve, creating 11 break opportunities.
Matchup
They met earlier this year in Lyon (challenger). Coppejans won easily 6-3, 6-3. The result looks ugly for Benchetrit, but that information might not be that important for evaluating this next matchup. As I mentioned earlier, Coppejans is a clay-court specialist. He plays with heavy topspin on the forehand side and works his way from there. That and his ability to get many shots back in play are what make him such a tricky opponent on clay. But on a hard surface, many of those things get negated. Playing conditions are faster, so if someone manages to push the pace a little bit, he doesn't have time to get full swing around the ball and get that topspin forehand deep enough consistently. Also, he lacks some big weapons, which puts him at disadvantage against players who can play behind their serves in these conditions. Benchetrit had 10.5 aces per match so far, compared to Kimmer's 2,5.
Related: Get ATP Picks & Predictions for today's matches
Betting odds & prediction
For some reason, Coppejans is getting all the love from the betting public here. After opening at around -150, the line moved to -175. I can't really find a valid reason for this move. I'm not sure if he should be the favorite in the first place, let alone getting steamed even higher from that -150 opener. Bottom line, Benchetrit is a more talented player, whose game is better suited for hard court and faster playing conditions.
Pick: Elliot Benchetrit +131
Read more articles by Josh Schonwald
Get all of Today's Free Tennis Picks
Get all of Today's Expert Tennis Picks