Jan-Lennard Struff vs Matteo Berrettini ATP Moneyline Picks - 6/15/2019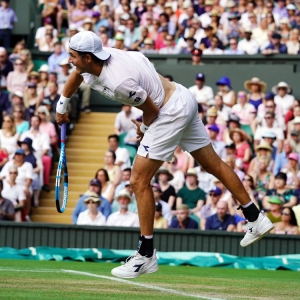 Jan-Lennard Struff vs Matteo Berrettini
6 am EST, 15th June 2019
ATP Stuttgart, Germany
Grass courts
No surprises here. Both these guys played some phenomenal tennis in this tournament and deserved the ticket into the semifinals. Another very clean performance by Berrettini and a comprehensive win was very impressive. He is making rapid improvements in every segment of his game. He was not considered as someone that could make some noise on grass courts this year, with his 2-3 career record on this surface. But he proved people (including me) wrong by making some nice adjustments to make his game more dangerous in these type of conditions. After getting past Kyrgios and Khachanov in the previous two rounds, Kudla was expected to be a trickier opponent with his grass court game and after big win over Monfils day before. That couldn't be further from the truth, because Berrettini controlled this match from start to finish. Another spotless serving performance, winning 79% of the points and offering 0 break opportunities to his opponent while doing so. Another way around, he was a constant threat when returning the ball. Won 43% of those points and broke Kudla's serve 4 times in the match. If the first serve wasn't cleaning the lines, American struggled to be the one controlling the point.
Related: Get Expert ATP Picks for today's matches
Similarly to Berrettini, Struff managed to continue with his run here at Stuttgart and once again win in straight sets. Looking at the stats, they were pretty much identical when it came to serving. Struff also won just below 80% of the points behind it and offered 0 break chances in the process. Once again he displayed a marvelous ball-striking performance, hitting it with a combination of power and precision, which makes it deadly in such fast playing conditions. Pouille had no answer for it. Not being able to touch Jan's serve was putting a lot of pressure on his own, which showed by putting only 52% of first serves in play and allowing German player to be more aggressive with his return. Result: 11 break chances for 2 breaks of serve.
Matchup
These two guys never played against each other before, but we don't really need extensive H2H data to predict there are going to be fireworks in this match. There is no other way with two guys that have so many weapons in their arsenal and such an aggressive style of play. It will be like watching two heavyweight boxers, trading power punches, trying to knock each other out. There will be no holding back, I can guarantee you that and the smallest details will decide this one.
Looking at them both playing this week, I think I identified some of those details that could decide the outcome of this match. Berrettini doesn't really lean on his first serve as much, because he's second serve is really good as well. That is why his success does not depend as much on that 1st serve %. Returning the serve, I also think he holds a small edge. His opponents really struggled to get any free points from their serve, if they didn't put it right on the line. And the third thing is that he does have some margin with his shots, unlike Struff who is boom or bust every single time.
Related: Get ATP Moneyline Picks for today's matches
Betting odds & prediction
I am vaguely surprised that the oddsmakers didn't see it that way. Opening the line this close is probably because Struff is playing at home and can count on big support at center court on Saturday. It's true that could be a factor but in my opinion not big enough to tilt the scale to his side. Both are playing their best tennis at the moment, but I think that Berrettini's style is more sustainable and is not as risky as Struff's. With German, everything has to fall in a perfect place, otherwise, he'll find himself in some unfavorable situations.
Josh's Pick: Matteo Berrettini -106
Read more articles by Josh Schonwald
Get all of Today's Free Tennis Picks
Get all of Today's Guaranteed Expert Tennis Picks