Jan-Lennard Struff vs Miomir Kecmanovic ATP Picks and Tips - 6/12/2019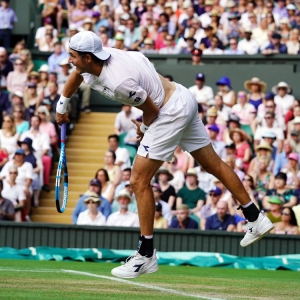 Jan Lennard Struff vs Miomir Kecmanovic
8 am EST, 12th June 2019
ATP Stuttgart, Germany
Grass courts
Struff nabbed another win over Shapovalov in a pretty short period of time. In last two months, he faced Canadian three times. He won first two matches on slower clay courts in Monte Carlo and at Roland Garros. After that, you might expect him to be favored over Denis, but that did not happen. Market overadjusted for playing conditions, probably thinking that this is going to be whole another ball game in much faster conditions. Struff also had a very poor record on grass thus far in his career, so there was some logic behind lining Shapovalov as a favorite. But, that turned out to be a mistake. German's current level of tennis is miles ahead of anything he has shown in past years. Playing that well on clay court which is not really his favorite, should have been an indicator that he is in very good form, playing with a lot of confidence and feeling the ball well. Resulting in being potentially very dangerous in fast conditions. In the end, that is exactly what happened. Shapovalov couldn't touch him really. He was bullied by Struff's pace in more than one area of the game. Jan's serving was working pretty well, securing him 70% of the points behind it. His serve was not broken in this match, even though he faced 5 break points. He mostly defended those with a big serve out wide. The other area where he caused a lot of problems to Denis was returning the 2nd serve. He was extremely aggressive with those, hitting them with full power and takingcontrol over the point from there on, or simply scoring a winner.
Related: Get Expert ATP Picks for today's matches
He is facing Miomir Kecmanovic in the second round. Former No.1 juniors player in the world caused the biggest upset yesterday by eliminating Philipp Kohlschreiber. It was a huge win for the Serb, who didn't have much experience in these type of playing conditions since the start of his pro career. That didn't bother him too much, and even when being set behind, he showed a lot of poise, stepping up his game and turning the match around completely. Even though he is not a type of player that would rely heavily on his power, he served really well yesterday. Won over 70% of points behind his serve, using a lot of variation and kept Kohlschreiber guessing what is coming next.
Matchup
But the vast majority of his work got done during the rallies. His baseline game was impregnable. He ran everything down and used all the softness and touch in his hands to redirect the pace coming at him and use it against his opponent. That is one of his biggest strengths, but it is not the same when you're trying to do it on the grass and when you do it on other surfaces. Now when we've seen he has no issues doing it on the green as well, I believe he should be taken very seriously by his future opponents.
As I wrote already, Struff looked really good vs Shapovalov. But I felt like he was swinging at the ball too excessively. It is a wasted motion on the grass because you can generate enough power with less work. Going full throttle all the time just puts him in more danger to mistime the shot and commit an error. With Kecmanovic's ability to force him into the next shot,that risk is going to be higher and higher with every additional strike.
Related: Get ATP Picks for today's matches
Betting odds & prediction
All that being said, linemakers are obviously thinking that was a fluky win from Kecmanovic. He opened as a massive underdog in +250 range. I think that the fair line is somewhere around +220, which means the current line offers some value. The reason why I lined him up in that range is because no matter how good Struff looked vs Shapovalov, those type of flawless performances are difficult to produce day after day. Kecmanovic could easily force him into some extra strikes with his defense and rattle his cage a little bit. The only thing he needs to avoid is rolling the second serves in too slow and giving Jan an opportunity to hammer it for return winner.
Tony's Pick: Miomir Kecmanovic +291
Read more articles by Tony Sink
Get all of Today's Free Tennis Picks
Get all of Today's Guaranteed Expert Tennis Picks