Pablo Cuevas vs Damir Dzumhur Expert Wimbledon Picks - 7/1/2019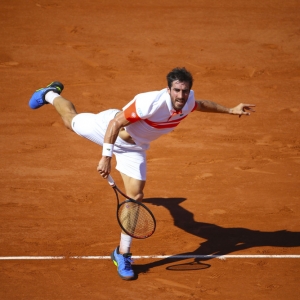 Pablo Cuevas vs Damir Dzumhur
8:30 am EST, 1st July 2019
Wimbledon, England
Grass courts
Pretty undewhelming performance by Damir Dzumhur as a title defender in Antalya. He stared off well with 2 solid performances against Matthew Ebden and Altug Celikbilek to fight his way into the quarterfinals. But as soon as it got tougher, Dzumhur once again gave in. Playing Jordan Thompson on grass, in a very demanding playing conditions is definitely not the easiest. But Dzumhur was right there throughout the first set, even in a good position to win it. But once it slipped out of his hands, he showed no desire to fight back and simply retired in the begining of the second set, after dropping couple more games. It's so frustrating watching him at times, seeing all the skills and ability that he has on the court, but no mental toughness to bind everything together and achive some great results. What I did like from him in Antalya was that he kept a lot of grass court stuff that he implemented into his game in period when he worked with Ilija Bozoljac. That will keep him in the mix and hopefully help him win some matches in Wimbledon.
Related: Fixed Games - Point Shaving - NBA Refs - NFL fixed Games - Matt Holt and Tony George talk about it all in this video
That doesn't seem like mission impossible, seeing that he will play Pablo Cuevas in the first round. Player from Uruguay is an amazing player, but unfortunately, his skill-set doesn't translate that well to grass courts. Results confirm that with 6-8 grass court record and only 1 main draw win at Wimbledon in his entire career! And that only win was back in 2009. He had a warm up in Eastbourne last week, where he lost to Nicolas Jarry in straight sets.
Matchup
In that match, we could see a lot of things why his game is not well suited for grass courts. He uses a single-handed backhand, which works really well for him on clay. But on this surface, he does struggle with timing it perfectly at times, resulting in a lot of mishits, unforced errors and consequently lack of confidence in that shot and his game as whole. He is not much of a mover and defender, which gets even tougher in these type of playing conditions. During rallies he likes to build the point around inside-in forehand, with lots of top spin on it, getting his opponent wide and opening the court for next move. That topspin simply doesn't have the same effect with bounce being lower here and as a result, that shot doesn't have the same affect which makes point constructing more difficult.
Dzumhur on the other side is more of a kameleon. He can change his style, depending of playing conditions. He will be 5 yards behind the baseline in slow clay court conditions, grinding it out and be very defensive minded. But on grass, he'll not be shy about coming forward to the net, even mixing in some serve & volley from time to time. Not known as a big server, grass protects him a little bit in that department, because he uses a lot of side spin when going wide, which is a perfect serve for this surface and not so much on the others. He will play with a lot of variety, moving his opponet around the court, using slices and drop shots to make it uncomfortable. That is something that a traditional baseliner like Pablo Cuevas should not like at all.
Related: Get Tennis Betting Tips for today's matches
Betting odds & prediction
He opened as a -118 favorite, which was a correct number in my opinion. But, there was an immidiete hit against him, pushing those odds up and they are currently in +110 range. Reason for that is quite obvious in my opinion. After retiring in Antalya, he posted a picture on instagram of him laying in bad and taking infusion. After playing long matches in hot weather that is not a rare scene and I don't think that will have any longer consequences for him. He will be ready for Wimbledon.
Josh' Pick: Damir Dzumhur +112
Read more articles by Josh Schonwald
Get all of Today's Free Tennis Picks
Get all of Today's Guaranteed Expert Tennis Picks