Prajnesh Gunneswaran vs Janko Tipsarevic ATP Picks - 6/24/2019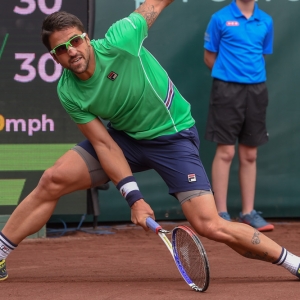 Prajnesh Gunneswaran vs Janko Tipsarevic
6 am EST, 24th June 2019
ATP Antalya, Turkey
Grass courts
It seems like a decade past since Janko Tipsarevic was a Top 10 player. Actually, it indeed was almost a decade ago when he reached his highest career ranking (no. 8) in April 2012. He is currently on the edge of Top 300, but the main reason was not performing badly on the tennis court. His career was derailed by a series of injuries that kept him of the court for extended periods of time. And those injuries were no joke whatsoever. He had a benign tumor on his left foot, which was removed but then reappeared which kept him off the court for almost 2 years. After that, he injured his right knee, because he was overcompensating with his right leg in order to protect the left one, which was previously injured. After doing a couple of surgeries on his right knee, he finally got some momentum going and was on the brink of returning to Top 50 until his hamstrings gave up on him and also needed surgical repair. But the love for tennis inspired Tipsarevic for another comeback. In this tournament, he is playing with a protected ranking from times before the hamstring surgeries. You can use your protected ranking only limited number of times, so he's picking his spots carefully. He hasn't played much lately, but at 3 previous ATP tournaments where he partake, he showed that he should not be written off just yet. In Houston, he reached the quarterfinals. Lost to Hugo Delien in Geneva, after beating Peter Gojowczyk in the first round. And managed to put Grigor Dimitrov through hell in the 1st round of Roland Garros, before eventually losing in 5 sets.
Related: Get Expert ATP Picks for today's matches
Serbian has a pretty favorable situation in his part of the draw with Joao Sousa being the seeded player and a potential opponent in the second round. But first, he'll be facing Prajnesh Gunneswaran. Coming from India, you might think he has some experience with the grass courts. As a former British colony, they have quite a few of those. They even played their Davis Cup match vs Italy on that surface. But he is not very skilled at playing on it. His current record is 1-3 in main draws at the highest level and he didn't start this grass courts season very well, losing two times in first qualifying round past two weeks. First, he fell to Matteo Viola in Stuttgart and then had no chance against James Ward at Queen's Club.
Matchup
Honestly, his game is not suited that well for this surface. He is a big guy, who is pretty awkward with his movement. He likes to put a lot of topspin on his forehand side, which has no real impact on this playing surface. He can hit a powerful first serve, but that alone is not enough to be a good grass court player. Tipsarevic's game is way more productive in these playing conditions. He is 37-32 in his career. He strikes the ball very flat from both wings. Has great hands and picks up those low bouncing shots without any problems. Not a bad server either.
Related: Get ATP Betting Tips for today's matches
Betting odds & prediction
After opening Tipsarevic just north of -140, the action was pretty lopsided and pushed the price on the favorite to -175. Spread is currently -2.5 while the total is sitting at 22. My take on it is that linemakers were too careful, probably not willing to trust Tipsarevic and his match fitness at the moment, considering he's not been playing very often lately. But on grass courts, points are much shorter. Players are not in danger of fatiguing as often as it happens on clay courts. This one will be decided by Tipsarevic's superior grass court skills and his playing style being better suited for these conditions then Gunneswaran's
Tony's Pick: Janko Tipsarevic -2.5 (-120)
Read more articles by Tony Sink
Get all of Today's Free Tennis Picks
Get all of Today's Guaranteed Expert Tennis Picks