PGA Tour -- Barclays Classic Preview and Picks
by Aaron "1-iron" Garry - 06/20/2005

Last Week: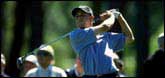 After all was said and done, and Chris Berman and Johnny Miller were done flapping their gums, Michael Campbell was crowned 2005 US Open Champion at Pinehurst after a mesmerizing final round 69 held off Tiger Woods by two shots. "1-iron" points to one very defining moment of this golf tournament that may turn out to be something special in the years to come. After Woods rolled in a birdie on 18 to cut the lead to two shots, Campbell stepped up to his 16 foot birdie putt on 17 and knocked it dead in the back of the cup, begging the question - "When's the last time somebody definitively held off a Tiger charge with such grit, determination, and exclamation?" Fantastic show of guts by Campbell and "1-iron" commends the excellent play.
On the flip side, what was that Jell-O mold that Retief Goosen and Jason Gore threw together on Sunday in the final group? Goosen fired 81 while the feel-good Gore fired 84 to shatter any hopes either had of winning the golf tournament. Goosen laughed it off, but he should partially blame Gore for his poor play on Sunday. As any amateur knows, it's impossible to keep your concentration when you have other members of your group firing 133, using the foot wedge, hunting for balls, and just all-out making a mockery of the game. Well that's what Gore did Sunday. Not that it's a bad thing after three tremendous rounds, but it no doubt affected the Goose's ability to keep it together. It's a learning experience all around.
One quick note to ESPN - Please, please, please prohibit Chris Berman from any future telecasts. The man is absolutely brutal to listen to. The way he exacerbates every little thing that happens has pushed "1-iron" to the edge. He treats a Spencer Levin chip-in the same way he treats a Barry Bonds homer during the Home Run Derby. Announcing golf should be classy and stylish. Berman simply belts out "WOW" and "OH MY" after sticking in stupid nickname after stupid nickname to get behind his points. The man is a suck-up to the professional athlete and there's no place for him on such a dignified telecast. I implore ESPN to let Scott Van Pelt anchor their coverage, while letting sending Berman back to the NFL Sunday Countdown pine.
This Week -- the Barclays Classic:
We return to the fabled Westchester Country Club, site of the Barclays Classic. Big hair, thick accents, and Stan Indursky (Alec Baldwin from Along Came Polly) will be on the menu as Sergio Garcia looks to defend his 2004 Barclays Classic title against a less then stellar field this year. Ernie Els, who has been a mainstay at Westchester is skipping this week, along with Tiger Woods, Phil Mickelson and Retief Goosen - as all three begin to prepare for the British Open at St. Andrews in three weeks. Vijay Singh is in the field as he looks to win another meaningless tournament in pursuit of Tiger Woods title of No. 1 in the world.
Two amateurs turn pro this week in a noteworthy sidebar. Ryan Moore, who's won every amateur event under the sun, and Spencer Levin who had the dramatic Hole in One at Shinnecock in 2004 will be in the field at the Barclays Classic as they both look to turn their first paycheck. "1-iron" sees a big event for Moore at the Barclays, while it remains to be seen for Levin.
Weather permitting, it should be a great tournament with Sergio being the heavy favorite to defend his title.
18 Shots for the Barclays Classic
6 Who Will:

1. Sergio Garcia (7/1): Defending Champion coming off a tremendous T3 at the US Open and a win at the Booz Allen Classic. Sergio's won twice at Westchester making him the easy favorite. Sergio is playing terrific golf right now, and he seems to be coming to Westchester with a hot putter. His outfits border on brutality, but his game is a thing of beauty right now.
2. Kenny Perry (20/1): T23 at the US Open and winner of the Colonial four weeks ago. KP is playing well and had a great Sunday last year at Westchester, as he closed with a 66 to finish T9. KP didn't play at Westchester in '03 or '02 when it was named the Buick Classic, which makes "1-iron" think Kenny might drive outside the GM family. Seems like a Chrysler man to me.
3. Tim Clark (28/1): "1-iron" would like to be in the Clark living room when they watch the replay of the US Open and hear Johnny Miller call him "Little Tim Clark" every time he jumps on the screen. High comedy. While he's small in stature, there's nothing small about his game. T3 at the US Open this weekend, T9 last year at Westchester, and eight Top 25s this year - seems pretty big to me Johnny.
4. Fred Couples (40/1): Is there a smoother character in sports then Fabulous Fred? Last year at Westchester, rounds of 67-65-74-68 left him in a T4. This year, he brings six Top 25s, a second at the Memorial, and a Top 15 at Pinehurst to the table. He may waltz his way to a Barclays Classic crown this year.
5. Rory Sabbatini (50/1): I need to hurry up and write this column because Rory is threatening to submit his ahead of mine. "1-iron" is curious to see if Rory will be vilified at his first "Non-Major" Tour event since the altercation with Ben Crane at the Booz Allen. Either way, Sabbatini is a solid pick this week at the Barclays Classic. He finished second here last year and has been playing very well of late. Three Top 15s in his last four weeks are certainly reason for optimism.
6. Ryan Moore (80/1): Decorated amateur turns pro this week. Let's check his qualifications - Won the U.S. Amateur Championship, the NCAA Championship, the U.S. Amateur Public Links Championship, the Western Amateur Championship and the Sahalee Players Championship, three-time collegiate All-American, T13 at the Masters, and T57 at the US Open. Um, yeah, he's ready.

6 Who Can:

7. Chris DiMarco (18/1): Coming off a brutal second round 82 at the US Open, but having a great season. Finished T9 at Westchester last year and isn't going to go away easily this year. The Claw takes hold in Westchester this week!
8. Vijay Singh (9/2): For a guy who putted as bad as the big Fijian a the US Open, he should be thanking his lucky Fijian stars that he secured a T6 at Pinehurst. Vijay took over in the second half of 2004 to become the No. 1 player in the world, but he's got a lot of work to do at the putting green this week. He's shaky on the shorties and that can spell disaster at Westchester, where big Vij has two wins and countless high finishes.
9. Paul Claxton (150/1): T23 at the US Open and just may be able to catch lightning in a bottle this week at the Barclays Classic. He hasn't made many cuts and he hasn't had many great finishes - but that's why you look to "1-iron" to tell you these things before they happen.
10. Kevin Sutherland (100/1): Once a journeyman, once touted as having great potential, "Bagels" Sutherland has struggled this year. He's made 13 of 14 cuts, and has three top 10s, but we all expected more from the "Sac-Town Slammer." Plays well at Westchester where he finished T32 last year.
11. Bo Van Pelt (40/1): T3 at the Memorial has vaulted BVP's confidence, which should peak at the Barclays Classic. He's got three Top 10s, five Top 25s, and 13 made cuts. He could light the scoreboard up anytime he puts the tee in the ground.
12. K.J. Choi (28/1): Had to be an eye-opener when he went head to head in round three of the US Open with Jason Gore and was handed a two-shot drubbing. The "Pride of Seoul" still had enough in the tank to garner a T15 at the Open, and will be looking to build on that this week at the Barclays Classic. Two Top 10s and six Top 25s this year should be enough credentials to make him a solid pick.

6 Who Won't:

13. Jonathan Kaye (66/1): 2003 Champ at Westchester comes in playing a little better as of late. His T6 was his highest finish since the season-opening Mercedes Championships where he garnered a solo second. He's won twice on tour (03 Westchester, 04 FBR), but his game's been lagging all year. Don't mess with him, or you know what happens with his players badge......
14. Corey Pavin (100/1): Not only does "1-iron" not think he enough game left to win on Tour anymore, he's coming to Westchester tired and fatigued after an ambitious return to California after round 1 of the US Open to see his son's graduation. He's got one Top 10 this year and seven of 16 Missed Cuts. If he doesn't fall asleep on the course, it will be a miracle.
15. Padraig Harrington (25/1): How many US Open bets were squashed by his poor play? My guess is quite a few. His last three starts have been Missed Cut at the US Open, Missed Cut at the Booz, and T75 at Memorial. Not exactly the stuff of legends. He won the Honda in a playoff and finished T9 at Zurich, but maybe European soil is calling.....
16. Chris Riley (125/1): Might be too tired to even start the Barclays Classic, just like he was too tired to represent his country in the afternoon on Saturday of the Ryder Cup. Wow, such little respect out of the "1-iron" for a guy who could've been such a champ. Things have been nothing but downhill since the Cup, and they won't improve this week. Missed cut last year at Westchester, and has to be feeling some heat.
17. Jay Haas (80/1): The 51-year-old Haas is a favorite of "1-iron's" but we don't play favorites in this space. His 82-70 at Pinehurst was disastrous, as he missed his first cut of the year. This will be a telling week, in which we learn if he should go back to the Champions Tour full time or stay with the flat-bellies for a bit longer.
18. Brad Faxon (80/1): T23 here last year, but "1-iron" doesn't see what all the fuss is about with Faxon. Never has. The "Fax Machine" has only made eight cuts this year and has a checkered past littered with choke jobs. I'd even venture to say that David Duval finishes higher this week if there's a prop bet out there.

Fantasy salary cap value pick: Scott Hend: Hits it long, finished T14 last year at Westchester, and is starting to get things going. Huge value play this week.

* All Odds are approximate and are subject to change. Please consult bodog.com for updated odds.
** Comments, Questions, Suggestions? Feel free to E-mail "1-iron" at 1iron@docsports.com