This Week in Betting, A-Z
by Trevor Whenham - 06/01/2009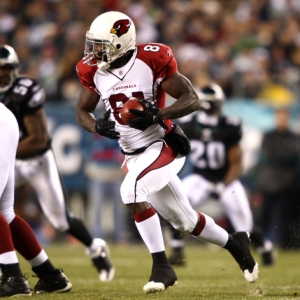 A - A-Rod. Everyone's favorite overexposed junkie returned to Texas for the first time since admitting his drug use while he was a Ranger, and he played so well in the first game that you have to wonder what he is on now. He had five hits in five tries on Monday. That was enough to drive in four runs and score two more himself. It was by far his best performance of the season. Unfortunately, consistency is still a big issue - he only had five hits total in the five games since the outburst.
B - Boldin, Anquan. In an offseason that has been full of unnecessary drama, Boldin finally did a smart thing this week - he got rid of the incredibly obnoxious Drew Rosenhaus as his agent. Unfortunately, he waited too long, and it is now probably too late for him and his new agent to repair his relationship with the Cardinals. All I hope is that the new agent - likely Manning super-agent Tom Condon - can bring closure to the situation soon. I don't care where plays, I just don't want to hear about it anymore.
C - Clark, Tim. This was not a statistic that I was aware of until this weekend, and I can't believe it's true - South African golfer Tim Clark has won an impressive $13.3 million on the PGA Tour, yet he has not won a single tournament. He came dangerously close to breaking his impossible streak at the Colonial this weekend. He led going into the final round, but he lost to Steve Stricker in a playoff. Needless to say, Clark was not a happy man Sunday evening. Stricker finally won this year after already collecting five Top-7 finishes on the season.
D - Datsyuk, Pavel. The Detroit Red Wings have played without their best offensive player for five games. Several of their other players, including all-world defenseman Nick Lidstrom, are playing despite being seriously banged up. The team had to play two games in less than 24 hours. They should have been vulnerable. Their incredible depth of experience has overcome all they face, though - they have beaten Pittsburgh by identical 3-1 scores to put themselves in the drivers seat en route to yet another Cup win. If they pull it off, this would be their fifth Cup in the last 12 years.
E - Earnhardt. Jr.'s time at Hendrick Motorsports has been a disaster, and the guy who is paying the bills isn't interested in seeing that continue. Earnhardt's team was shaken up this week. His crew chief, who was also his cousin, was dismissed and his team was overhauled. It was a much-needed change, though it won't address the real causes of his struggles - Earnhardt seems to lack motivation and he has been tentative where he used to be almost reckless. It's too soon to see real effects, but early returns are positive - he finished 12th in his first race under the new regime.
F - Fourth round. Andy Roddick made it to the fourth round at the French Open. Why should we care about this - he's the best American player, after all, and Americans have a history of success in Paris? Well, incredibly, this is the first time Roddick has ever made it past the third round in this tournament. That's a real statement on the state of American men's tennis in general, and clay court play in particular.
G - Greinke, Zack. It took until the very last day of May, but it finally happened - Greinke saw his ERA climb above 1.00 for the first time. He allowed three earned runs in seven innings against the White Sox on Sunday to raise his average to 1.10. It's hardly time to panic, though - he didn't get a loss, so he's still at 8-1, and his ERA is still less than half of the second best mark in the AL. Now if only his team could figure out how to play on the days that he isn't on the mound.
H - Hurdle, Clint. The now-former manager of the Rockies is further proof that the world isn't fair. Colorado has struggled badly for several key reasons - they have no real pitching, hitting, or fielding. None of that is particularly the fault of the manager, yet Hurdle was forced to pay the price this week. He was fired and replaced by Jim Tracy. Hurdle didn't deserve this fate, but I suspect he is probably relieved to be out of the hopeless situation in Denver.
I - Impressive. It took a couple of injuries for Tampa Bay pitcher David Price to get his chance with the big league team this year despite his success in the playoffs last year, but he made the most of the chance when he got it. Despite mostly lackluster play in Triple-A, Price was stellar in his return to the majors. He struck out 11 Twins in less than six innings to get his first major league win. On the other side was Francisco Liriano. It's hard to believe that that guy was once virtually unhittable - this loss moved him to 2-7 with a 6.60 ERA.
J - Jose Canseco. Canseco has given up on being a baseball player. It looks like he should give up on being an MMA fighter as well. Making his MMA debut at an event in Yokohama, Canseco lasted just 77 seconds before being knocked out by Korean fighter Hong Man Choi. There are obviously a ton of questions here, including - why is he trying to be a MMA fighter, and why did he make his debut against a guy who stands at 7-2? The closest thing to experience that Canseco could claim is that he fought Danny Bonaduce in a celebrity boxing match in January. This guy is such a punchline that it embarrasses me that I idolized him when I was a kid.
K - Kobayashi. Don't read his if you have eaten recently or if you have a sensitive stomach. Japanese eating sensation Takeru Kobayashi and American eating star Joey Chestnut renewed their rivalry this weekend. Chestnut has won the last two Fourth of July hot dog contests, but Kobayashi got some revenge. He edged Chestnut in a pizza eating contest - he ate 5.75 pounds of pizza in six minutes compared to 5.5 for Chestnut. Just the thought of it makes me sick.
L - Longest game. Texas and Boston College seemed to want to play in the NCAA baseball regionals forever. In fact, they almost did. The Longhorns won the game 3-2, but it took them a tournament-record 25 innings to do so. That wasn't the only crazy statistical happening of the weekend in college baseball action, either - Florida State absolutely ripped Ohio State 37-6 on Sunday. Stephen Cardullo led the way with a tournament record seven hits, and the team had a NCAA-record 15 doubles in the game.
M - Mortal. Incredible San Diego State pitcher Stephen Strasburg is still a lock to be the first overall pick in the MLB Draft in June, but he showed the first signs all season that he is mortal this week. He still struck out 15 Virginia hitters in seven innings, but the Cavaliers scored two early runs to hand Strasburg his first loss of the year. Virginia took a novel approach to prepare for the flame-throwing Strasburg, who is now 13-1 - they cranked the speed on their batting machines way up.
N - Nikolai Valuev. A heavyweight title fight was cancelled this week. Sadly for the once great sport of boxing, few people noticed, and even fewer cared. Valuev was supposed to defend his WBA title against Ruslan Chagaev, but the challenger had to withdraw with a reported hepatitis infection. Chagaev, a hairy seven-foot giant, is undefeated and previously held the title after he beat Valuev two years ago. He had to forfeit the title, tough, after previously twice backing out of rematches with injuries.
O - Orioles. For a while this week I was worried - Baltimore was not looking anything like Baltimore. They had won five in a row, and seven of eight, and they were looking uncharacteristically close to a major league team. Luckily, they fell back to earth by losing both games on the weekend to at least somewhat restore the order of things. Even if the Orioles don't keep winning, and they won't, their fans at least have something to look forward to - phenom catcher Matt Wieters, the top prospect in baseball, made his major league debut his week.
P - Penguins. The good news for Pittsburgh fans? They swept the Carolina Hurricanes in the Eastern Conference final, and they looked almost immortal doing it. The bad news? They didn't get the memo that the finals against Detroit started so soon. The Pens came out totally flat-footed. That's not good at the best of times, but especially not when the league schedules two games in 24 hours. Now Pittsburgh is in a deep hole against the most experienced team in the league, and they are very short of time to climb out of it.
Q - Quite shocking. Rafael Nadal was supposed to win the French Open. It was a done deal - he had never lost a game at the tournament, and was almost unbeatable on clay. In one of the biggest shocks in recent sports history, Nadal was upset by journeyman Swede Robin Soderling. Soderling played the game of his life - he was aggressive and creative, and he benefited from an impossibly bad day from the defending champ. Novak Djokovic was upset, too, so this is unquestionably Roger Federer's tournament to win.
R - Rachel Alexandra. In a move that didn't shock anyone that was really paying attention, owner Jess Jackson announced that his super filly would not run in the Belmont. There wasn't enough potential upside to justify the risks of entering the race. Instead, she'll get a short rest before finding a better spot to assert her dominance this summer. There are lots of places she could wind up - back against the top three-year-old fillies, against the three-year-old colts in the Haskell or Travers, or against older horses - hopefully the undefeated Zenyatta.
S - Sabathia. CC Sabathia made his first return to Cleveland this week. Though he was just good rather than brilliant - three earned runs in seven innings - he easily earned a win over his former team and his former partner in crime, Fausto Carmona. Cleveland fans were seemingly too sad or frustrated by their team to show up en masse to say hi to their lost love - the reported attendance included 9,000 empty seats, and it looked like there was more than that in reality.
T - Toronto. It's not often that a team has as bad of a road trip as the Blue Jays endured over the last couple of weeks. They had nine straight games away from their ugly domed home, ad they lost all of them. It's not hard to figure out why it happened, either - they allowed six runs a game and only scored 2.5. Thankfully, they were able to stop the bleeding when they returned home by winning two of three in a career series against the Red Sox. The good news is that Toronto's hot start meant that this disastrous stretch only dropped them 1.5 games out of first in their division.
U - Upset. It seemed for much of the year and all of the playoffs that Cleveland was a lock to make the NBA Finals. A battle between LeBron and Kobe was what everyone seemed to want, and injury woes for the Celtics and Spurs made it seem like a near-certainty. Unfortunately, no one informed the Magic what fate was supposed to have in store. Orlando took command from the outset in the series and barely looked back. They won the series in six games and they were so strong in Game 6 that the Cavs looked totally deflated and beaten by the time halftime rolled around.
V - Varitek, Jason. The veteran Red Sox' catcher had a game to remember on Thursday. He hit two balls out of the park, and then got himself thrown out. The homers, both with bases empty, were all that the team needed to beat the Twins. The ejection was one of four in a game that got away from the officials. The umpire was a young call-up from Triple-A, and he decided that it would be a good idea to toss both catchers and both managers in the seventh inning. That was an odd approach for a guy trying to land a permanent big league gig.
W - Williams. Tennis' best sister combo handled themselves with a typical lack of grace at the French Open this week. Venus was knocked out early yet again, and she pouted about it. Serena was taken to three sets when the referee didn't notice that a point he called in was hit by Serena's opponent's wrist instead of her racket. Every time I see these sisters play, I can't help but think with sadness about what they could have accomplished if they whined less and played more.
X - eXposed. Manchester United won the Champions League last time out, and they were favored to do it again in their matchup against Barcelona this week. Unfortunately, they didn't play anything like champions. In fact, they didn't look like anything like champions as they lost 2-0 to Barcelona in a game that wasn't nearly as close as the score suggests. Man U has as many stars as a team can possibly have, but none of them showed up on this day.
Y - Yankees. The Yankees got hot at the right time - just as Boston struggled to get traction and Toronto went into a freefall. That meant that the Yankees, who have won 14 of 18, are alone in first place in the AL East. That shouldn't be newsworthy for New York, but it really is - this is the first time since 2006 that the Yankees have found themselves alone in first. That's an impossibly stunning statistic for a team that spends as loosely as New York does.
Z - Zambrano, Carlos. The big Cubs' pitcher was ejected on Wednesday night for arguing with the umpire, and maybe poking him as well, and he really wasn't happy about it. He tossed a ball into the outfield, slammed his glove into the fence, and smashed a Gatorade cooler with a baseball bat to show his frustration. The league wasn't impressed, and they hung him with a six-game suspension as a result. They also gave him a thoroughly meaningless $3,000 fine. I'll never understand the point of a fine that small for someone who makes so much money - totally meaningless.