This Week in Betting, A-Z
by Trevor Whenham - 06/08/2009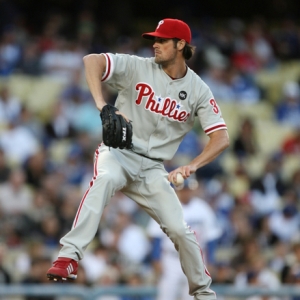 A - A.J. Burnett. As a fan of the Blue Jays I don't generally have much sympathy for Burnett, but he got a raw deal on Tuesday night. Texas' Vicente Padilla had hit former Ranger Mark Teixera twice earlier in the game so the umpires were on edge. When a Burnett pitch got up and in against Nelson Cruz, the ump, and subsequently the league, snapped. Burnett was given a six-game suspension - ridiculous considering Padilla was only fined. He has appealed the penalty, so he hasn't missed time yet.
B - Big Unit. The biggest, meanest lefty baseball has ever seen reached a serious milestone on Thursday afternoon. Randy Johnson pitched six strong innings and his bullpen narrowly managed to hold on to give Johnson the 300th win of his career. Throughout his whole career Johnson has been surly and mostly unlikable, but you can't help but admire him and his incredibly nasty stuff. His is the latest in a recent run of 300-game winners, but it should be the last for a very long time. Unless Jamie Moyer pitches until he is 70, which is very possible, CC Sabathia is the next one with a shot, and he's still almost 180 wins away.
C - Colorado. The senior brass for the Colorado Avalanche said that they weren't happy, and on Wednesday they showed that they really meant it. The team launched a bloodbath, firing the GM coach, and all of the coaching staff. There's little doubt that the team needed an overhaul after a pathetic season last year that saw them limp home last in the conference. The mystifying part of the move, though, is their choice as replacement coach - Joe Sacco was a respectable journeyman player, but his only experience as a head coach is two years in the AHL where he sported an ugly 60-79-21 record.
D - Dice-K. Boston pitcher Daisuke Matsuzaka finally earned his first win of the season on Tuesday when he allowed just one run in five innings to get past Detroit. The result must have caused giddiness, but the euphoria didn't last. In his next outing on Sunday he fell back into bad habits, allowing five runs in less than six innings to lose at home to Texas. There was a reason for hope on Sunday despite the loss - he struck out eight without a walk. Still, a bigger problem has remained throughout the season - he is throwing far too many pitches.
E - Elena Della Donne. At the start of last basketball season, Della Donne, the top women's recruit in the country, stunned UConn by leaving the team and the school to play volleyball at Delaware. She said she was burned out and no longer wanted to play basketball. Huskies coach Geno Auriemma tried to convince her it was just homesickness, but she insisted he was wrong. This week she admitted he was right all along, and she joined Delaware's basketball team for next year. You'd think losing the top frosh in the country would hurt a team, but all UConn did without her last year was go 39-0 and win the National Championship.
F - Federer. Only Pete Sampras has as many grand slam wins as Roger Federer does after the weekend, and Federer finally has one thing Sampras doesn't - a French Open title. Federer took advantage of the unexpected early departure of Rafael Nadal to his first title at Roland Garros on Sunday. He did it by rolling over Robin Soderling in straight sets. Ironically, Soderling was the same player that shocked Nadal in straight sets earlier in the tournament. With the win it's hard not to regard Federer as the best ever to play the game, and one more grand slam win - likely as soon as Wimbledon next month - will secure that legacy.
G - Garnett, Kevin. They might as well not play the next two NBA seasons, because we already know how they are going to turn out. Garnett told us. In a postseason interview with his owner this week he didn't stop at just expressing his confidence for the coming year, or endorsing the direction the team is going. No, he guaranteed that the team is going to win both of the next two championships. Seems like a logical bet for a team full of rapidly-aging guys that can't seem to stay healthy.
H - Hamels. Remember how everyone was worried at the start of the season about Cole Hamels elbow? Don't worry any more. Hamels dominated the Dodgers on Thursday night just like he did twice in the playoffs last year. It was a five-hit, complete game road shutout, and it moved him to 4-0 in his last seven outings with an ERA over that stretch of just 2.84. It's surely no coincidence that Hamels' resurgence coincides with a Phillies hot streak that has them building distance between them and the Mets.
I - Inevitable. Zack Greinke had looked super-human all year, but it was inevitable that sooner or later he was going to look mortal. It finally happened on Friday night when he was pummeled by the hard-hitting Blue Jays. They hit him relentlessly, and were even making hard contact when they recorded an out. He gave up nine hits and five earned runs in five innings to boost his ERA all the way from 1.10 to 1.55. It will be very interesting now to see how well he bounces back from this setback.
J - Jon Lester. This may go down as the week that the Red Sox pitcher turned the corner on his season and became a valuable part of the rotation. Lester was very good in six innings against the Jays on the last day of May, but that was nothing compared to his start on Saturday. Lester was perfect into the seventh inning against the Rangers, and he went on to allow just one run in a complete game two-hitter. He struck out 11 while walking just two. It was the third win in four games for Lester - a good turnaround from a 2-4 start.
K - Kelvim Escobar. That very unfamiliar face you saw on the mound for the Angels on Saturday was Escobar. Escobar's shoulder had kept him out of action since 2007, so it was no surprise that there was some rust in his return against the Tigers. The first inning was ugly - 30 pitches and two runs - but he settled down after that and wound up making it through five productive innings. He got the loss, but that was more due to a lack of run support than his efforts. The guy was 18-7 the last time he was healthy, so he could be very useful for the Angels as they try to climb back into the AL West race.
L - LeBron James. The NBA fined LeBron $25,000 this week for failing to attend the post-game press conference after his Cavs were knocked out of the playoffs. That'll teach him! James make $14.4 million in salary alone, and that number probably doubles when you factor in endorsements and other business deals. $25,000 is 0.17 percent of $14.4 million, or the equivalent of $86 to someone who makes $50,000 per year. LeBron would probably pay four times that much if he could skip most press conferences. Why even bother with a fine like that?
M - Mine That Bird. This is one heck of a gelding, even in a loss. I'm not normally one to point fingers or assign a lot of blame, but in this case it all lies squarely with Calvin Borel. Instead of getting to know an unfamiliar and very quirky track this week he instead spent his time getting famous by visiting Letterman and anyone else who would have him. I can't say for sure that that is the reason, but he ran a truly bone-headed race, making his move way to soon, hanging his horse way outside on he turn, and generally giving his horse no chance of winning a race that was completely in his capabilities.
N - Nelson, Jameer. Nelson deserves a lot of respect for doing what seemed impossible - coming back from a serious shoulder injuries months before he was supposed to so he could be with his team in the playoffs. There's just one problem - it really isn't working. Nelson has been mostly ineffective as noticeable rust and discomfort has slowed him down and limited his play and effectiveness. That's just one of the many reasons why his team was manhandled by the Lakers in the first game of the finals and beaten in overtime in the second.
O - Ortiz, David. The ridiculous hitting woes continue for the once-mighty Boston slugger, and he's starting to get desperate for an explanation. How desperate? Well, his next step is to get his eyes checked to see if he is seeing the ball. His vision is fine, mind you - has always been 20/20 and feels no different now. It's just that at times like this you'll grasp at any straw you can find. Next up I expect an exorcism. Or maybe a trip to a steroid dealer.
P - Pirates. MLB should just contract the Pirates and end the suffering, because they obviously can't run a team. After having mostly emptied the cupboards of talent late last year, Pittsburgh went even further this week when they sent Gold Glove center fielder Nate McLouth, their best all-round player, to the Braves. They got some decent prospects in return, but at some point this team needs to stop worrying about a future that never arrives, and start trying to win a game or two. This is a franchise that hasn't had a winning season since 1992. How is that even possible? Kids who were born the last time the team was a winner can drive now.
Q - Quite amazing. Tony Stewart took a big gamble when he went out on his own with his own team, but he is certainly making a statement this year. He crashed his car in practice after winning the pole at Pocono and was forced to start at he back of the field in his backup car. It didn't matter. His fuel gamble paid off as he moved all the way to the front of the pack for the win. With that he opened up a sizable gap atop the points standings. Owner/drivers aren't supposed to be successful, never mind dominant.
R - Raptors. Chris Bosh delivered a not entirely unexpected knife to the heart of Toronto management and fans this week. He made it very clear that he has no intention of signing an extension this summer, and that he intends to test free agency. In other words, he can't get out of Toronto fast enough. You can't blame him given the consistent struggles in Toronto. The smart move for the Raptors would probably be to trade him as soon as possible - at least then they'd get a little value before he leaves and never looks back.
S - Summer Bird. The Belmont has an unlikely champion, but not an undeserving one. After one son of Birdstone won the Derby, this one took his chance for Triple Crown glory. Kent Desormeaux had a terrible year on Big Brown last year, but he redeemed himself this year, running the race plan that Mine That Bird should have run. He saved ground on the rail at the back of the pack for much of the race before unleashing a well-timed move to pick up the pieces and earn a solid win. We haven't heard the last of this colt.
T - Tom Glavine. The Braves have redefined loyalty, and not in a flattering way. Glavine was at the center of the team's long run of success as he anchored an incredible pitching staff, but that isn't enough to earn him some patience from the Braves. He was cut this week just as he was preparing to make a return to action from arm troubles that have plagued him since last year. The team needed to make room for the newly acquired Nate McLouth, but it hardly seems to be the decent thing to do, or the best PR move to boot, to unceremoniously dump a surefire hall-of-famer.
U - Urijah Farber. The former WEC featherweight champ was trying to win his belt back from champ Mike Brown on Sunday night, but it didn't end well. Farber rocked Brown with a shot to the head in the first round, but he obviously hit him too hard - Farber broke his hand with the contact. The fight went the distance, but even a guy as tough as Farber couldn't overcome a broken hand, and Brown had his way again on the day.
V - Very afraid. The rest of the golf world should be very afraid heading into the U.S. Open. Or maybe they should just give up. Tiger Woods had lacked a spark and ferocity since he returned from his injury, but he found it again in a big way on Sunday. Back by four strokes heading into the final round of the Memorial, Woods hit every fairway for the first time in five years en route to a dominating and awe-inspiring win. Any doubts that Woods was ready to defend his Open title at Bethpage Black were soundly put to rest.
W - Wang. Chien-Ming Wang finally made his return to the starting rotation on Thursday night for the Yankees, and unfortunately it was like he had never really left. Wang gave up seven hits and five earned runs in 4.2 innings, though his team was still able to beat the defensively challenged Rangers. How bad has it been for Wang this year? Well, his ERA in this game - an ugly 9.64 - will significantly lower his season mark. I don't know what is wrong with him, but it sure doesn't look like the time on the DL fixed it.
X - eXceptional. Roy Halladay is building a strong case for his second Cy Young. If the Jays don't trade him to the National League before the season ends, that is. On Sunday, Halladay pitched close to as well as a guy can. He struck out six without a walk in a complete game shutout. The most impressive stat - of his 97 pitches, 73 were strikes. That's super-human. Halladay moves to 10-1 and lowers his ERA to 2.52.
Y - Yikes. The Penguins got down into a 2-0 hole early in the Stanley Cup Finals, and they looked like they were in trouble. But then they found a new gear, enjoyed their home ice, and evened the series with two impressive performances. For the first time in the playoffs they had the Red Wings reeling, and it seemed like maybe they were ready to win this thing. But then Saturday happened. It's hard to describe other than that it was a bloodbath. It was 5-0 after two periods for Detroit, and Pittsburgh was lucky it was that close. An incomprehensible result, and another massive hole for the comeback kids.
Z - Zito, Barry. There have got to be few things more annoying than managing Zito. He's been an incredibly disappointing waste of talent in San Francisco, but every time you get ready to write him off entirely he shows another hint of his capabilities. That's what he did on Friday night when he finally earned his second win of the season. He wasn't brilliant or anything, but he allowed just one run in five innings and looked like he was totally in control of things. His problems don't seem to be physical, but they are definitely real.