Betting Impact Of Potential Favre to Minnesota Move
by Trevor Whenham - 06/18/2009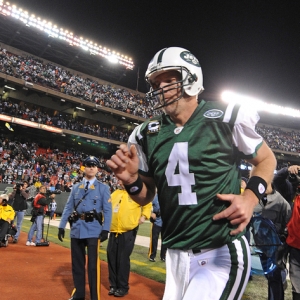 Brett Favre. Just the name is enough to make me feel a bit ill. I like drama as much as the next guy, but has taken creating drama to a new and obnoxious level over the last couple of years. Not since Mark McGwire have we seen a surefire hall of famer so determined to ruin his legacy and alienate the people who have supported him for so long.
We won't know for a while yet what Favre is going to decide to do for sure. Over the last few days we have had a couple of things confirmed, though - the Vikings definitely want Favre, they seem to be planning as if they will have him, and Favre wants to come back as long as he is physically able to. We also know that the surgery that he had on his arm is low risk and has a high chance of success. In short, that all means that we're probably stuck with the guy for at least another year. So, what does this mean for bettors? Hard to know for sure just yet, but I'm very skeptical. Here a few thoughts on the subject:
Expectations are going to be high - This is the most obvious statement ever made, but it's important, so it needs to be considered. We wouldn't be hearing so much about this story if people didn't think that it was a significant improvement for the Vikings. Fans, or at least the majority of them, seem to think so. The prevailing opinion in the media seems to be positive. The Vikings obviously think that he would make them better or they wouldn't be going through this. High expectations can be a bettors' best friend or worst enemy depending upon your viewpoint on the situation.
Expectations are going to be too high - This is the extension of the last point, or at least it's my interpretation of it. Vikings followers have long-suffered over their quarterbacking situation. They look at Favre as their salvation. If they had him three or four years ago then he probably would have been. He's going to turn 40 during this season, though, and he's obviously not as healthy as he used to be. He also wasn't particularly great last year when he last joined a new team. His yards per completion were down significantly from the year before, and so were the touchdowns and QB rating along with it. The interceptions, on the other hand, climbed substantially. Favre also got much worse as the season progressed, and only some of that can be explained by the arm problems. Until we see the odds we can't know for sure, but I would be willing to bet quite a lot that there will be absolutely no value in betting on him - especially early on.
The system - One of the biggest arguments made both by Favre and others is that he'll be able to move right into the Minnesota system because he already knows it. That's because the offensive coordinator, Darrell Bevell, was an offensive assistant and then quarterback coach for six years with Favre and the Packers. I think that this is true, but only somewhat. Bevell brought the offensive system with him when he came to Minnesota, but he wasn't running the show when he was in Green Bay, and head coach Brad Childress wasn't in Green Bay. Inevitably, then, the system is going to have evolved from what Favre is used to. He'll know the guts, and he'll be able to get up to speed faster than if it was new to him, but it would be easy to get false comfort from Favre's system familiarity.
Minnesota personnel - Favre will be well protected, and he obviously has one heck of a running game to rely on. That's a big help. There's a problem, though - Favre really likes to pass. That means you need receivers, and that could be an issue. Sidney Rice tops the depth chart. He's talented, but he only had 141 receiving yards last year. Percy Harvin could be useful, but it almost always takes a rookie a while to get comfortable. Who else is going to bear the weight? Bobby Wade? Aundrae Allison? Favre is at his best when he has a go-to receiver, and I just don't see one.
Mindset - The Jets' experiment was mostly a disaster, and Favre has to take a lot of the blame for that. He didn't want to practice with the team, he wanted special treatment from the staff, and he didn't play well with his teammates. He was absolutely torched by his fellow players on the way out the door. It's hard to believe that Favre will have mellowed and discovered previously untapped modesty in the offseason, so it seems unlikely that his teammates this time around will love him unconditionally. He's already skipping offseason workouts and leaving the quarterbacks on the roster and the entire offense dangling while he makes a decision. On top of all that, he's seemingly coming to Minnesota for one big reason - to get revenge on the Packers. What happens if they lose the first game to Green Bay? Will he pout, or will he strengthen his resolve and work harder? What happens for the eight games the Vikings still have to play after they have played Green Bay for the final time? There are so many ways that Favre the diva could derail this team, and I don't think that he's above any of them.