MLB Handicapping: Impact of Jake Peavy Injury
by Matt Severance - 06/16/2009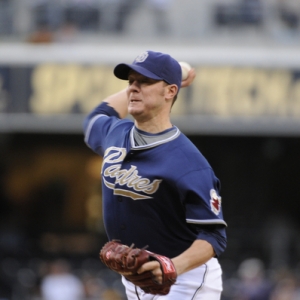 The San Diego Padres weren't going to contend this season even with Jake Peavy, so it's a dead-certain lock that the Pads sink to the bottom of the NL West for good now that Peavy is out at least a month with an ankle injury. After all, no starter on the team has a winning record or an ERA within shouting distance of Peavy's.
Actually, the Peavy injury doesn't hurt just the Padres but also teams like the Cubs, Phillies, Mets and Braves - or any other NL contender, for that matter. The right-hander has a partially torn tendon in his right ankle and optimistically might be back right after the all-star break. But the team also says it could be closer to eight to 12 weeks before its ace returns.
Certainly Peavy is the best pitcher available on the trade market in baseball right now. And he is very available, having been part of deal that would have sent him to the White Sox. Peavy invoked his no-trade clause on that because he wants to stay in the National League. In an ironic twist, the 2007 NL Cy Young Award winner first injured the ankle in his start immediately after rejecting the trade. Peavy is 6-6 with a 3.97 ERA overall this season but 2-1 with a 6.28 ERA in three starts after injuring the ankle.
This injury won't change the Padres' plans of dealing Peavy, as they are cash-strapped and currently $5 million over budget. But it certainly changes what they might now get in return, especially if he's not even pitching before the trade deadline at the end of July.
The Cubs have long been linked with Peavy but weren't able to work out a deal this spring. The Braves had also sniffed around, but Atlanta probably can't add much more payroll after getting Nate McLouth and its pitching has been pretty solid. The Phillies are in desperate need of a pitcher with Brett Myers going down for the year. The Mets also need someone with all their injuries.
Philadelphia and the Cubs would probably leapfrog the Dodgers as NL favorites if either got Peavy this year. Look for them both to make low-ball offers now to San Diego. Apparently Peavy is the only player the Padres will be trading, as GM Kevin Towers was adamant in stating that fellow pitcher Chris Young and slugging first baseman Adrian Gonzalez were unavailable.
Young and Gonazlez have much more manageable contracts than Peavy, who is owed about $60 million through 2012. If the Peavy timetable for returning turns out to be the optimistic version, that means he would have probably two or three starts before the July 31 trading deadline. Is that enough time for the Phillies and Cubs to make a diagnosis? There's very little chance of a Peavy deal coming after that deadline because he would have to clear waivers and certainly wouldn't.
So, short term this obviously hurts the Padres most (will they be series favorites once the rest of the season?), and it could hurt them long term as well if Peavy is not back pitching in mid-July as the team might have to hang on to him through the season. But the fortunes and futures odds of the Cubs and Phillies, especially, also are closely tied to how fast Peavy can heal. Otherwise those clubs might have to go bargain-hunting, and the Cubs have taken a look at Pedro Martinez.