NBA Betting: The Impact Of KG Going MIA
by Matt Severance - 4/16/2009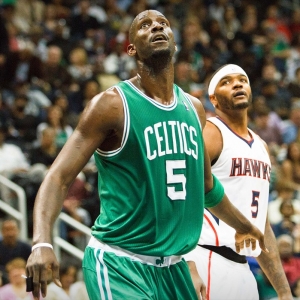 It's generally an unwritten rule in any sport that players never "root" for opposing teams to have injured players, especially injured stars. But don't doubt for a minute that there are a few private celebrations going on right now in Chicago, Orlando, Cleveland and Los Angeles following Thursday's news that Boston Celtics star Kevin Garnett is likely going to sit out the entire postseason.
"He's not gonna be ready," Celtics coach Doc Rivers said to reporters Thursday morning after a workout. "After watching him run, there's no way. So, we're gonna move without him."
Garnett has played limited minutes in four of the team's past 25 games because of a knee injury. Rivers added that Garnett would continue to get treatment in the slim hopes that he would be able to return at some point. But don't count on that, because Boston can't risk ending KG's career since its Big 3 has a few years left yet.
The Celtics are currently 5/2 on Bodog to win the Eastern Conference, second behind the Cavaliers at 1/3, and Boston is 7/2 to repeat as NBA champs behind the Lakers (3/2) and Cavs (5/4). But let me make this clear: There is NO chance of Boston winning the East and less-than-zero of repeating without a healthy KG.
Let's start with Boston's first-round series with Chicago. Bodog has yet to establish a series price on that one. I wouldn't go overboard putting down bets on the underdog Bulls, who will still be getting pretty long odds. Yes, the Bulls are a big pick-and-roll team and Garnett is one of the best pick-and-roll defenders. And, yes, the Bulls are pretty weak offensively in the middle but now won't have to deal with the 2007 NBA Defensive Player of the Year.
But Chicago is pretty banged up, too, especially John Salmons, whose emergence was the main reason for the Bulls' surge since the trade deadline. He's playing with a sore groin and hasn't been the same for a few weeks. He had just 12 total points in the Bulls' final two games of the regular season.
And don't overlook the fact that Boston still has a Big 3, albeit a Smaller 3, of Paul Pierce, Ray Allen and point guard Rajon Rondo, not to mention serviceable big guys in Kendrick Perkins, Glen Davis and Leon Powe.
It is quite possible, however, that the Bulls stretch the C's to six, maybe, seven games. Chicago was no match for Boston in the two meetings in which Garnett played (losing by a combined 34 points), but the Bulls beat the C's in Chicago in the one game Garnett missed in the series this year. It's not unrealistic to think the Bulls could hold serve at home, much like Atlanta did last year to Boston in the first round.
And that's when Boston's problems would begin. I expect Orlando to dispatch Philly in five games, so that would give the Magic plenty of rest for guys like Hedo Turkoglu and Rashard Lewis before a potential Eastern Conference semifinals against Boston. And Garnett's interior defense will be sorely missed against Dwight Howard, who likely will replace KG this year as the Defensive Player of the Year.
And thus it's the Magic who might benefit most here. They beat the Celtics in the final two meetings this year, and I would expect them to take that series if they were to meet in the postseason.
Orlando is 9/2 on Bodog to win the East, and that might be nice value. Assuming Orlando would face Cleveland in the East Finals, the Magic won two of three this year against the Cavs, including handing LeBron James and Co. a 116-87 beating on April 3 in Orlando for Cleveland's worst loss of the year. The Magic also have won three of their past four games in Cleveland and it took some late LeBron heroics this year for the Cavs to pull out a four-point win.
KG's injury also affects an interesting Bodog bet. The site is offering you a chance to bet on any other team than the Lakers to win the NBA crown. If Los Angeles still wins the title, you get your money back in the form of a bonus (up to $50). All you have to do is bet on the 2009 odds to win the NBA Championship on the site before April 17.
But with Garnett out, there may be no team that can stop the Lakers. But that's just one more reason to take a flier on Orlando to win the NBA Finals – you might win a nice haul if the Magic pull the upset or at worst get your money back if the Lakers do as expected.