Can Lightning Strike Twice for Mine That Bird?
by Trevor Whenham - 05/05/2009


Get our 2021 Breeders' Cup Picks and Odds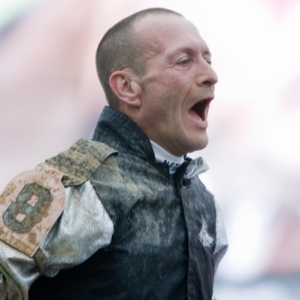 If you watched the Kentucky Derby on Saturday and even remotely care about horse racing then you are still probably trying to figure out who Mine That Bird is and how the heck he managed to win the most important horse race in the world. I don't know of a single person who legitimately tabbed the horse before the race, and very few who have successfully explained how it happened afterwards. I've watched a lot of horse races in my time, and I can't think of too many things more unexpected and inexplicable than this one.
It's not just that the horse won the race and paid more than $103 on a $2 bet to win that makes this such a bizarre, unpredictable story - it's just everything about him. He was bought by two New Mexico ranchers before the Breeders' Cup last year, but then finished dead last in the Juvenile. This year he had run just twice - both times at the backwater Sunland Park track in New Mexico. That's hardly a typical stop on the Triple Crown trail. Stranger yet, Mine That Bird looked outclassed even there. He was second in the first race and fourth in the bigger Sunland Derby. Bob Baffert, the trainer of Kentucky Derby runner up Pioneerof The Nile, won that race with another horse that he never even seriously considered for Kentucky. Mine That Bird was the Canadian two year old champion after a string of wins in stakes races on the synthetic track at Woodbine, but he had done absolutely nothing since then to look even remotely like he belonged in the big leagues.
The horse's trainer, Chip Wooley Jr., makes the story even more unlikely. Wooley took over the training of the horse after the Breeders' Cup. He's primarily a quarter horse trainer, though he has slowly been moving into the thoroughbred game. He hasn't been particularly successful lately, though - he had just one win in 32 races this year before the Derby. He had never even entered a horse in a graded stakes race before, never mind won one. Many very good trainers, wildly successful trainers go a whole career without winning a Derby. Not Wooley.
Given all the strangeness associated with this story, there is one thing that is easy to forget but important to remember - the Derby win was a wildly impressive performance. For the first half of the race and more, the horse was a total non-factor. He was last in the field, and looked like he was living up to expectations. But then he made a historic move. Sticking mostly to the rail as jockey Calvin Borel is famous for doing, he wove through the crowd, moved outside of a fading straggler, hugged the rail again, and shot through a hole on the rail that was only barely the width of a horse. If Join In The Dance, the horse he passed on the rail, had been just a couple of inches closer to the rail, or if Mine That Bird wasn't as small as he is, then he never would have gotten through and we wouldn't be talking about him. After he burst through that hole he was free and clear and it looked like he was shot out of a cannon. He looked like he could keep running forever as he pulled away to win by almost seven lengths - the largest margin of victory since 1946.
The measure of a horse's performance is how he finishes a race. On that front, Mine That Bird deserves tremendous respect. His last half mile was run in 47 1/5 seconds - a very solid time. More significantly, he ran the last quarter in 23 1/5. That is a truly world-class time, and would have been hard for almost anyone to beat. No one may have seen this performance coming, and it might not make any sense, but it was more than legitimate.
So, what now? Mine That Bird is heading to the Preakness in an attempt to capture lightning in a bottle twice. He'll face four or five horses he faced in the Derby, likely headlined by Pioneerof The Nile, and another group of fresh challengers. He'll be watched with great curiosity, and almost as much skepticism. On the surface it is easy to draw comparisons between Mine That Bird and Giacomo, another recent longshot Derby winner who went on to be a non-factor in the Preakness and Belmont. The trick of the next two weeks, then, will be to figure out whether this horse will share that same fate.
I'm probably setting myself up for a major fall, but I am not willing to rule Mine That Bird out. He got a major upgrade in jockeys with Borel before the Derby, and the two obviously work well together. The running style he used in the Derby was a new one for him, and it clearly worked. There is no reason that it couldn't work again in the Preakness. He had faced weak competition this year, but he faced and beat the best two year olds in Canada repeatedly last year. That's not overwhelmingly impressive, but it still shows that he has some game. It also showed that he can grab some momentum and run with it. I'm not saying that he is going to win the Preakness, and it might be tough to find value in his price, but stranger things have happened.
There is one last thing to consider - this horse has the breeding for success in Triple Crown races. His sire, Birdstone, crushed the dreams of millions by upsetting Smarty Jones as a 36/1 longshot in the 2004 Belmont. Birdstone's sire, Grindstone, was the Derby winner in 1996. Grindstone's sire, Unbridled, was the 1990 Derby winner. Triple Crown glory flows freely through Mine That Bird's blood.