Bookmaker's Corner: Sportsbooks and Bettors Challenged by NFL Injuries
by Richard Gardner | Bodog Sportsbook Manager - 10/28/2009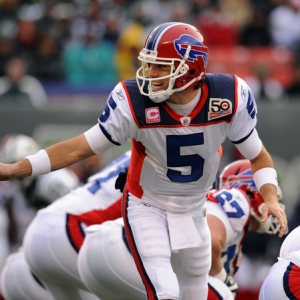 It took us a couple of extra days for us and most other sportsbooks to post last week's point spread between the Buffalo Bills and Carolina Panthers, thanks in large part to the tenuous playing status of Buffalo quarterback Trent Edwards.
Coach Dick Jauron couldn't give us any information as to who would be the quarterback, so most sportsbooks were loathe to post a line that might come back to bite them.
By the time it was made clear that backup Ryan Fitzpatrick would be starting for the Bills, the line opened with the Panthers by 7. Now if Edwards had started, I could see that spread at 6, so although we weren't talking about an injury to Tom Brady or Drew Brees, you can understand why the books were so hesitant with a key number involved. (As you know, sportsbooks hate moving off key numbers like 7 and 3.)
This is exactly the sort of thing that keeps us constantly challenged at Bodog. Injuries to star quarterbacks like Brady or Brees might cause a line to swing 3 or 4 points. Some may even argue that it should swing even more, considering the importance of the passing game in today's NFL.
The thing is - given the right teammates, every NFL quarterback in the game today can make those key throws. It's their job. It's how they made it to the NFL in the first place. But as Cassel learned in Kansas City, it's not so easy to make those throws without decent receivers or pass protection.
Typically, we see casual bettors overvalue quarterbacks and undervalue the more "boring" positions like offensive line.
But if you were to ask Seattle Seahawk's QB Matt Hasselbeck how important injuries to the offensive line can be, considering he was sacked five times and completed just 10 of his 29 passing attempts in Sunday's 27-3 loss to Arizona - he'd have plenty to say. The 34 percent completion rate was his lowest since 2004.
Three starters were missing from the Seattle offensive line, yet bettors still loaded up on the Seahawks -3. Good for the book, bad for the public.
I will be posting weekly articles including betting previews, matchups and the inside scoop from a bookmakers point of view right here at Doc's Sports. Read my past articles - Click Here, and learn more about Bodog sportsbook - click here. If you're ready to set up an account and start playing I'd like to offer you a Sign up Bonus - Click Here. Enjoy the Bodog Experience.