NBA Playoffs Betting: Nuggets-Mavericks Predictions
by Josh Nagel - 05/01/2009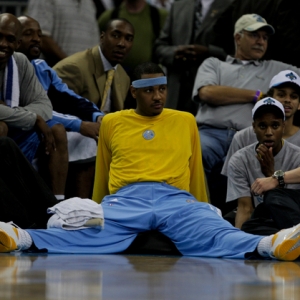 No. 2 Denver Nuggets (-215) vs. No. 6 Dallas Mavericks (+185)
Records: Denver (58-29, 49-37-1 ATS, Dallas 54-33, 44-43 ATS)
Season series: Nuggets won, 4-0
Overview: Both teams advanced by disposing of first-round opponents that failed to offer more than two legitimate weapons in their lineup. The surging Mavericks defeated the aging and wounded San Antonio Spurs, who suffered from the absence of Manu Ginobli and the ailments of forward Tim Duncan. The Spurs, despite an excellent effort from Duncan and Tony Parker, couldn't keep up with the Mavericks, who pulled away late in three of their four wins to take down the series.
The underappreciated Nuggets blasted the New Orleans Hornets, who got very little contribution from any player not named Chris Paul. All-Star David West was merely average, and Peja Stojakovic and Tyson Chandler did little to help the cause. Thus, a five-game drubbing that included a record-setting 58-point road win by Denver in a lopsided series that saw each Denver win come by at least 15 points.
Denver presents Dallas with a similar problem that the Mavericks gave the Spurs. The Mavericks have weapons, but likely not enough to keep up with the Nuggets over the course of the series. The good news for Dallas fans is that the Mavericks continue to improve and likely have not reached their ceiling for potential, but there's a good chance they won't realize their potential until next year.
What the Mavericks have gained in defense, a valuable addition under Rick Carlisle, they appear to have lost in road toughness. This used to be a strength, but Dallas now struggles mightily on the road against winning teams.
Denver won all four meetings this season, although the last two were decided by exactly two points and another was decided by three. The Nuggets posted just one double-figure win, 98-88 in Dallas on Dec. 15.
Value: Nuggets. There's likely a bigger gap between these two teams than the money line suggests. Although Dallas has the more playoff-tested team and continues to improve, the Mavericks would have to win at least one game in Denver to take the series, and this seems unlikely.
What's more, Chauncey Billups, Carmelo Anthony and friends appear determined to prove that their ascent to the No. 2 seed in the West was no fluke. The Nuggets can be erratic and maddening, but they've also proved throughout the season that they are better than the Mavericks. Expect more of the same.
Prediction: Nuggets in six games.